Description
LiveGood Essential Aminos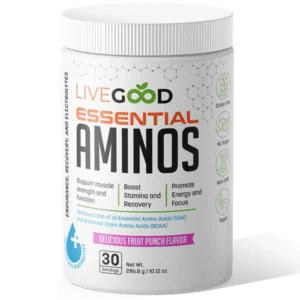 Experience peak performance with LiveGood Essential Aminos. This supplement is formulated with high-quality natural ingredients
Product Brand: LiveGood Essential Aminos
Product Currency: USD
Product Price: 19.95
Product In-Stock: InStock
Pros
Complete blend of essential nutrients: LiveGood Essential Aminos offers a broad mix of amino acids and electrolytes, providing your body with everything it needs to function at its best.
Enhanced workout performance and recovery: The carefully selected ingredients in LiveGood Essential Aminos promote muscle strength and endurance, helping you to perform better during workouts and recover faster afterward.
Sustained energy and mental clarity: The supplement's unique formulation supports healthy energy levels and improved focus, contributing to enhanced productivity and overall well-being throughout the day.
Compatible with various dietary preferences: Whether you follow a vegan, gluten-free, or non-GMO diet, LiveGood Essential Aminos covers you. It's a versatile product that caters to various dietary requirements.
Cons
Potential allergen concerns: Although LiveGood Essential Aminos is designed to suit various dietary preferences, some individuals with specific allergies or sensitivities may need to consult a healthcare professional before using the product.
Taste preference: While many users enjoy the flavor of LiveGood Essential Aminos, individual taste preferences may vary. Some people might find it less appealing, but this is subjective and does not detract from the supplement's numerous benefits.
LiveGood Essential Aminos – The Ultimate Fuel for Your Body
Are you looking for a way to support your body during peak performance? Look no further than LiveGood Essential Aminos! Our exclusive formula contains an optimized ratio of ALL Essential Amino Acids, Branched-Chain Amino Acids, AND Electrolytes to help you maintain lean muscle mass, boost stamina and recovery, and promote healthy energy and focus!
Product Description: LiveGood Essential Aminos are formulated with the highest quality natural ingredients available anywhere! Add one serving to water, mix well, and enjoy a healthy energy boost any time of day.
Now you can read a more detailed review here: https://livegoodforlife.com/livegood-essential-aminos-review/
Benefits:
Support muscle strength and function
Boost stamina and recovery
Promote healthy energy and focus
Gluten-free, no sugar, non-GMO, vegan
Ingredients:
Magnesium
Sodium
Potassium
Amino acids blend
L-citrulline
L-leucine
L-lysine
L-arginine
L-carnitine
L-isoleucine
L-valine
Magnesium, sodium, and potassium are essential electrolytes that help regulate fluid balance in the body and support nerve and muscle function.
Amino acids are the building blocks of protein and are essential for building and repairing muscle tissue, promoting healthy metabolism, and supporting immune function.
L-Citrulline helps improve blood flow, enhancing athletic performance and reducing muscle soreness after exercise.
Branched-chain amino acids like L-Leucine, L-Isoleucine, and L-Valine are particularly important for athletes, as they help stimulate muscle protein synthesis and promote muscle growth and repair.
L-Lysine and L-Arginine are necessary for collagen production and healthy immune function.
L-Carnitine helps transport fatty acids into cells for energy, promoting healthy metabolism and weight loss.
Experience the Ultimate Fuel for Your Body with LiveGood Essential Aminos. Don't let fatigue and muscle soreness keep you from reaching your peak potential. Order now and feel the difference!
Unleash your full potential with our premium wellness products!
Visit our online shop and find the ideal solution to support your health journey. Don't miss your chance to experience the benefits – get started now and embrace a more balanced life!
LiveGood Membership Advantage:
Save Over 70% on Products For just $9.95 per month or $99.95 per year. You can become a LiveGood member and save over 70% on the prices of any product you buy! With membership, you'll gain access to exclusive member pricing, resources, and support to help you succeed in your health journey. Even purchasing just ONE product per month can pay for your entire monthly membership!
Frequently Asked Questions (FAQs)
Q: Can I take LiveGood Essential Aminos any time of day? A: Yes! LiveGood Essential Aminos are safe to take any time, any place, and GET RESULTS!
Q: Are LiveGood Essential Aminos gluten-free? A: Yes! LiveGood Essential Aminos are gluten-free and free of sugar, caffeine, and GMOs.
Q: How do I take LiveGood Essential Aminos? A: Add one serving to water, mix well, and enjoy a healthy energy boost any time of day.
Don't wait any longer to transform your health with LiveGood Essential Aminos! Click the button below to buy now and embark on a healthier, happier life.
P.S. Remember, you can save over 70% on the prices of any product you buy with our LiveGood membership program. Click the photo to learn more about this fantastic opportunity.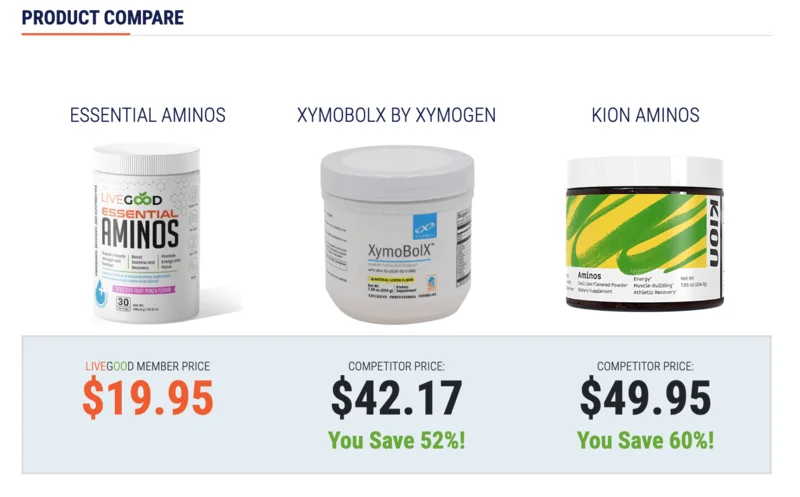 LiveGood Membership Advantage
  GLOBAL SHIPPING!
*Please note: The prices displayed for LiveGood products are exclusive membership prices. By becoming a LiveGood member, you can take advantage of these special prices and save on your purchases across our entire product range. The retail prices may be higher for non-members. Join the LiveGood membership program to enjoy these savings and unlock additional benefits on all LiveGood products.
***Please note that we at LiveGoodForLife.com do not provide medical advice. We proudly offer a fantastic range of bio and organic products for your well-being. However, we strongly recommend consulting with a qualified health practitioner before changing your diet, lifestyle, or supplement regimen. Enjoy our products responsibly and prioritize your health by seeking professional guidance.