Unlock Incredible Savings with LiveGood Membership Plans
Are you looking to get the best value on your LiveGood products? Our membership plans offer you wholesale pricing on all our items, so you can save more while enjoying the highest-quality supplements!
Looking for an affordable way to invest in your health?
LiveGood offers two simple membership options tailored to your needs. Our Monthly Membership at just $9.95 or Yearly Membership at $99.95 gives you unbeatable wholesale prices on our entire product range.
Imagine the savings and health benefits you could enjoy with no limit on product purchases. Even buying just one product per month can cover your membership cost!
Sign up today and start reaping the rewards with exclusive discounts on LiveGood products. Your health investment starts here.
At LiveGood, we have two simple membership options designed to suit your needs:
1. Monthly Membership: For just $9.95 per month, you can access unbeatable wholesale prices on our entire range of products.
2. Yearly Membership: Save even more with our annual plan, priced at $99.95, which gives you a 20% discount on your membership. That's a whole year of incredible savings on your favorite LiveGood supplements!
The best part? Even buying just one product per month can cover the cost of your membership! And with no limit on the number of products you can purchase or the savings you can enjoy, becoming a member is a smart choice for anyone looking to invest in their health.
Sign up today and start enjoying exclusive discounts on LiveGood products.
Remember, you can cancel your membership anytime, so trying is not risky.
Join Now and Unlock a World of Savings with LiveGood Membership Plans!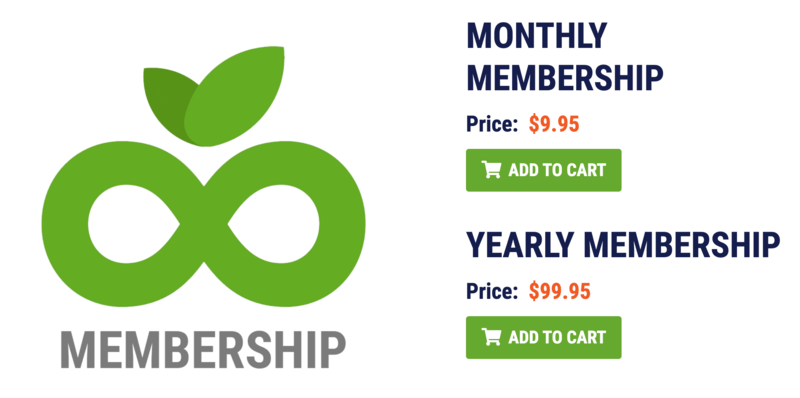 Table of Contents
Unlock Amazing Savings with LiveGood Membership!
Don't miss out on incredible savings! Join the LiveGood membership for just $9.00 a month and unlock wholesale pricing on all our unique products. Invest in your health and wellness while saving on daily essentials. Sign up now and experience the LiveGood difference!
That's why we offer our members wholesale pricing on all our products for just $9.00 a month. Like Costco and Amazon, our membership program is designed to save our loyal customers significantly.
However, unlike those companies, we never compromise on quality. We're committed to using only the highest quality ingredients to ensure our customers get the best possible results. So if you want to save even more while enjoying the benefits of premium health and wellness products, become a LiveGood member today.
How to Cancel LiveGood Membership?
To cancel your monthly or yearly LiveGood membership, you need to follow the next steps:
Step 1: Sign in to your account.
Step 2: Go to the My Membership option from the left side.
Step 3: Press Cancel My Membership and follow the instructions.
Step 4: See the photo below for reference:

Your Top Questions About LiveGood Membership Answered!
How Do I Become a Livegood Affiliate
Excited to join the LiveGood family? Click here, and it'll lead you to the official LiveGood page. Here, you can set up your membership in no time!
Curious about the cost of becoming a LiveGood affiliate member? Here's the deal!
Starting with LiveGood is easier on the pocket than you think! For just $40 upfront, plus a small $9.95 monthly fee, you'll be part of the LiveGood community! That's $49.95 for the first month, and from the second month forward, you're only looking at $9.95 per month.
Interested in just purchasing LiveGood products without affiliate responsibilities? We've got you covered!
You heard it right! You can become a LiveGood member and enjoy access to the most competitive product prices on the market for just $9.95 per month or a discounted $99.95 per year. No strings attached, no affiliate duties—just a simple way to get your hands on our amazing products at unbeatable prices! Now that's what we call a win-win situation!
Wondering about the perks of being a LiveGood member? Brace yourself!
Once you're a LiveGood member, you're locked into our thriving matrix. This means newcomers who sign up after you become part of your network, potentially bringing in commission earnings for you, even if you don't directly refer anyone. What's more, you get exclusive access to our Virtual Store with rock-bottom prices! You could save more than your subscription cost with up to 80% off on selected items!
Thinking if you can make earnings without referrals? You bet!
Absolutely! With LiveGood, you can earn up to $2,047 monthly without making a referral. But if you decide to refer people and speed up the growth of your matrix, your earnings could skyrocket!
Want to know when your matrix will be full? Here's the scoop!
Completion of your matrix depends on the activity of the whole LiveGood community. The faster we grow, the quicker your matrix fills. But don't worry! We're adding new members from around the globe daily, who all join under our existing team members. So, by being part of a globally recognized team, you're setting yourself up for quicker completion of your matrix!
Are LiveGood products good?
Absolutely! LiveGood is committed to providing high-quality wellness products. Each product is thoughtfully created with organic, plant-based ingredients to ensure optimal health benefits. Every item is designed to support your body's wellness journey, from protein powders to our vitamin supplements. With LiveGood, you're not just choosing a product. You're choosing a healthier lifestyle.
Are LiveGood products legit?
Yes, LiveGood products are legitimate and highly regarded for their beneficial health impacts. As a company, LiveGood is committed to transparency and quality in all its products. Each item is carefully crafted with natural, plant-based ingredients to support overall wellness.
For example, I personally use the Super Reds, which have contributed significantly to managing my high blood pressure. As with any health supplement, the effectiveness can vary from person to person, but the general feedback from our customers has been overwhelmingly positive. LiveGood is not just about selling products; it's about promoting a healthier, more fulfilling lifestyle.
Are LiveGood products organic?
Yes, LiveGood products are organic. The company prides itself on its commitment to natural, plant-based ingredients. LiveGood goes above and beyond by ensuring that all of its products are third-party tested to guarantee their quality and integrity. You can view all of the LiveGood Products Certificates of Analysis here.
This ensures you can trust that you receive the highest quality organic products when choosing LiveGood.
Exclusive Invitation: Transform Your Life with Our FREE Webinar
Empower Your Future: Create a Residual Income in 12 Months by Working 1 Hour Per Day
Dear Friend,
If you're eager to enter a world where you work less and earn more, we have an exclusive opportunity for you. We invite you to attend our FREE WEBINAR – "How to Create a Walk Away Residual Income in 12 Months Working 1 Hour Per Day by Leveraging These 7 Critical Steps to Success". This offer is exclusive to our dedicated blog readers like you.
In this comprehensive webinar, you'll discover a robust strategy that could redefine your financial freedom. But the value doesn't stop there.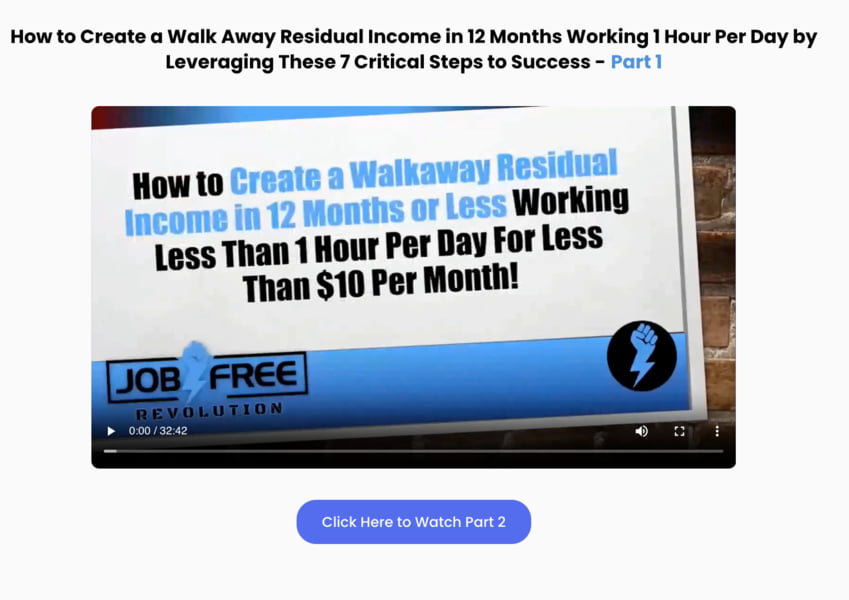 As a LiveGood member of our team, you gain access to the following:
Done-for-You LiveGood Funnels: Skip the stress of setup with our ready-made, high-converting funnels.
Email Swipes: Streamline your marketing with our pre-written, effective email copies.
24-hour Chat on Telegram: Stay connected, and get instant answers and ongoing support in our members-only chat group.
Training on Launching, Building, and Scaling Your LiveGood Business: Master the art of starting, growing, and expanding your business with our in-depth training modules.
Strategies for Promoting and Finding People in Need of Wellness Products: Learn tried-and-true techniques for reaching the right audience.
Website Access for Your Team: Provide your team with the tools they need to succeed, empowering them to start building their own business.
Your journey towards residual income, more free time, and financial freedom is just a click away.
Don't miss this chance to rewrite your financial story. We look forward to seeing you at the webinar!
Unlock Your Earning Potential with LiveGood Affiliate Program: A Guide to Success
JOIN LIVEGOOD AFFILIATE PROGRAM
Discover the exciting opportunity to partner with LiveGood and promote a healthier lifestyle while earning passive income. The LiveGood Affiliate Program allows you to share our range of high-quality, natural products with your audience and receive a commission for each sale you generate. This comprehensive guide will help you understand the program and maximize this lucrative partnership.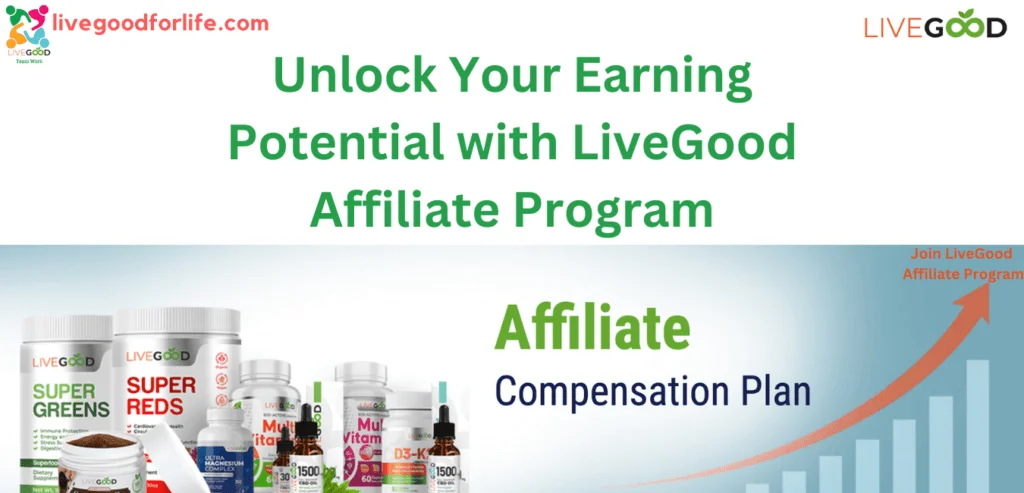 MAXIMIZE YOUR EARNINGS WITH LIVEGOOD'S DYNAMIC COMPENSATION PLAN
Are you ready to unlock a world of financial possibilities while promoting better health and wellness? LiveGood's dynamic compensation plan has been designed to empower affiliates like you to earn an income in six ways while sharing the brand's top-quality health products with others. This guide will explore each aspect of the LiveGood Compensation Plan so you can make the most of this incredible opportunity.
Livegood Compensation Plan – Video
SIX EXCITING WAYS TO EARN WITH LIVEGOOD'S COMPENSATION PLAN
1. FAST START COMMISSIONS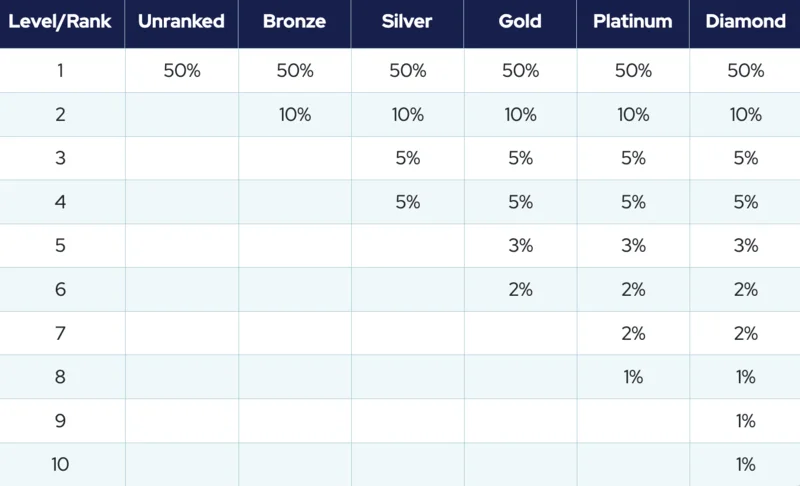 For every new member, you personally enroll into LiveGood's affiliate program with a $49.95 membership fee, you can earn a $25 commission, paid weekly. You can also receive bonus commissions up to 10 levels deep as your referrals bring in new members.
2. MATRIX COMMISSIONS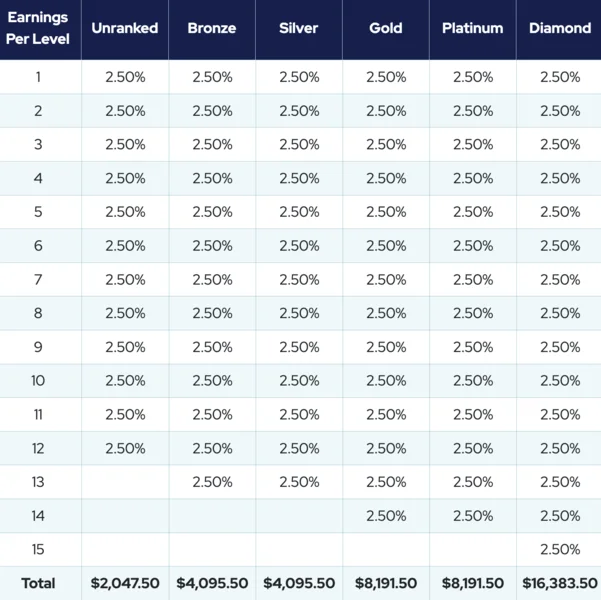 The LiveGood compensation plan features a fast-filling 2×15 matrix that assigns you a business center. As new members join LiveGood, they are positioned in the matrix beneath existing members based on their enroller. The earlier you join, the higher your position in the matrix.
3. MATCHING BONUSES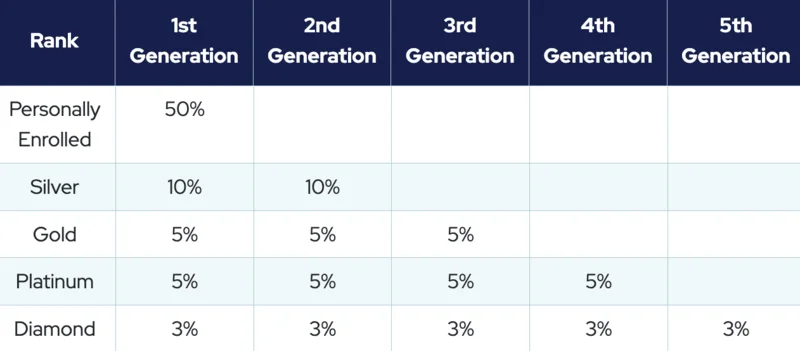 In addition to your personal matrix earnings, LiveGood allows you to earn matching bonuses. You can match 50% of the matrix commissions earned by your personally enrolled members and a percentage of those enrolled by your referrals up to five generations deep.
4. RETAIL COMMISSIONS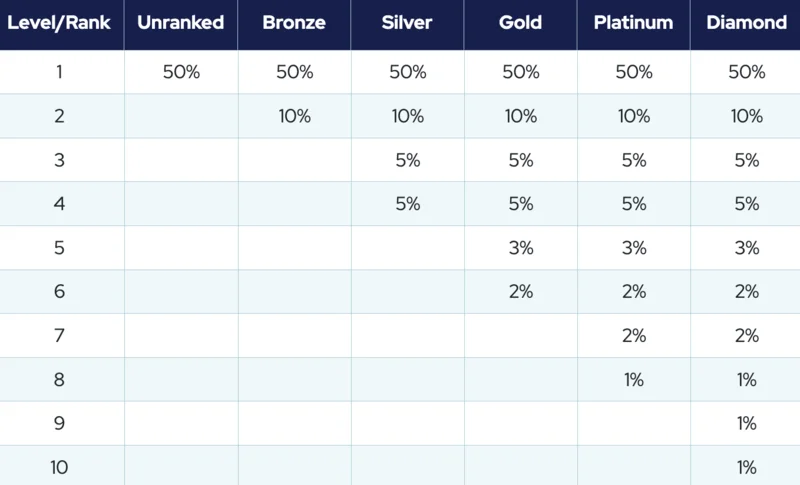 Earn a retail commission of 50% on the difference between member and retail prices for every referral who purchases at retail prices. These commissions are paid like Fast Start Commissions and can be earned with every order your retail customers place.
5. INFLUENCER BONUSES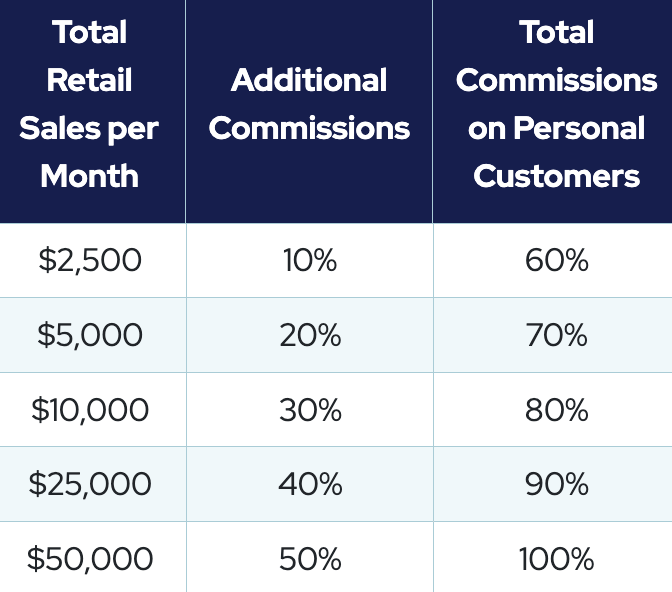 LiveGood affiliates who market products to a larger retail customer base can enjoy additional Influencer Bonuses. You can earn up to 100% of the difference between member and retail prices for orders your referred retail customers placed based on your personally enrolled retail volume each month, regardless of rank.
6. DIAMOND BONUS POOL
Achieve Diamond rank to become eligible for a share in 2% of the total company sales each month through the Diamond Bonus Pool. This exciting bonus rewards affiliates for their dedication and hard work in promoting LiveGood's products and vision.
BUILD A THRIVING BUSINESS WITH LIVEGOOD'S COMPENSATION PLAN
LiveGood's dynamic Compensation Plan provides you with the tools to achieve financial success while promoting a healthier, happier lifestyle. With six unique ways to earn income, you can create a thriving business while making a lasting impact on the lives of others. Become a LiveGood affiliate today and start maximizing your earnings!
WHY JOIN THE LIVEGOOD AFFILIATE PROGRAM?
ALIGN WITH A BRAND THAT PROMOTES WELLNESS
Partner with a company or people that share your passion for health and well-being while providing premium products designed to enhance people's lives.
EARN PASSIVE INCOME
Unlock the potential to generate consistent, passive income through commissions on every sale made through your unique referral link.
ACCESS MARKETING TOOLS & SUPPORT
Benefit from marketing materials, resources, and support to help you succeed as an affiliate partner. Become a member of our team.
You will get: landing pages, 1500 editable wellness infographics for social media (nutrition, fitness, calories), email templates, and a free platform to build your own email list and landing pages. Plus, a group to ask questions and be part of our community.
HOW DOES THE LIVEGOOD AFFILIATE PROGRAM WORK?
SIGN UP & GET APPROVED
Complete the simple registration process, secure your free position, and after you become an affiliate, there is a one-time fee of $50 plus $9.95 monthly or $99.95 yearly. Then gain access to your unique referral link and affiliate dashboard once approved.
PROMOTE LIVEGOOD PRODUCTS
Leverage your unique referral link to promote LiveGood's range of products or the affiliate program through friends, neighbors, work colleagues, your blog, social media, or email list.
For every person with a health problem, LiveGood offers organic and plant products. If you read this, then you understand how massive this is. We are 200.000 active members in four months and have been building the biggest wellness network on the planet. Imagine how it is going to be in one year.
EARN COMMISSIONS ON SALES
Receive a commission for each sale generated through your referral link, and track your earnings on the affiliate dashboard. Inviting people to a free tour on LiveGood is the best tactic, as the follow-ups are converting on a big scale. See the photo below, where people register for a free tour and a LiveGood payout. (Sorry, I blank the full name as I don't like disclosing names online).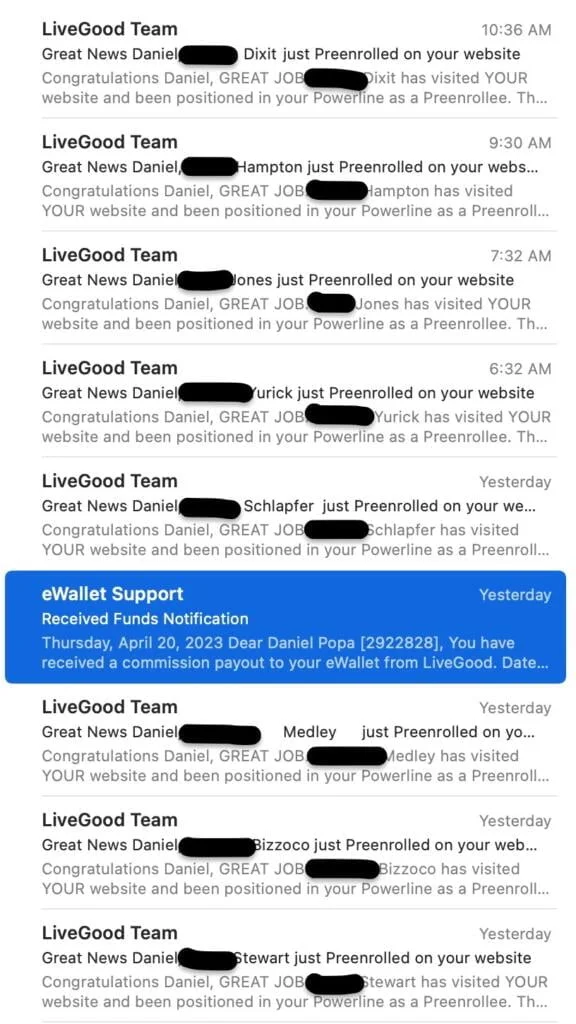 How Do I Become a Livegood Affiliate
Step 1: Explore the Free Tour
Livegood offers a free tour for interested individuals to gain insights into the team's operations and resources. This tour allows you to explore the training and resources the fast-growing team offers.
Step 2: Create an Account
Visit the Livegood website and create an account here. This will provide you with access to essential features and updates. Make sure you provide accurate and up-to-date information during this process.
Remember, becoming an affiliate with Livegood provides an opportunity for financial growth and a chance to be part of a community focused on personal development and a job-free lifestyle. So, if you're ready to change your life for the better, embark on the journey of becoming a Livegood affiliate.
Access Our LiveGood Job Free Revolution Team Resources
By becoming an Affiliate member using this link here, (use an incognito page or make sure that you are visiting and see on top of your page the "Welcome to Daniel Popa's website!" to be coded with our affiliate link), Only this way you get access to our resources and training: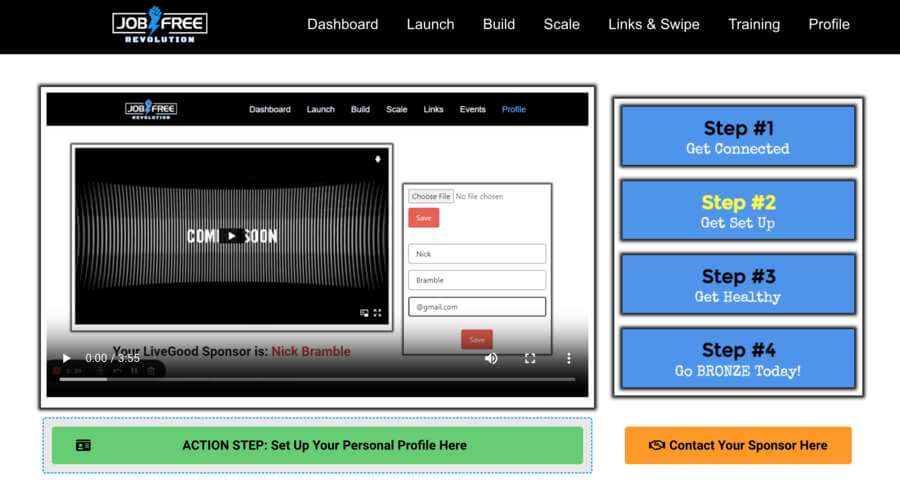 Let's see what's included:
Launch Module
Here you learn how to set up your account, tips on how to recruit people on your team, and also on how to get healthy.
Build Your Team Module
In this module, you will learn how to find and recruit people interested in LiveGood and becoming members of your Team.
Scale Module & Links & Swipe
Learn how to scale your business with the top marketers in the MLM niche. On the Links option, you get access to 13 pages (funnels) automatically coded with your LiveGood user name to promote LiveGood on your name. On Email Swipes, you will get access to a few emails with links to your 13 pages coded with your affiliate link. Pre-enrollee follow-up, pre-enrollee Thursday deadline sequence, and swipe for members on your team.
Training and Your Profile Set Up on the Team Website
You get the updated links of any LiveGood training or webinar to stay updated with everything happening on LiveGood.
Profile Setup: This is a very important step to take and set up your profile on the Team website, as you will give the same access to your paid members and many more updates soon.
Telegram Chat: You will get access to our Telegram chat, where you can ask for help or more info any day or night.
TIPS FOR SUCCESS AS A LIVEGOOD AFFILIATE PARTNER
UNDERSTAND YOUR AUDIENCE
Tailor your promotional efforts to your target audience, showcasing products that resonate with their interests and needs.
LEVERAGE MULTIPLE CHANNELS
Maximize your reach by sharing your referral link across various platforms, such as blogs, social media, and email newsletters.
CREATE ENGAGING & VALUABLE CONTENT
Publish informative, engaging content highlighting the benefits of LiveGood products and enticing your audience to learn more and purchase.
MONITOR PERFORMANCE & OPTIMIZE
Track your campaign performance, identify areas for improvement, and refine your strategies to boost your affiliate success.
Embark on a rewarding journey with the LiveGood Affiliate Program and unlock your earning potential while promoting health and wellness. By following the tips and strategies shared in this guide, you'll be well-equipped to succeed as an affiliate partner and positively impact the lives of many.
Stats for Active Members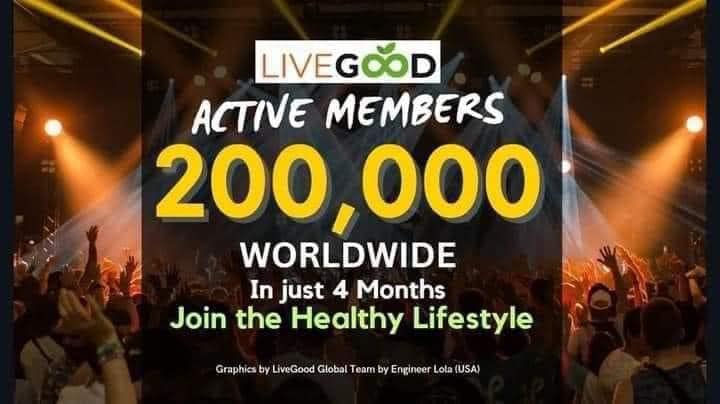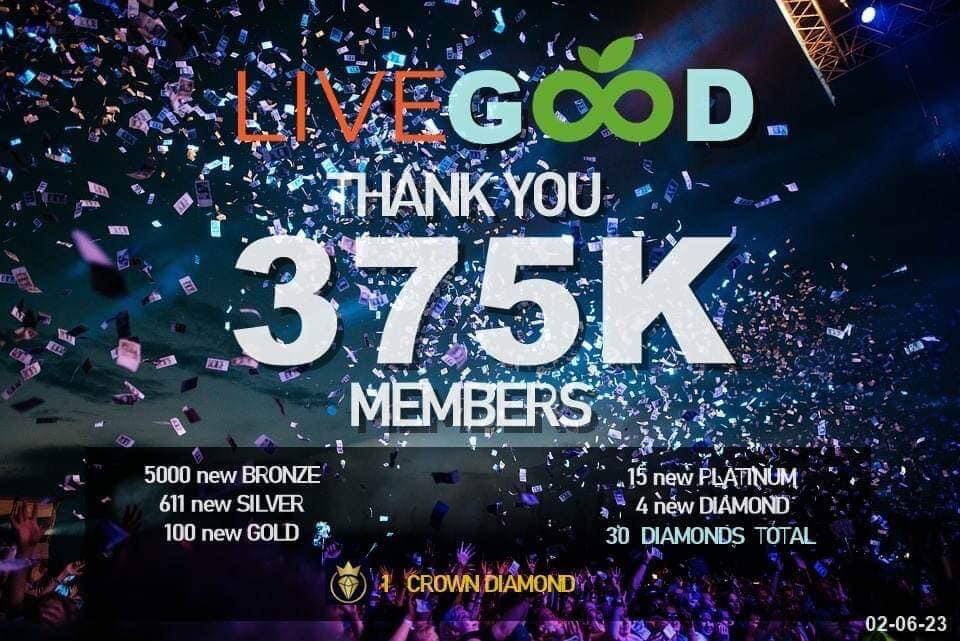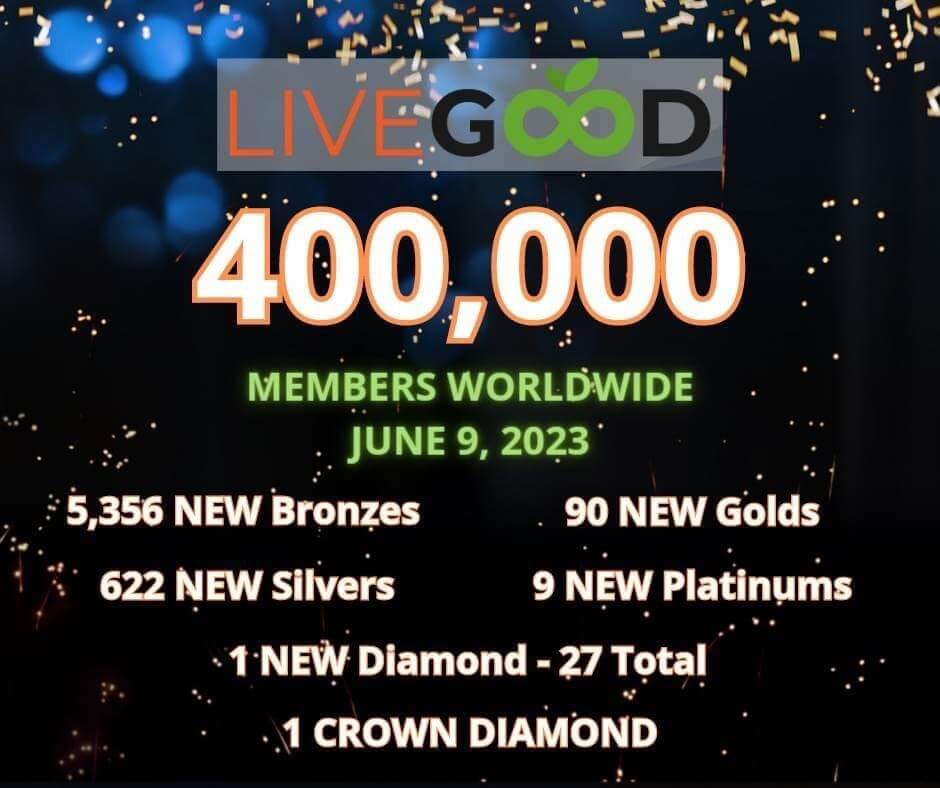 Are you ready to unlock unmatched health benefits while maximizing savings and earning opportunities?
LiveGood membership is the key!
When you become a member of LiveGood, you are stepping into a world of wellness, savings, and opportunities. You get access to top-notch health products at wholesale prices. The best part? Your savings on a single product can cover your monthly membership cost!
Picture this – enjoying exclusive, healthy products without breaking the bank, and even having the opportunity to generate income. That's what LiveGood membership offers. You can also become an affiliate, gaining the chance to earn commissions, bonuses, and a piece of company sales!
Don't miss out. Join LiveGood today for as low as $9.95 monthly, or save 20% with our yearly plan. Start your journey towards a healthier life while making smart savings and earnings. Grab your LiveGood membership now, and let's thrive together!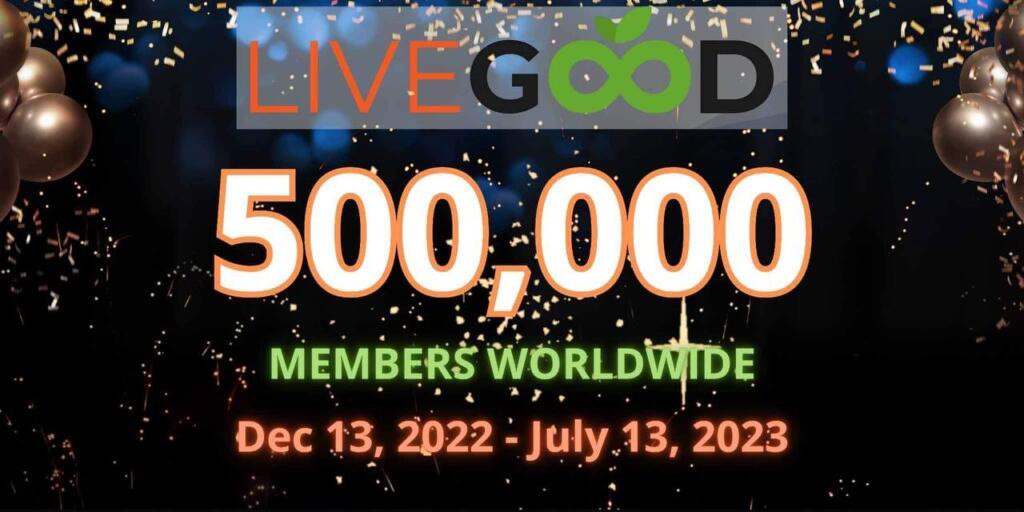 Congratulations to Our LiveGood Family on Reaching 500K Members!
Dear LiveGood Members,
We are thrilled to announce that our LiveGood family has now reached an impressive milestone – 500,000 members! Each one of you is instrumental in achieving this monumental success. Our mission of fostering health and wellness while offering a unique earning opportunity has resonated with half a million people, and for this, we are truly grateful.
Your commitment to prioritizing your health and promoting LiveGood's mission has transformed your lives and positively impacted those around you. The ripple effect of your actions has helped countless individuals discover the importance of wellness and the opportunity to supplement their income.
We can't express enough gratitude for your dedication and enthusiasm. Your faith in our products and your hard work in sharing the benefits with others have contributed significantly to our rapid growth.
As we continue to grow and evolve, we remain committed to providing you with the highest quality, organic, and vegan-friendly wellness supplements and products. We look forward to supporting each of you on your journey to enhanced health and financial prosperity.
Once again, congratulations on this remarkable achievement. Here's to your health, wealth, and the journey ahead with LiveGood. Together, we're making the world a healthier and happier place.
With gratitude,
LiveGoodForLife – Team and Members