Description
LiveGood Organic Coffee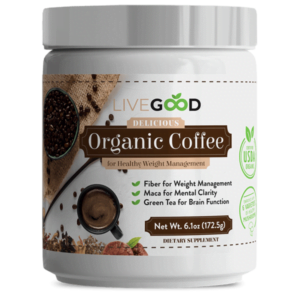 Introducing LiveGood Organic Coffee, a revolutionary blend beyond your average coffee cup. Our unique formula combines the rich flavor of organic
Product Brand: LiveGood Organic Coffee
Product Currency: USD
Product Price: 17.95
Product In-Stock: InStock
Pros
Support a Healthy Mood
Focus and Mental Clarity
Weight Loss
Functional Mushrooms
Tastes Amazing!
Introducing LiveGood Organic Coffee: A Nutrient-Packed Blend for Your Daily Boost
Are you searching for a coffee that tastes great and offers numerous health benefits?
LiveGood Organic Coffee is the answer! Our unique blend combines the finest ingredients to support your overall well-being and elevate your daily coffee experience.
LiveGood Organic Coffee features a powerful mix of ingredients:
LifeGood Organic Coffee Blend: A premium coffee base for a rich and smooth taste
Acacia Fiber: A healthy fiber to reduces hunger and supports digestion
Mushroom Blend: Featuring Reishi, King Trumpet, Shiitake, Lion's Mane, and Turkey Tail for adaptogenic support and immune health
Maca Powder: Known for enhancing learning, memory, and mood improvement
Guar Gum: A natural thickener to provide a satisfying texture
Caffeine from Coffee and Green Tea: For a natural energy boost and increased mental focus
Our coffee is sourced from the cleanest and most pristine places, ensuring you get the highest quality ingredients with every cup. Embrace the healthier choice with LiveGood Organic Coffee, and transform your daily coffee routine into a wellness ritual!
Organic Coffee Enriched with 6 Varieties of Healthy Mushrooms
The high-quality organic coffee base for a smooth and robust taste
Enriched with six varieties of healthy mushrooms, including Reishi, King Trumpet, Shiitake, Lion's Mane, Turkey Tail, and Cordyceps
Supports immune health, cognitive function, and stress relief
The natural energy boost from the caffeine in coffee and green tea
Acacia fiber and guar gum for improved digestion and satiety
Maca powder enhances learning, memory, and mood.
Green tea extract promotes healthy brain function and stimulates fat burning
A unique and delicious blend that combines health benefits with great taste
Ideal for daily consumption as part of a balanced lifestyle
LiveGood Membership Advantage:
Save Over 70% on Products For just $9.95 per month or $99.95 per year. You can become a LiveGood member and save over 70% on the prices of any product you buy! With membership, you'll gain access to exclusive member pricing, resources, and support to help you succeed in your health journey. Even purchasing just ONE product per month can pay for your entire monthly membership!
Don't wait any longer to transform your health with LiveGood Organic Coffee! Click the link below to buy now and embark on a healthier, happier life.
P.S. Remember, you can save over 70% on the prices of any product you buy with our LiveGood membership program. Click here to learn more about this fantastic opportunity.
Are you ready to improve your well-being? Our online shop has high-quality products tailored to help you reach optimal health. Browse our selection and find the perfect fit for your lifestyle. Take the first step towards a healthier you – visit our shop now!
Frequently Asked Questions (FAQs) for LiveGood Organic Coffee
Q: What makes this organic coffee unique compared to regular coffee?
A: LiveGood Organic Coffee is enriched with six varieties of healthy mushrooms, acacia fiber, maca powder, guar gum, and green tea extract. These additional ingredients provide a range of health benefits, including immune support, cognitive function improvement, stress relief, and more.
Q: How much caffeine is in LiveGood Organic Coffee?
A: LiveGood Organic Coffee's caffeine content comes from coffee and green tea. The exact amount of caffeine per serving may vary, but it is comparable to a regular cup of coffee.
Q: Are the mushrooms used in LiveGood Organic Coffee safe to consume?
A: Yes, the mushrooms used in our coffee blend are carefully selected for their health benefits and are safe for consumption.
Q: Can I drink LiveGood Organic Coffee if I have dietary restrictions?
A: LiveGood Organic Coffee is suitable for most dietary restrictions as it is made from natural and organic ingredients. However, we recommend reviewing the ingredient list and consulting with your healthcare professional if you have specific allergies or concerns.
Q: How do I prepare LiveGood Organic Coffee?
A: Prepare LiveGood Organic Coffee like you would any other instant coffee. Add one scoop or your desired amount to hot water, stir well, and enjoy. You can also mix it into your favorite smoothie or shake it for an extra boost of nutrients.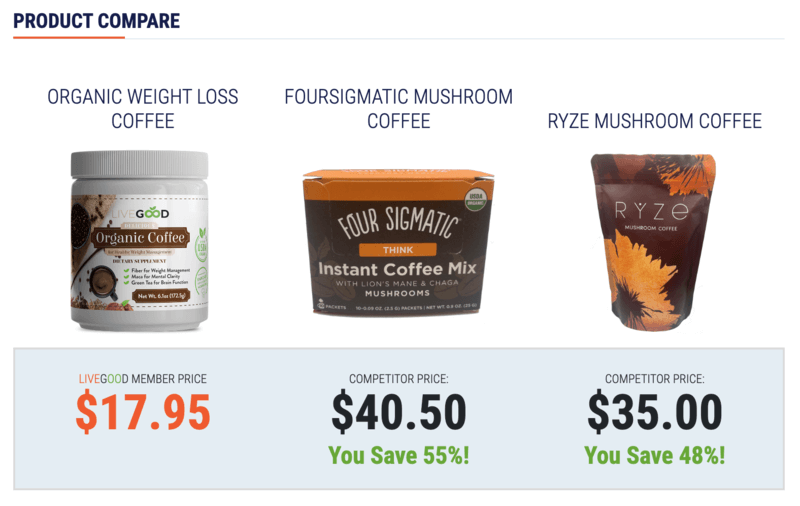 LiveGood Membership Advantage
  GLOBAL SHIPPING!
Sip and Believe: Organic Coffee Testimonials
Welcome to a world where the aroma of freshly brewed coffee meets the power of genuine testimonials. In this visual journey, we invite you to explore the stories, experiences, and transformations of individuals who have embarked on a flavorful adventure with organic coffee.
From the very first sip, these coffee enthusiasts have savored the rich and complex flavors and experienced the benefits of choosing organic.
These images and stories capture moments of joy, mindfulness, and well-being that have been brewed into every cup of organic coffee. Whether it's a morning ritual, a moment of solitude, or a shared connection over a steaming mug, organic coffee has touched the lives of many in more ways than one.
So, sit back, take a sip of your favorite brew, and let these testimonials inspire you to embrace the world of Organic Coffee.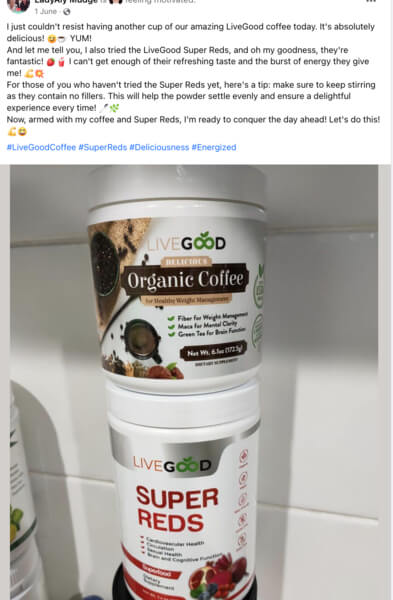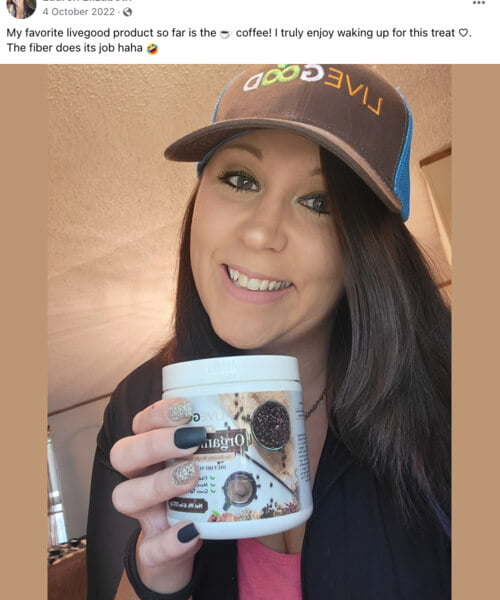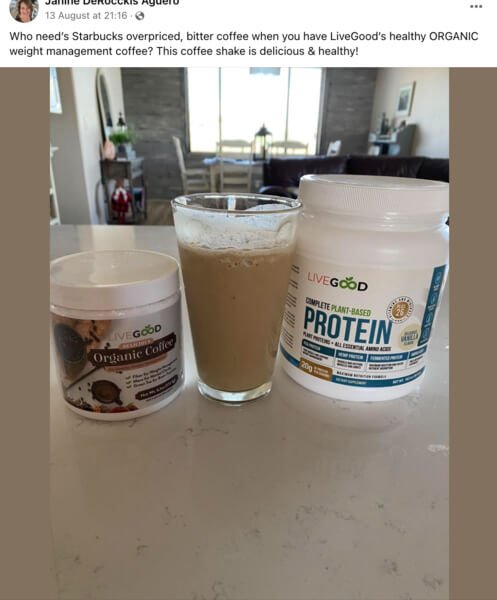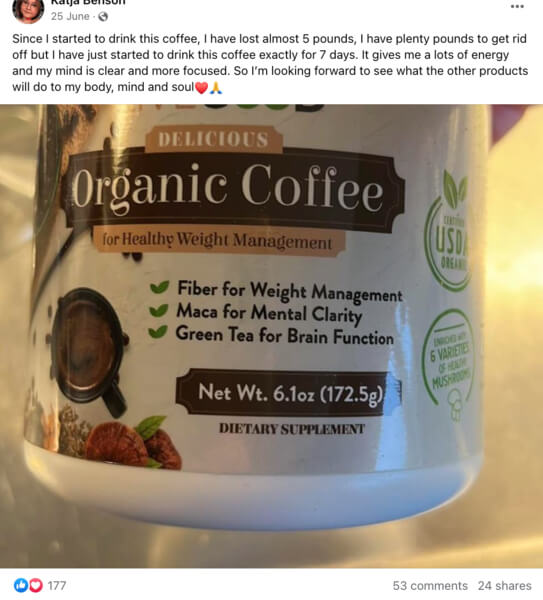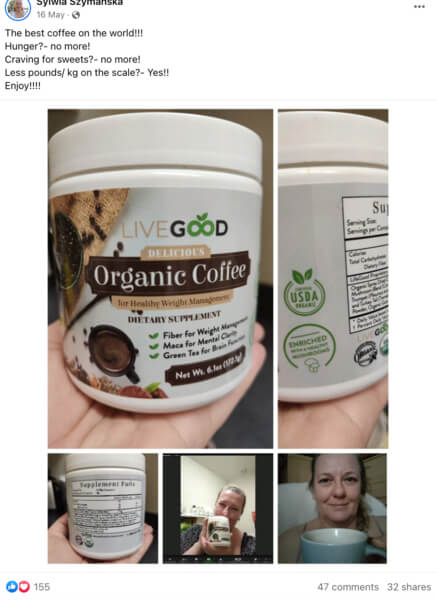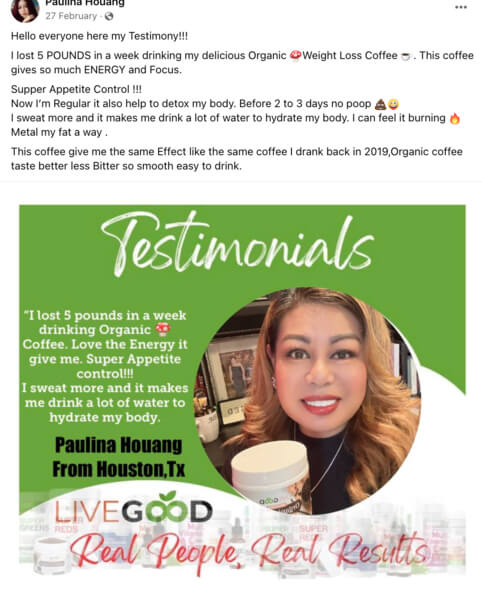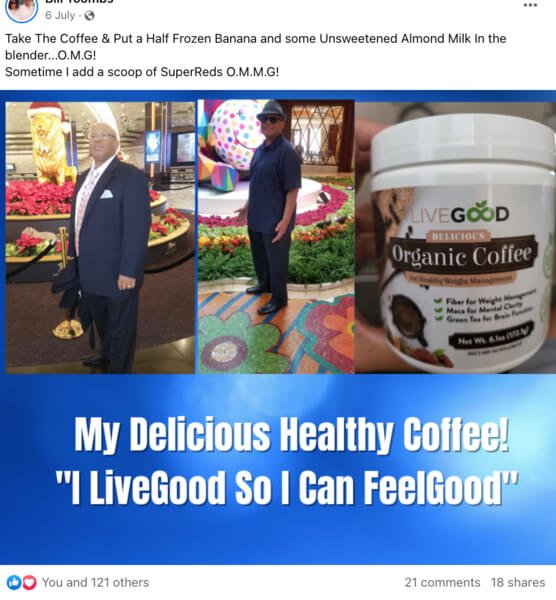 *Please note: The prices displayed for LiveGood products are exclusive membership prices. By becoming a LiveGood member, you can take advantage of these special prices and save on your purchases across our entire product range. The retail prices may be higher for non-members. Join the LiveGood membership program to enjoy these savings and unlock additional benefits on all LiveGood products.
***Please note that we at LiveGoodForLife.com do not provide medical advice. We proudly offer a fantastic range of bio and organic products for your well-being. However, we strongly recommend consulting with a qualified health practitioner before changing your diet, lifestyle, or supplement regimen. Enjoy our products responsibly and prioritize your health by seeking professional guidance.