LiveGood Certificates of Analysis
Assurance of Quality: Delving into LiveGood's Certificates of Analysis
Knowing exactly what you're getting is paramount in health and wellness. LiveGood, acknowledging this customer concern, offers Certificates of Analysis (CoA) for their products.
But what are CoAs, and why should they matter to a customer?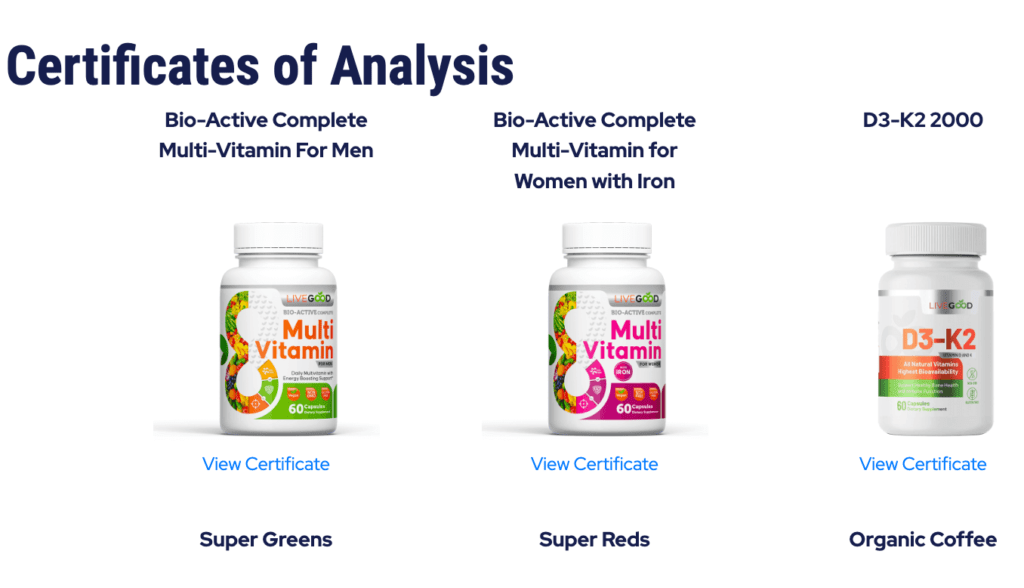 Unpacking Certificates of Analysis:
A Certificate of Analysis is a document produced by quality assurance laboratories. It verifies that a regulated product, such as the health and wellness offerings from LiveGood, adheres to its product specifications. A CoA houses the actual results procured from testing an individual batch of a product, thereby offering a glimpse into its composition and quality.
The Importance of CoAs:
When buying a health product, it's vital to ensure its ingredients' safety, quality, and authenticity. CoAs serve this very purpose. By delivering a meticulous analysis of each product batch, CoAs:
Authenticate Quality: CoAs substantiate the product's adherence to quality standards, affirming that LiveGood products consistently maintain a high level of quality.
Confirm Composition: A CoA outlines all active and inactive components in the product, ensuring transparency regarding your consumption.
Certify Safety: By testing for impurities and harmful substances, CoAs assure the product's safety for use.
Select your Products to see the Certificates of Analysis
For LiveGood, customer health and satisfaction take precedence. Through the provision of Certificates of Analysis, they strive to offer complete transparency and build trust in their products' quality, safety, and efficacy.
With every LiveGood product purchase, customers can access a wealth of information in its CoA, underlining LiveGood's unwavering commitment to quality and customer well-being.