Description
LiveGood Organic Super Greens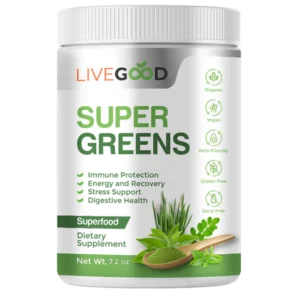 The LiveGood Organic Super Greens is, Vegan, Keto-Friendly, Gluten-Free, and Dairy-Free Superfood Blend! Designed to empower your body with
Product Brand: LiveGood Organic Super Greens
Product Currency: USD
Product Price: 18.00
Product In-Stock: InStock
Pros
Eating organic, fresh cut, clean fruits and vegetables keeps our blood pressure normal, our gut functioning as intended and our brain getting all of the nutrients it needs to carry out those important tasks.
Without them, all kinds of health issues can happen including indigestion, weakened immune system, lack of energy, depression and even weight gain.
Introducing LiveGood Organic Super Greens: Your Ultimate Health Safety Net
Are you struggling to get enough vegetables in your diet?
LiveGood Organic Super Greens are here to help by filling in the nutrient gaps, ensuring your body gets the essential nutrients it needs to function at its best! Discover all the benefits of Super Greens in our detailed review here.
Top Reasons to Choose LiveGood Organic Super Greens
Fills Nutritional Gaps: Our Organic Super Greens act as a safety net for your health by providing essential nutrients that your diet may lack.
Supports Immunity: Strengthen your immune system and keep illnesses at bay.
Improves Digestion: Boost your gut health and promote better digestion.
Energizes: Fuel your body with natural, plant-based energy sources.
Vibrant Health: Feel more vibrant and revitalized with just one scoop a day.
Budget-Friendly: Enjoy the benefits of our top-quality Organic Super Greens without breaking the bank!
LiveGood Membership Advantage:
Save Over 70% on Products For just $9.95 per month or $99.95 per year. You can become a LiveGood member and save over 70% on the prices of any product you buy! With membership, you'll gain access to exclusive member pricing, resources, and support to help you succeed in your health journey. Even purchasing just ONE product per month can pay for your entire monthly membership!
Elevate your well-being with our top-quality products! Visit our online shop to uncover an array of health-enhancing options designed to suit your unique needs. Don't miss out – embark on your wellness journey today and see the difference for yourself! See also LiveGood Organic Super Reds.
Frequently Asked Questions (FAQs)
Q. How do I take LiveGood Organic Super Greens? A: Mix one scoop with water, juice, or your favorite smoothie daily, or as directed by a health practitioner.
Q. Can I take LiveGood Organic Super Greens long-term? A: Yes! Our Organic Super Greens can be taken on a continuous basis to support your overall health and well-being.
Q. What makes LiveGood Organic Super Greens different from other super greens products? A: Our Organic Super Greens contain a carefully selected blend of high-quality, nutrient-dense ingredients to ensure optimal health benefits.
Don't wait any longer to transform your health with LiveGood Organic Super Greens! Click the button below to buy now and embark on a healthier, happier life.
P.S. Remember, you can save over 70% on the prices of any product you buy with our LiveGood membership program. Click here to learn more about this fantastic opportunity.
Organic Powerhouse: Key Ingredients in LiveGood's Super Greens Blend
Organic Alfalfa: Rich in vitamins and minerals, it supports digestion and detoxification.
Organic Wheat Grass Juice Powder: High in nutrients, antioxidants, and fiber, it supports immunity.
Organic Barley Grass: Packed with vitamins, minerals, and antioxidants, it promotes heart health.
Organic Oat Grass Juice: High in nutrients and supports healthy digestion and immune function.
Organic Chlorella: Detoxifies and supports overall health with vitamins, minerals, and antioxidants.
Organic Spirulina: Nutrient-dense algae supports immune function and cardiovascular health.
Organic Matcha Green Tea: Rich in antioxidants, it boosts metabolism and energy.
Organic Moringa Leaf: Nutrient powerhouse supports overall health and well-being.
Organic Aloe Vera: Improves digestion, supports skin health, and has antioxidant properties.
Organic Dulce: Seaweed is packed with essential nutrients that support thyroid function.
Organic Dandelion Leaf: Supports liver health, digestion, and detoxification.
KSM-66 Organic Ashwagandha Root Extract: Adaptogenic herb reduces stress and promotes overall health.
Organic Blackberry: High in antioxidants and vitamins, it supports immune function.
Organic Raspberry: Rich in vitamins and antioxidants, it supports overall health.
Organic Strawberry: Packed with nutrients and antioxidants, it promotes heart health.
Dairy-Free Yogurt Cultures: Supports gut health and digestion.
Organic Beet Root: High in nutrients and supports healthy blood pressure and heart health.
Organic Coconut Water Powder: Rich in electrolytes, it supports hydration and overall health.
These ingredients combine to create a powerful, organic blend for optimal health benefits.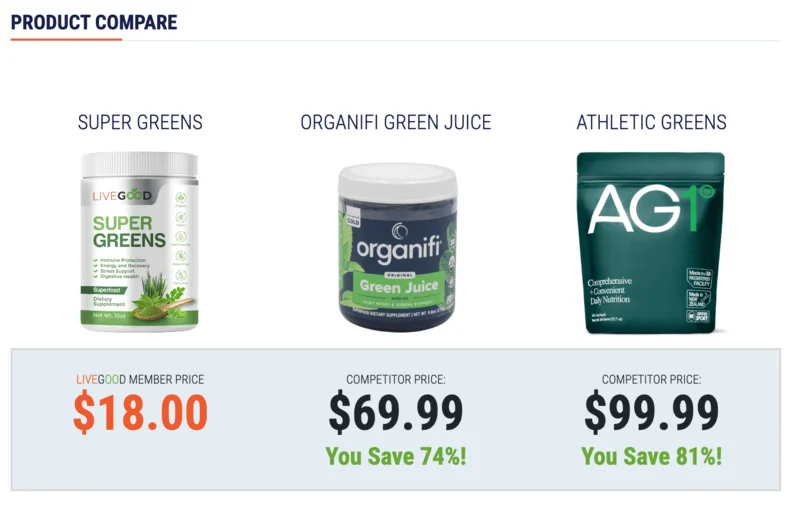 LiveGood Super Greens: Global Stories of Health and Vitality
Uniting a world in wellness with Super Greens.
Welcome to our vibrant wellness community! Our LiveGood Super Greens users come from various backgrounds but share a common healthful experience. From urban jungles to tranquil islands, our Super Greens have made a profound impact.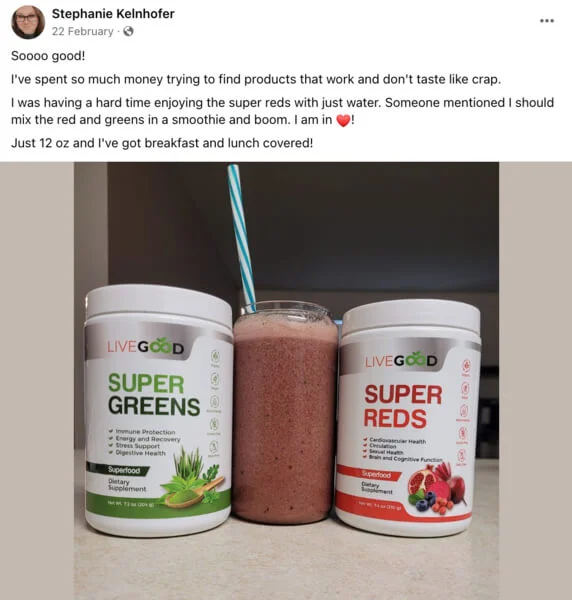 Each picture, each story here, tells of the life-changing benefits of our nutrient-packed Super Greens. It's not just about creating top-quality products; it's about uniting people worldwide in their quest for optimal health.
Go through these empowering testimonials, and let them inspire your health journey. Who knows? Soon, we might be featuring your incredible wellness transformation!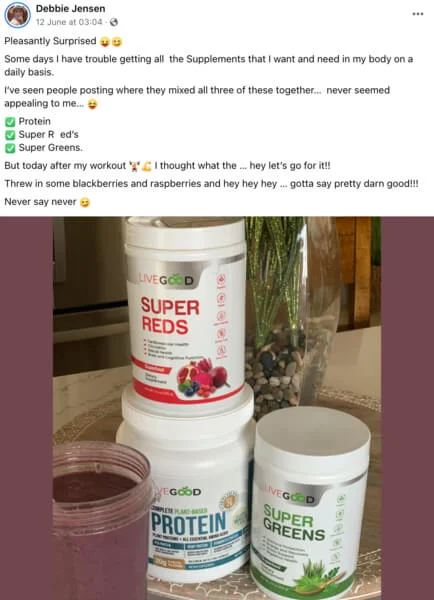 LiveGood Membership Advantage
Member Price: 18.00
Retail Price: 29.95
  GLOBAL SHIPPING!
*Please note: The prices displayed for LiveGood products are exclusive membership prices. By becoming a LiveGood member, you can take advantage of these special prices and save on your purchases across our entire product range. The retail prices may be higher for non-members. Join the LiveGood membership program to enjoy these savings and unlock additional benefits on all LiveGood products.
***Please note that we at LiveGoodForLife.com do not provide medical advice. We proudly offer a fantastic range of bio and organic products for your well-being. However, we strongly recommend consulting with a qualified health practitioner before changing your diet, lifestyle, or supplement regimen. Enjoy our products responsibly and prioritize your health by seeking professional guidance.