Description
LiveGood Factor4 - The Ultimate Inflammation Defense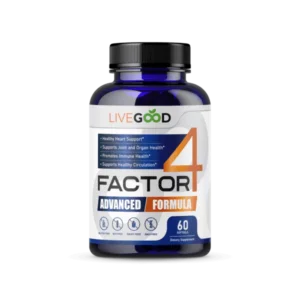 LiveGood Factor4 combines nature's top anti-inflammatory ingredients to provide a powerful defense against inflammation and promote overall health
Product Brand: LiveGood Factor4
Product Currency: USD
Product Price: 18.50
Product In-Stock: InStock
Pros
- Powerful anti-inflammatory properties
- Natural solution to combat inflammation
Cons
- Fish oil can cause side effects
Factor4 – The Ultimate Inflammation Defense: A Powerful Solution for Chronic Inflammatory Diseases
Update: Factor4 is back in stock!! 
Chronic inflammatory diseases are responsible for many sicknesses and fatalities worldwide. In fact, over 50% of all deaths can be attributed to inflammation-related illnesses, such as heart disease, stroke, cancer, diabetes, arthritis, and kidney or liver diseases.
With these alarming statistics in mind, LiveGood has proudly introduced FACTOR4, an advanced inflammation management supplement designed to control and even reverse inflammation.
The Science Behind FACTOR4:
Formulated by one of the world's leading immunologists, Dr. Heather Volpp, LiveGood's FACTOR4 is the first and only inflammation management supplement that combines four of the most potent anti-inflammatory ingredients known to man: Fish Oil, Turmeric, Coenzyme Q10, and Garlic.
Dr. Volpp has observed that many doctors and health practitioners tend to prescribe medications that treat symptoms without addressing their underlying causes. Instead of improving patients' health, these medications can often lead to new health challenges. Dr. Volpp's primary goal is to promote natural healing and manage the root cause of these issues—inflammation—through high-quality supplements.
Read our LiveGood Factor 4 Review here to discover all the benefits you can get.
A Groundbreaking Formula:
Before the development of FACTOR4, Dr. Volpp had recommended three separate supplements to her patients to achieve the anti-inflammatory benefits they can now obtain with this single product. She is immensely proud of FACTOR4 and ensures that all her patients incorporate it into their daily routines.
Key Benefits of FACTOR4:
Combats chronic inflammation: FACTOR4's powerful formula targets the root cause of various health issues by addressing inflammation in the body.
Promotes natural healing: This supplement helps support the body's natural ability to heal itself by focusing on inflammation management.
It incorporates four potent anti-inflammatory ingredients: FACTOR4 is the first and only supplement to combine Fish Oil, Turmeric, Coenzyme Q10, and Garlic for maximum efficacy.
Developed by a leading immunologist: Dr. Heather Volpp's expertise in immunology adds credibility to the effectiveness of FACTOR4.
As the world grapples with the consequences of chronic inflammatory diseases, FACTOR4 offers a natural and powerful solution to manage inflammation effectively.
This groundbreaking supplement, developed by a top immunologist and formulated with a unique combination of potent anti-inflammatory ingredients, is essential to anyone's daily routine. Take control of your health and experience the benefits of FACTOR4 – Advanced Inflammation Management today.
LiveGood Factor4: Harnessing Nature's Best Anti-Inflammatory Ingredients
Key Ingredients and Benefits:
Fish Oil:

Rich in omega-3 fatty acids (EPA and DHA)
Reduces inflammation
Supports heart and cognitive health

Turmeric:

It contains an anti-inflammatory compound, curcumin
Antioxidant properties
Alleviates inflammation and oxidative stress

Coenzyme Q10:

Naturally occurring antioxidant
Aids in energy production
Reduces inflammation and supports heart health

Garlic Extract:

Rich in sulfur compounds
Potent anti-inflammatory and antioxidant effects
Supports cardiovascular health and immune system

Black Pepper Extract:

It contains piperine, enhancing bioavailability
Increases absorption of curcumin (turmeric)
Boosts overall effectiveness of the formula
Click the button below to buy now and embark on a healthier, happier life.
P.S. Remember, you can save over 70% on the prices of any product you buy with our LiveGood membership program. Click the photo to learn more about this fantastic opportunity.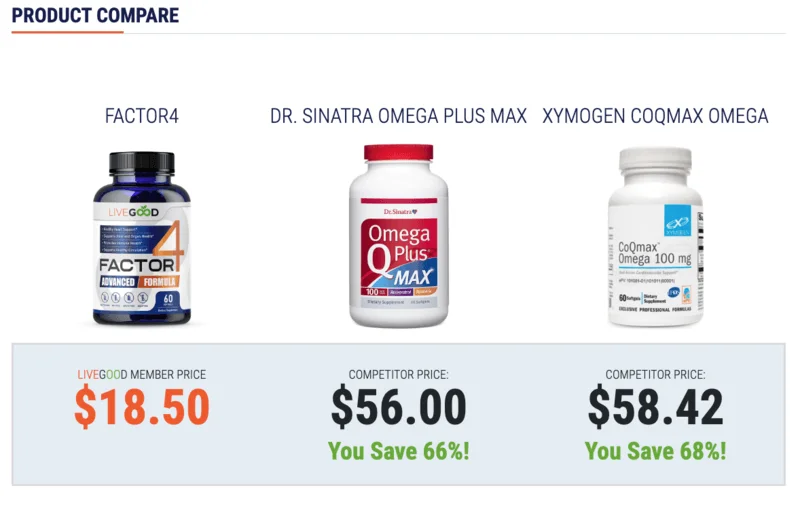 Unleashing the Power of Wellness: Real People, Real Stories of LiveGood Factor 4
When the world speaks up about the miraculous journey of pain-free living.
Welcome to our radiant corner of shared experiences – the sacred space where our precious users step up to express their transforming experiences with LiveGood Factor 4. Our thriving Facebook community's stories depict the incredible journey towards pain-free living, providing hope for countless others still looking for a solution.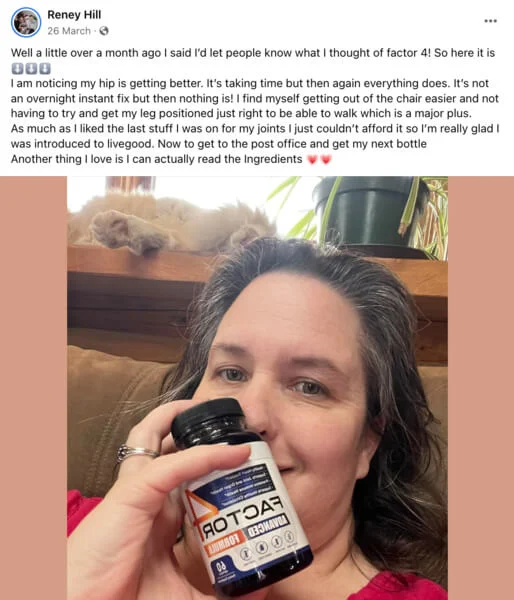 Engulfed in pain, they searched for their sanctuary in LiveGood Factor 4. Now, they're sharing their unique narratives of transformation to inspire others to take their first step toward a pain-free life.
From California's sunny coastlines to the bustling streets of London, from the serene landscapes of New Zealand to the towering skyscrapers of Dubai, our product has touched lives globally. These testimonials aren't just stories; they echo triumph, resilience, and the invincible human spirit.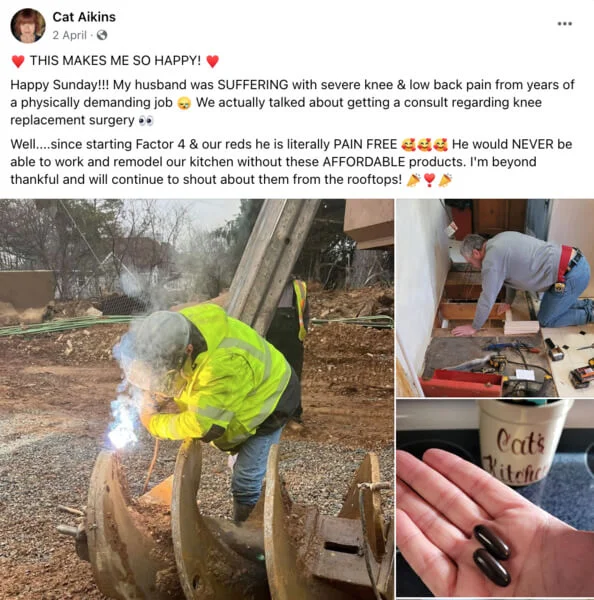 Take a moment to browse through the gallery of success stories we've compiled here. Each image holds a story that might resonate with your journey. Witness the remarkable transformations our users have experienced, all thanks to the potent blend of nature's best anti-inflammatory ingredients in LiveGood Factor 4.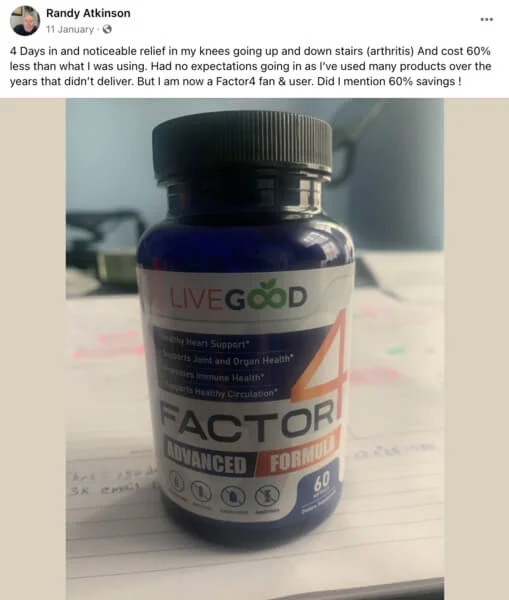 Every story shows our commitment to bringing you a life free from inflammation-induced pain. Our mission goes beyond providing a superior quality product. It is about building a global community bonded by the shared experience of reclaiming their health.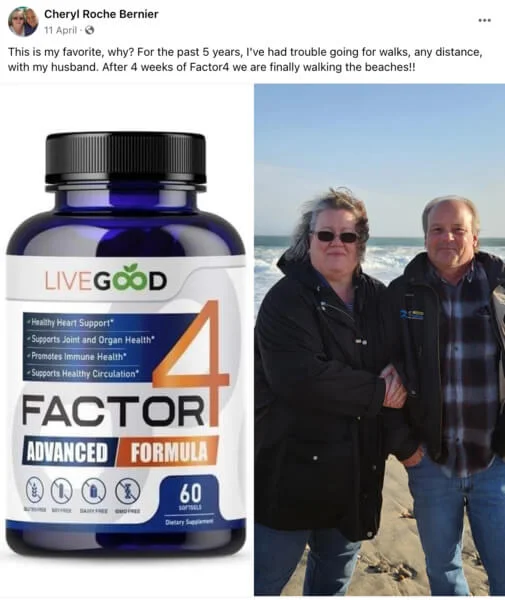 Let these narratives inspire you. Maybe next, we'll be sharing your story of triumph!
Transform your health with our exceptional range of products!
Explore our online shop and find the perfect options for your wellness needs. See the benefits of LiveGood Organic Super Reds. Take the leap and start experiencing the benefits today – your journey towards a healthier lifestyle begins here!
LiveGood Membership Advantage:
Save Over 70% on Products For just $9.95 per month or $99.95 per year. You can become a LiveGood member and save over 70% on the prices of any product you buy! With membership, you'll gain access to exclusive member pricing, resources, and support to help you succeed in your health journey. Even purchasing just ONE product per month can pay for your entire monthly membership!
LiveGood Membership Advantage
  GLOBAL SHIPPING!
*Please note: The prices displayed for LiveGood products are exclusive membership prices. By becoming a LiveGood member, you can take advantage of these special prices and save on your purchases across our entire product range. The retail prices may be higher for non-members. Join the LiveGood membership program to enjoy these savings and unlock additional benefits on all LiveGood products.
Frequently Asked Questions (FAQs) for LiveGood Factor4
Q1: What is LiveGood Factor 4?
A1: LiveGood Factor4 is a natural supplement designed to combat inflammation in the body. It contains a unique blend of Fish Oil, Turmeric, Coenzyme Q10, Garlic Extract, and Black Pepper Extract to provide comprehensive support against inflammation and promote overall health.
Q2: How should I take LiveGood Factor4?
A2: Take one softgel of LiveGood Factor4 twice daily, preferably with meals, to ensure optimal absorption and effectiveness.
Q3: Is LiveGood Factor4 safe for everyone to use?
A3: LiveGood Factor4 is formulated with natural ingredients, making it generally safe for most adults. However, if you are pregnant, nursing, have a medical condition or are currently taking medications, it is recommended to consult with your healthcare provider before starting any new supplement.
Q4: Can I take LiveGood Factor4 with other medications or supplements?
A4: While LiveGood Factor4 is made with natural ingredients, it is always best to consult your healthcare provider before combining it with other medications or supplements to ensure there are no potential interactions or contraindications.
Q5: How long does it take to see results from using LiveGood Factor4?
A5: The time it takes to experience the benefits of LiveGood Factor4 may vary depending on the individual and their specific health conditions. Some users may notice improvements within a few weeks, while others may take longer. For best results, taking LiveGood Factor4 consistently as directed is recommended.
Q6: Are there any side effects associated with LiveGood Factor4?
A6: LiveGood Factor4 is formulated with natural ingredients and is generally well-tolerated by most individuals. However, as with any supplement, some people may experience mild side effects such as digestive discomfort. If you experience any adverse reactions, discontinue use and consult your healthcare provider.
Q7: Where can I purchase LiveGood Factor4?
A7: LiveGood Factor4 can be purchased through the official LiveGood website or from our authorized shop as partners. Always buy from trusted sources to ensure a genuine, high-quality product.
***Please note that we at LiveGoodForLife.com do not provide medical advice. We proudly offer a fantastic range of bio and organic products for your well-being. However, we strongly recommend consulting with a qualified health practitioner before changing your diet, lifestyle, or supplement regimen. Enjoy our products responsibly and prioritize your health by seeking professional guidance.