Description
LiveGood Instant Youth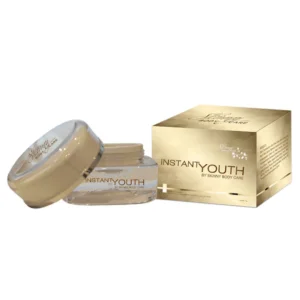 LiveGood Instant Youth is here to change the game in your skincare routine. This revolutionary product is specifically designed to diminish the signs
Product Brand: Instant Youth
Product Currency: USD
Product Price: 14.95
Product In-Stock: InStock
Pros
Reduce the Appearance of Aging in 90 Seconds!
Scientifically formulated to quickly and effectively diminish visible signs of aging, Ageless Instant Wrinkle Reducer helps immediately reduces the appearance of wrinkles, under-eye bags, and fine lines to give you amazing results in under two minutes!
Discover the Secret to Ageless Skin with LiveGood Instant Youth
Unveil the Fountain of Youth
Are you tired of searching for the ultimate solution to combat visible signs of aging? Look no further! Introducing LiveGood Instant Youth. Ageless Instant Wrinkle Reducer is a revolutionary age-defying product that's taking the skincare world by storm. Imagine achieving smoother, younger-looking skin in just 90 seconds. With Instant Youth, that dream becomes a reality!
The Science Behind the Magic
Instant Youth has been scientifically formulated to deliver quick and effective results. Our unique blend of ingredients works synergistically to diminish the appearance of wrinkles, under-eye bags, and fine lines. No more waiting for weeks or months to see improvements in your skin – Instant Youth provides remarkable results in under two minutes!
Experience a Radiant Transformation
Imagine effortlessly turning back the clock, giving your skin a youthful, radiant glow. Instant Youth is the answer to your prayers! Its easy-to-use formula allows you to target problem areas and witness instant transformations. Boost your confidence and feel your best with smoother, firmer, and more youthful-looking skin.
Take Action and Reclaim Your Youth
Don't miss out on the opportunity to experience the amazing benefits of LiveGood Instant Youth for yourself. Visit our online store today and take the first step towards rejuvenating your skin. Say goodbye to wrinkles and hello to a more youthful you! Order your Instant Youth now and witness the magic of ageless skin.
Remarkable Benefits of LiveGood Instant Youth
Instantly reduces the appearance of wrinkles and fine lines
Visibly diminishes under-eye bags for a refreshed look
Delivers noticeable results in under 90 seconds
Easy-to-use formula for targeted application
Boosts skin's radiance and youthful glow
Enhances overall skin texture and firmness
Suitable for all skin types and ages
Convenient for on-the-go touch-ups
Increases confidence and self-esteem
Complements your existing skincare routine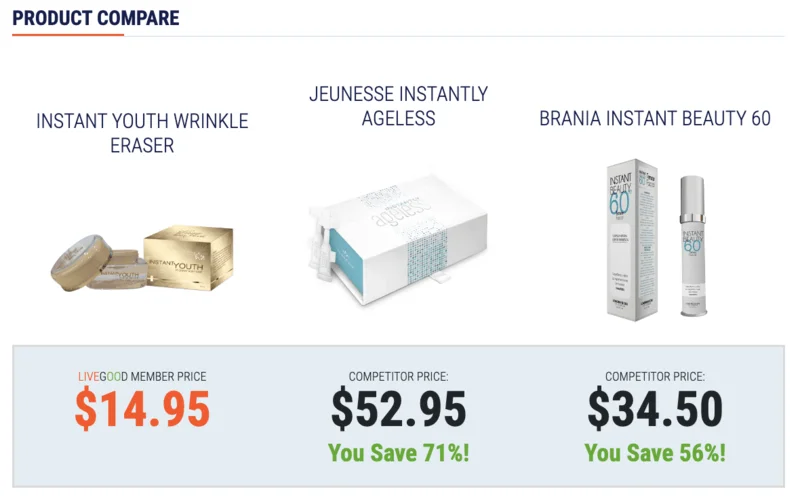 Experience the incredible power of LiveGood Instant Youth and rediscover your skin's youthful radiance. This revolutionary product works wonders in reducing the appearance of wrinkles, fine lines, and under-eye bags in just 90 seconds. But why stop there? LiveGood Ageless Skin Serum is a great partner for your skin. Also LiveGood offers a range of amazing products that cater to all your health and wellness needs.
Boost your energy levels with our LiveGood Maximum Energy Bundle and LiveGood Organic Coffee. Achieve your fitness goals with the LiveGood Lean Body Pack and LiveGood Plant-Based Protein.
LiveGood Membership Advantage:
Save Over 70% on Products For just $9.95 per month or $99.95 per year.
You can become a LiveGood member and save over 70% on the prices of any product you buy! With membership, you'll gain access to exclusive member pricing, resources, and support to help you succeed in your health journey. Even purchasing just ONE product per month can pay for your entire monthly membership!
LiveGood Membership Advantage
  GLOBAL SHIPPING!
*Please note: The prices displayed for LiveGood products are exclusive membership prices. By becoming a LiveGood member, you can take advantage of these special prices and save on your purchases across our entire product range. The retail prices may be higher for non-members. Join the LiveGood membership program to enjoy these savings and unlock additional benefits on all LiveGood products.
LiveGood Instant Youth Testimonial from our Facebook Group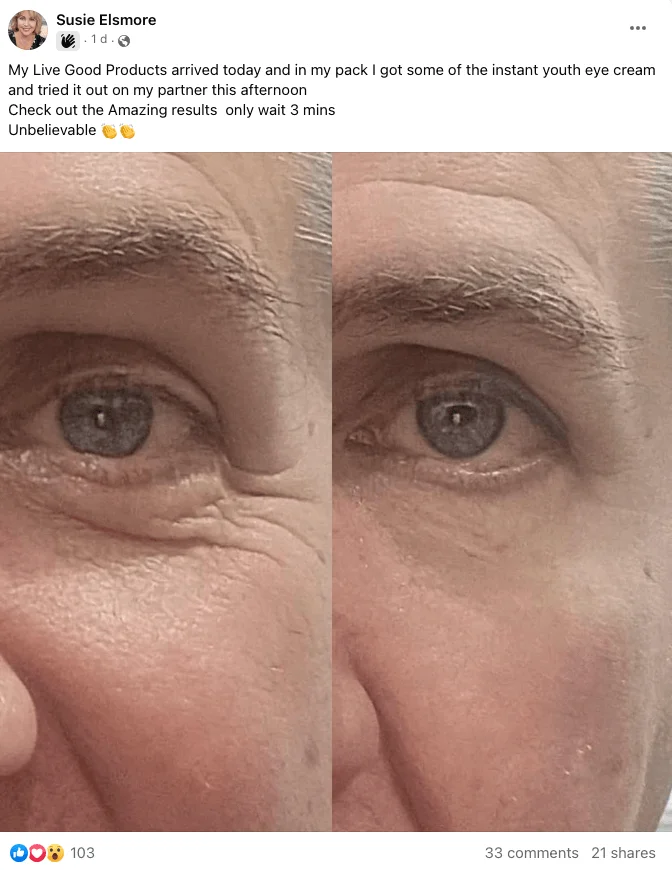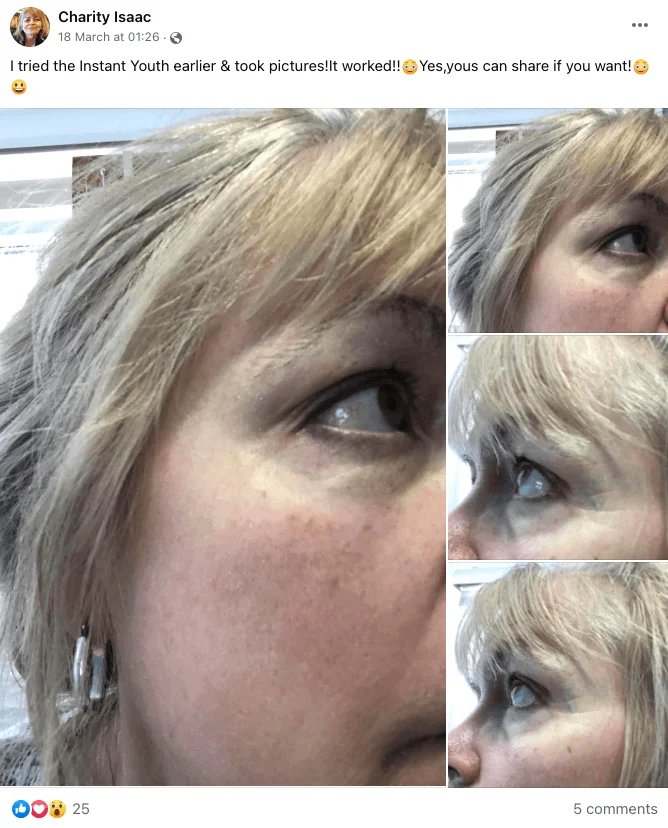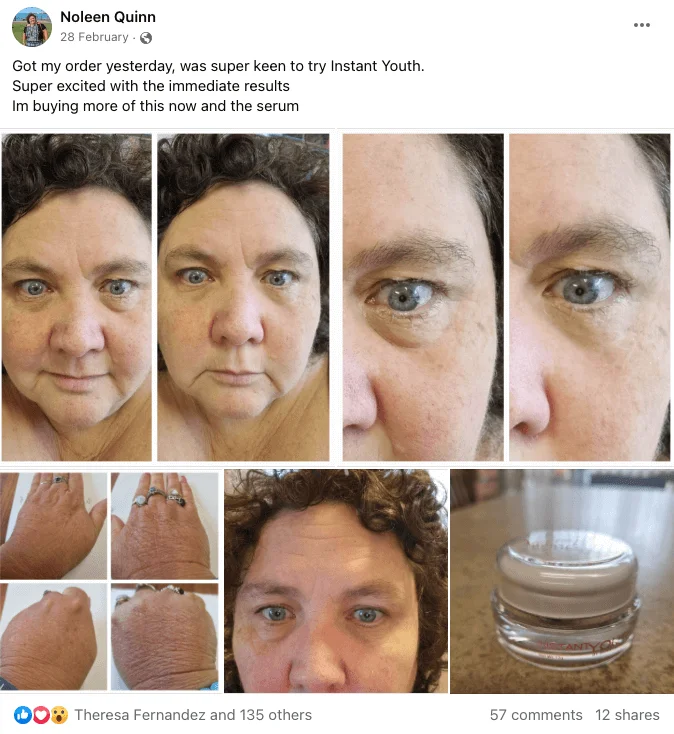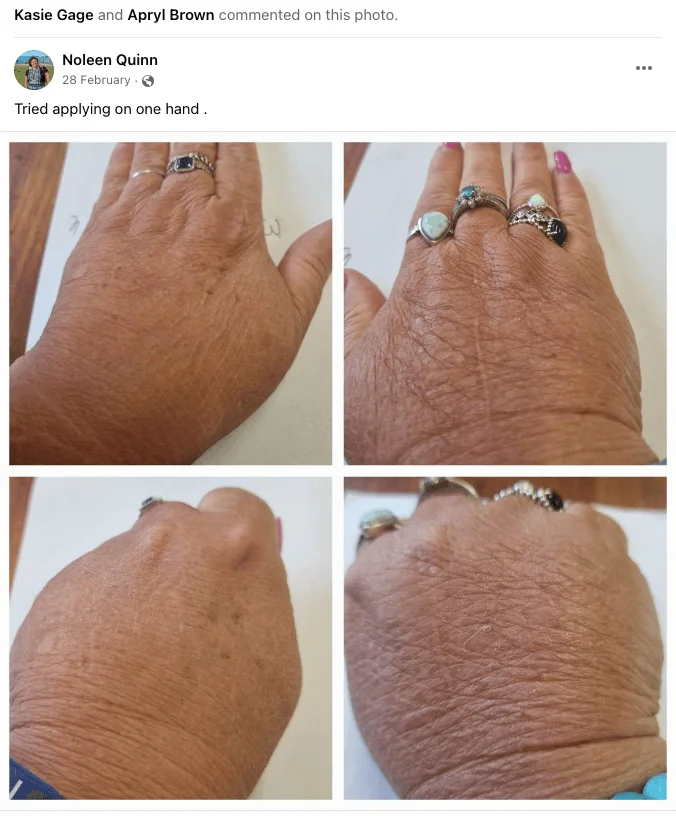 Frequently Asked Questions (FAQs) for LiveGood Instant Youth
How does LiveGood Instant Youth work?
LiveGood Instant Youth is a scientifically formulated cream that helps diminish visible signs of aging almost immediately. It works by tightening the skin and reducing the appearance of wrinkles, under-eye bags, and fine lines within 90 seconds of application.
How do I use LiveGood Instant Youth?
To use LiveGood Instant Youth, apply a small amount of the cream to clean, dry skin where you'd like to reduce the appearance of lines and wrinkles. Allow the product to dry for about 90 seconds to achieve the best results.
Is LiveGood Instant Youth safe for all skin types?
Yes, LiveGood Instant Youth is suitable for all skin types. However, we always recommend performing a patch test before applying the product to your face to ensure you don't experience any adverse reactions.
Can I use Instant Youth with makeup?
Yes, you can use Instant Youth under makeup. Apply the cream first, let it dry for 90 seconds, and then apply your makeup as usual.
How long do the effects of Instant Youth last?
The effects of LiveGood Instant Youth can last for several hours, depending on your skin type and the environmental conditions. You can reapply the product as needed throughout the day for longer-lasting results.
Is LiveGood Instant Youth a permanent solution for wrinkles and fine lines?
No, Instant Youth provides quick results that help reduce the appearance of aging. We recommend incorporating other LiveGood skincare products and maintaining a healthy lifestyle for long-term skin texture and firmness improvement.
Are there any side effects of using LiveGood Instant Youth?
LiveGood Instant Youth is generally safe to use, with most users experiencing no side effects. However, if you have sensitive skin or any pre-existing skin conditions, it's always best to consult a dermatologist before using new skincare products.
Can I use other skincare products along with LiveGood Instant Youth?
Yes, you can use other skincare products alongside Instant Youth. For the best results, apply Instant Youth after your regular skincare routine, allowing each product to absorb fully before applying the next.
**Disclaimer: All photos and testimonials shared in this review are authentic and sourced directly from our LiveGood Testimonial Group members on Facebook. The credit and opinions expressed in these testimonials belong solely to the original owners. These are real experiences from actual users, but it's essential to note that individual results may vary. Always consult with a healthcare professional before starting any new supplement. 
Before using the Instant Youth, we strongly recommend conducting a patch test on a small area of your skin. Apply a small amount of the product to a discreet patch, preferably behind the ear or on the inside of your forearm, and wait for 24 hours. If no adverse reactions such as redness, itching, or irritation occur during this period, you can proceed with using the serum on a larger area. Remember, everyone's skin is unique, and what works for one person may not work for another. Always prioritize your safety and well-being.