LiveGood UK
As the UK searches for lucrative online opportunities, LiveGood UK is gaining traction as a promising online product-based residual income business player. The secret to its rapidly increasing popularity? A business model that many are touting as close to perfect.

Table of Contents
Discovering LiveGood UK: Your Path to Premium Wellness Products and a Thriving Online Business
As a LiveGood distributor hailing from the United Kingdom, I've had the privilege of being part of a growing and thriving team. With a substantial number of members based in the UK, our global reach has been expanding as more and more people discover the many benefits of LiveGood.
This blog post is designed to reach readers in the UK and beyond, providing valuable insights for anyone looking for good quality products that truly make a difference.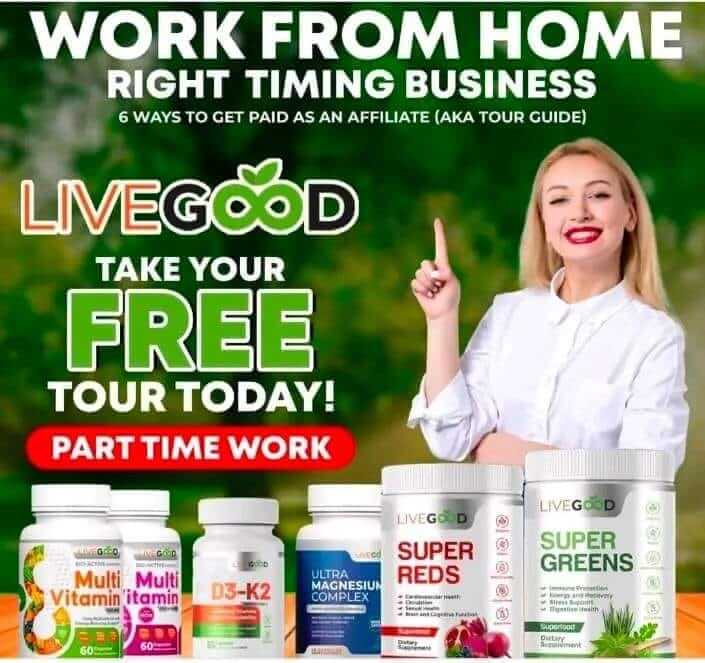 LiveGood isn't just about products; it's also an opportunity. It offers a chance for anyone to build a successful online business by becoming an affiliate. Our range of exceptional products and an incredible business model provides the perfect platform for anyone to launch their own business venture. As a LiveGood affiliate, you get to share products you believe in, while building a team and generating income. It's a truly rewarding experience combining a passion for health and wellness and financial growth.
Whether you're a customer looking for top-quality health products or an aspiring entrepreneur seeking a unique business opportunity, LiveGood has something for everyone. I invite you to read on and explore what it means to be part of the LiveGood community and how our products and business model can enhance your life and the lives of those around you.
A Business Model That Changes The Game
One of the prevalent issues that plague product-based businesses is the retention of their customers. This issue often arises because people are compelled to buy overpriced products they don't necessarily want or need. LiveGood breaks this cycle by offering members products at lower prices than retail, making them accessible and appealing. As a result, customers buy when they want, not because they are compelled to do so.
The LiveGood compensation plan is another game-changer. This plan offers Weekly Fast Start Commissions, which extend up to 10 generations deep based on your rank, 2 x 15 Matrix Commissions, Matching Matrix Earnings on your direct referral's Matrix earnings, Retail Sales Commissions, and Bonuses.
Moreover, LiveGood doesn't burden members with product purchase or sponsoring requirements, making it attractive for anyone seeking to earn residual income online.
Exclusive Invitation: Transform Your Life with Our FREE Webinar
Empower Your Future: Create a Residual Income in 12 Months by Working 1 Hour Per Day
Dear Friend,
If you're eager to enter a world where you work less and earn more, we have an exclusive opportunity for you. We invite you to attend our FREE WEBINAR – "How to Create a Walk Away Residual Income in 12 Months Working 1 Hour Per Day by Leveraging These 7 Critical Steps to Success". This offer is exclusive to our dedicated blog readers like you.
In this comprehensive webinar, you'll discover a robust strategy that could redefine your financial freedom. But the value doesn't stop there.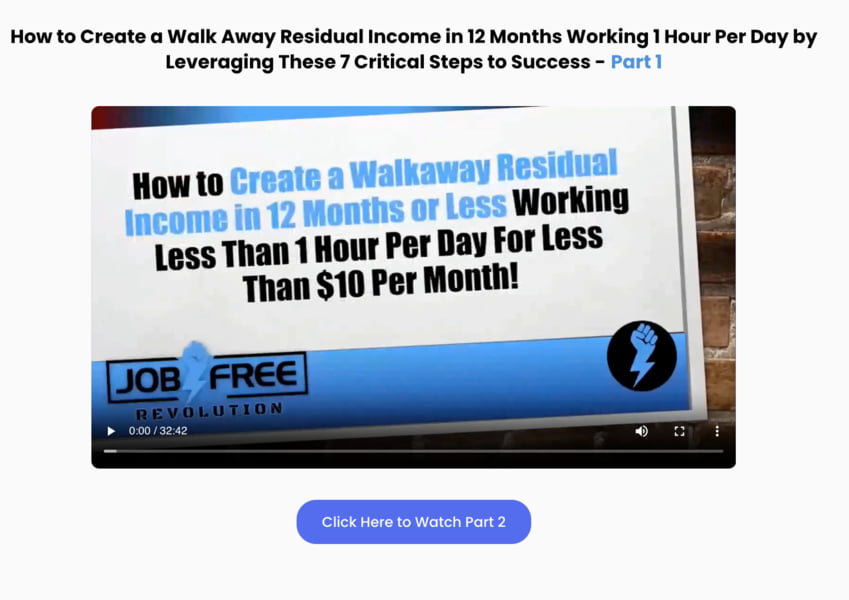 As a LiveGood member of our team, you gain access to the following:
Done-for-You LiveGood Funnels: Skip the stress of setup with our ready-made, high-converting funnels.
Email Swipes: Streamline your marketing with our pre-written, effective email copies.
24-hour Chat on Telegram: Stay connected, and get instant answers and ongoing support in our members-only chat group.
Training on Launching, Building, and Scaling Your LiveGood Business: Master the art of starting, growing, and expanding your business with our in-depth training modules.
Strategies for Promoting and Finding People in Need of Wellness Products: Learn tried-and-true techniques for reaching the right audience.
Website Access for Your Team: Provide your team with the tools they need to succeed, empowering them to start building their own business.
Your journey towards residual income, more free time, and financial freedom is just a click away.
Don't miss this chance to rewrite your financial story. We look forward to seeing you at the webinar!
A Closer Look at LiveGood's Life-Enhancing Products
LiveGood's range of products is designed to promote good health, boost energy levels, and cater to the daily essential needs of its users.
Let's dive in to understand the benefits and utilities of each product:
LiveGood Maximum Energy Bundle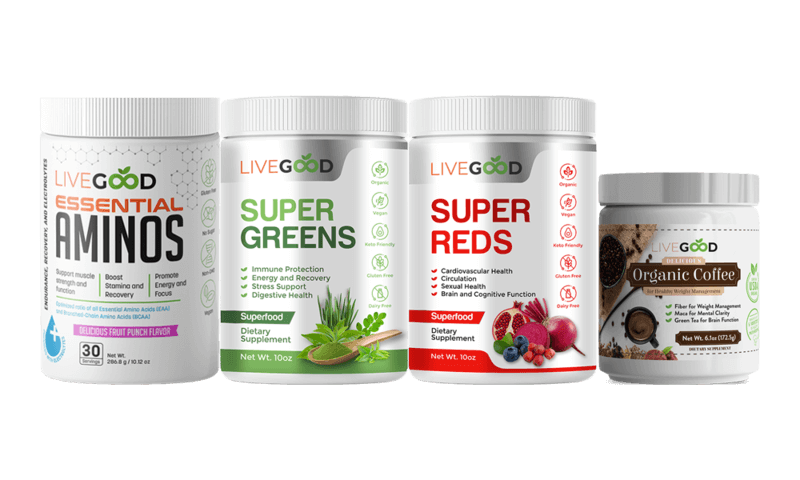 This bundle delivers the maximum energy boost you need to get through your day. It enhances your focus, fuels your body with essential nutrients, and supports optimal physical and mental performance.
LiveGood Ultimate Wellness Bundle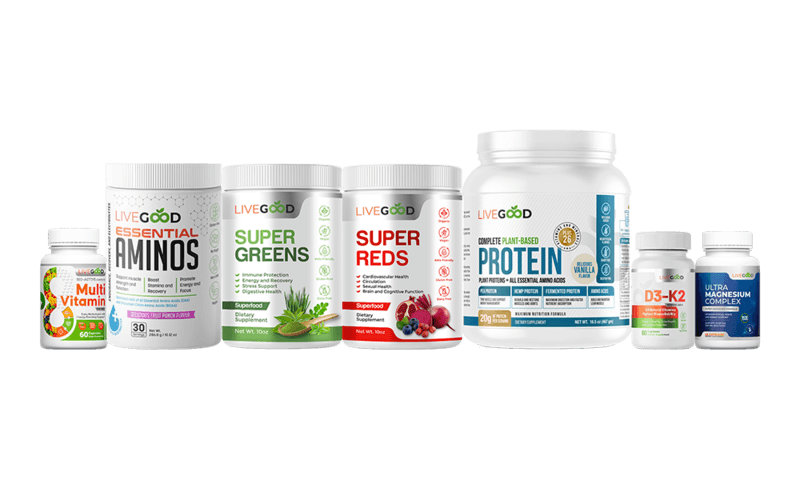 This comprehensive bundle focuses on promoting overall wellness. It contains essential vitamins, minerals, and nutrients needed for optimal bodily functions, strengthening your immune system, boosting metabolism, and enhancing mental clarity.
LiveGood Lean Body Pack – Bundle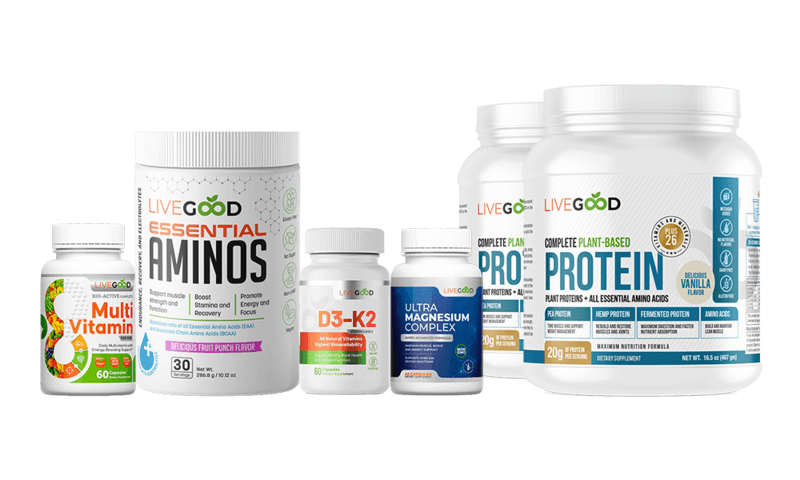 The Lean Body Pack is for you if you want to maintain a healthy weight or lose some. It's packed with natural, plant-based proteins and other nutrients that support weight management, promote muscle growth, and improve metabolism.
LiveGood Daily Essentials Pack – Bundle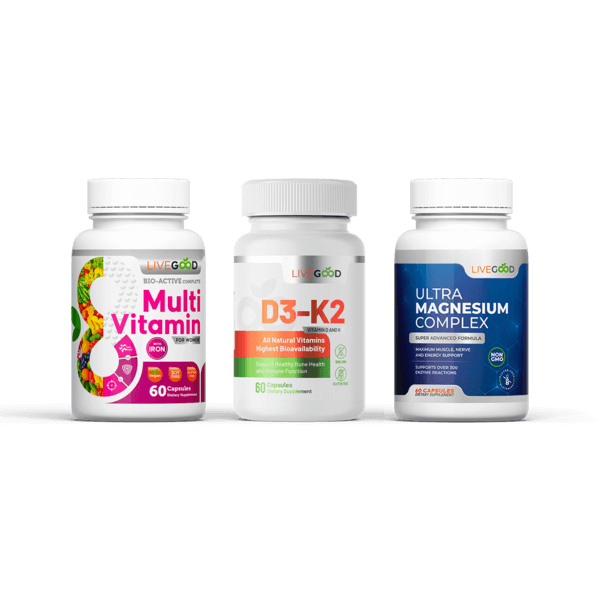 The Daily Essentials Pack covers your everyday nutritional needs. It includes a blend of vitamins, minerals, and antioxidants that support immune function, enhance energy levels, and promote overall wellness.
LiveGood Factor4 – The Ultimate Inflammation Defense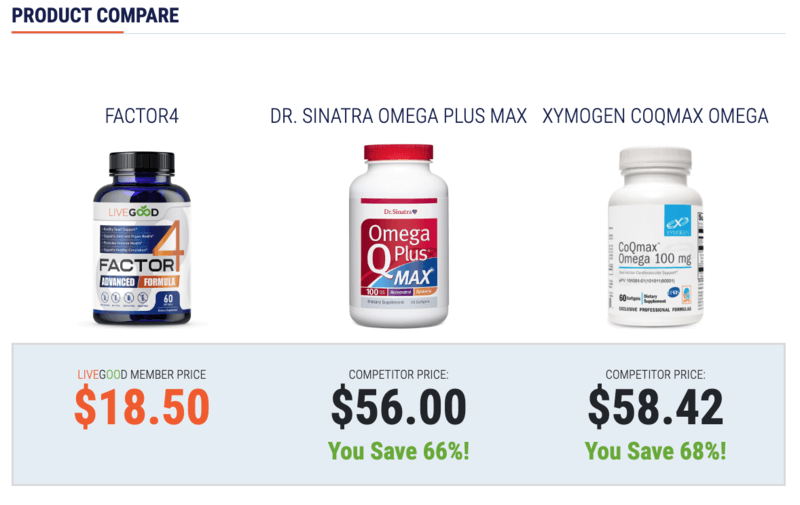 Inflammation is often the root of many health issues. Factor4, with its advanced formula, aids in combating inflammation, enhancing your body's natural defenses, and promoting overall well-being.
LiveGood Essential Aminos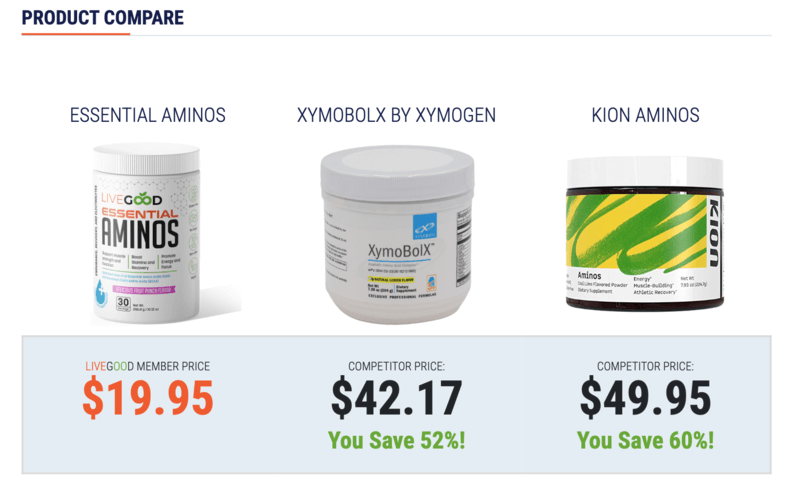 Essential Aminos offers all nine essential amino acids your body can't produce on its own. These are crucial for muscle recovery, energy production, and various other physiological functions.
LiveGood Organic Coffee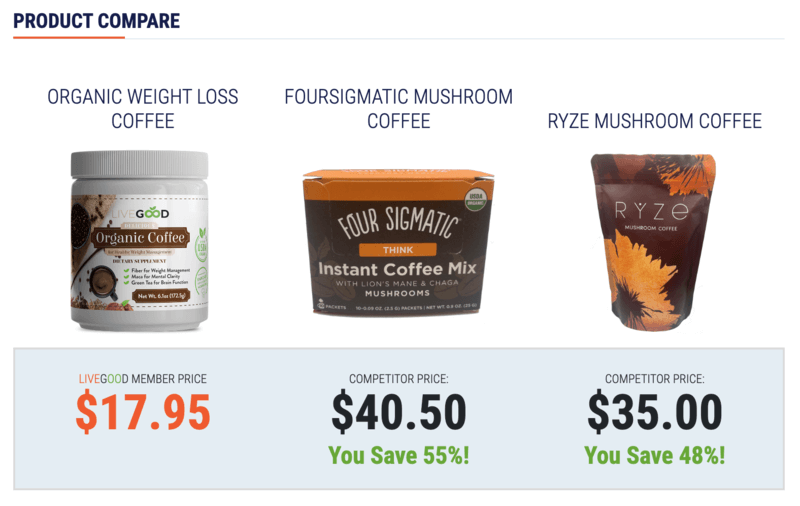 This isn't just any coffee. LiveGood's Organic Coffee is sourced from organic farms and aims to provide you with the perfect energy boost while helping you stay alert and focused.
LiveGood Organic Super Reds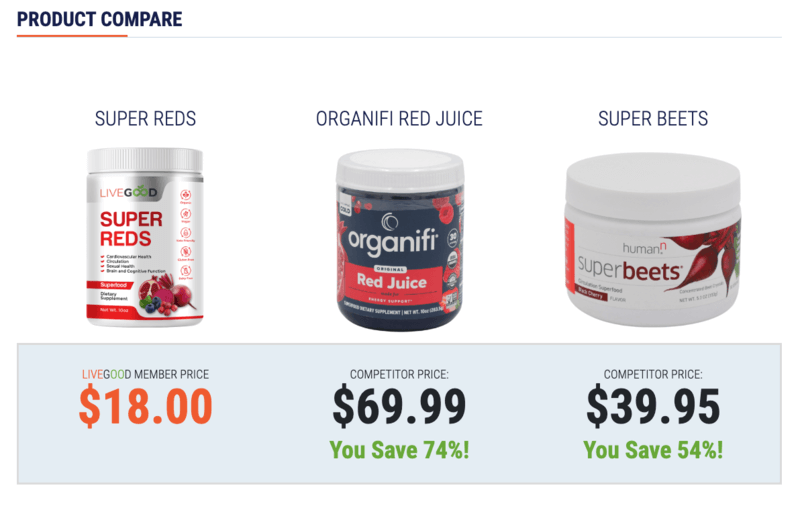 Packed with red fruits and vegetables, Super Reds promotes heart health, improves blood flow, supports cognitive function, and bolsters the immune system. It's a tasty and healthy addition to your daily routine.
LiveGood Organic Super Greens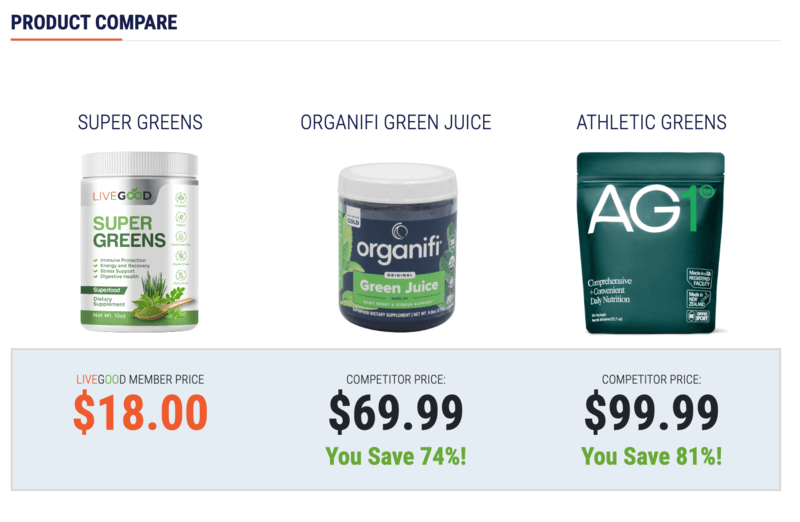 A blend of organic, nutrient-rich green superfoods, Super Greens aids in detoxification, boosts immunity, and promotes optimal digestive health.
LiveGood Plant-Based Protein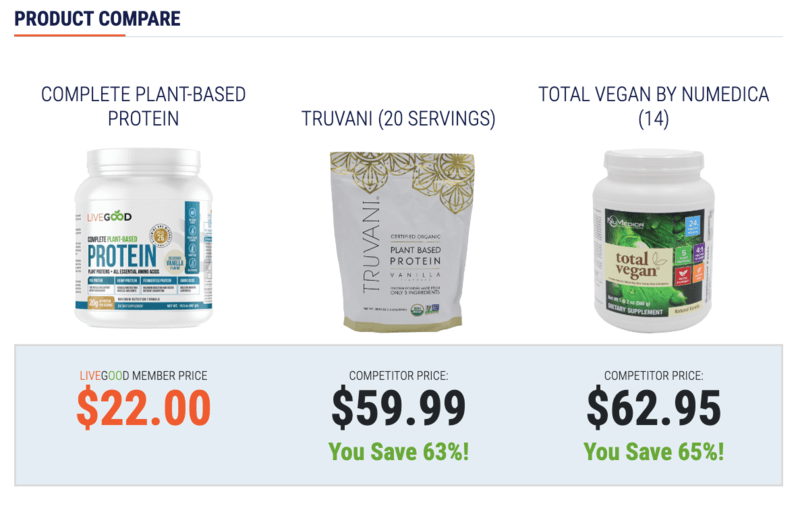 A vegan-friendly protein source, this product provides high-quality plant-based protein to aid in muscle recovery, support lean muscle growth, and keep you feeling fuller for longer.
LiveGood Ultra Magnesium Complex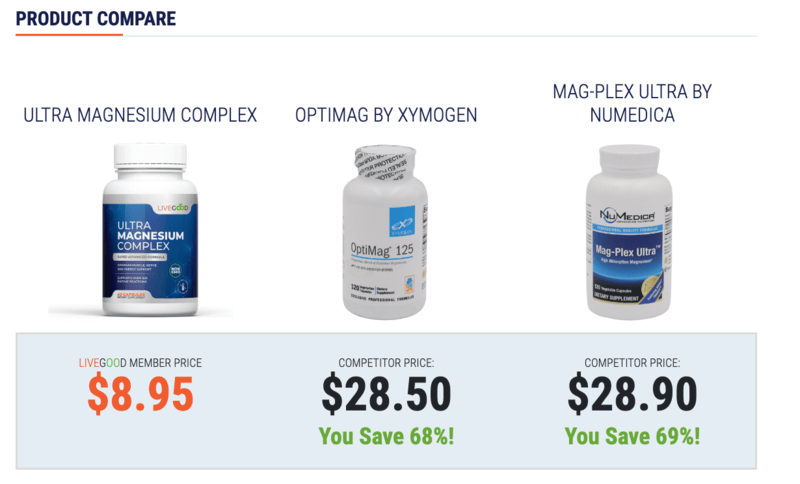 This product offers a potent dose of magnesium, a crucial mineral involved in numerous bodily functions, including energy production, muscle and nerve function, and blood pressure regulation.
LiveGood Vitamin D3 – K2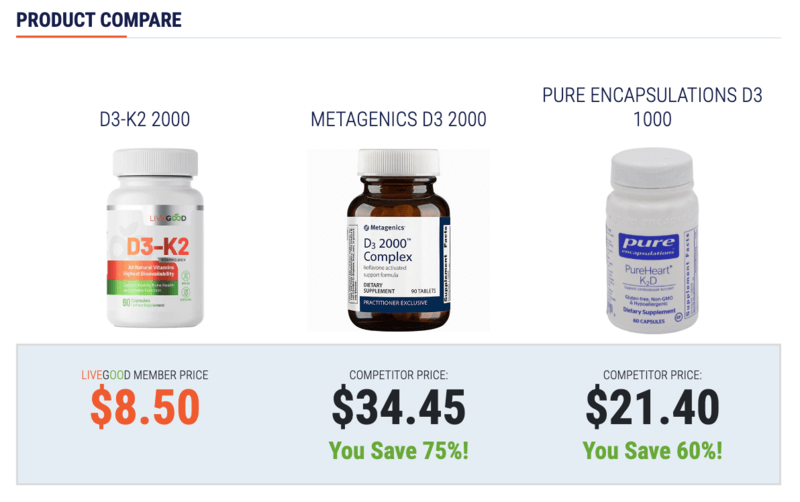 This supplement combines two essential vitamins to support bone health, improve calcium absorption, and aid in heart health and immune function.
LiveGood BioActive Complete Multivitamin For Women With Iron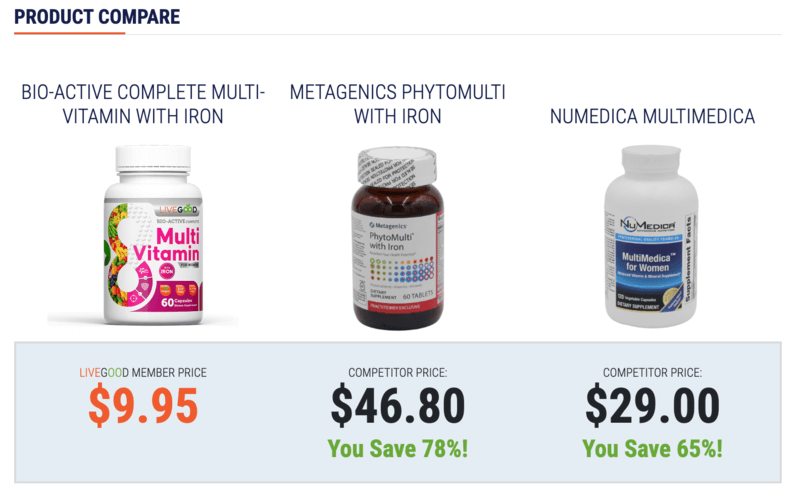 Specially designed for women, this multivitamin offers a unique blend of essential vitamins and minerals, including iron, to support women's health, energy, and overall well-being.
LiveGood BioActive Complete Multivitamin For Men

Tailored for men, this comprehensive multivitamin provides a balanced blend of essential nutrients to support men's health, enhance physical energy, and promote cognitive function.
These high-quality, nutrient-rich products are designed to support and enhance your health in various ways, making LiveGood a comprehensive wellness solution. Remember, your health is your wealth, and LiveGood products are there to ensure you make the best investment possible in your health.
Taking The LiveGood UK Affiliate Plan
Embarking on the LiveGood journey is as easy as taking a free tour and locking in your spot. I personally stumbled upon LiveGood when a business partner from another opportunity suggested we work together again. I was initially curious but quickly became convinced after seeing the potential of the compensation plan. I was in within 5 minutes, and by the first week, I had earned back my startup money.
To become a LiveGood UK affiliate member, you must pay a one-time fee of $40 (£31.11 Pounds sterling) and maintain the membership active.
What I love about LiveGood is that it doesn't enforce autoships or sales quotas. There's no requirement to purchase products. The only obligation is to maintain an active membership at a very affordable $9.95 (£7.77 Pound sterling) each month. The generous compensation plan is truly unparalleled in the industry.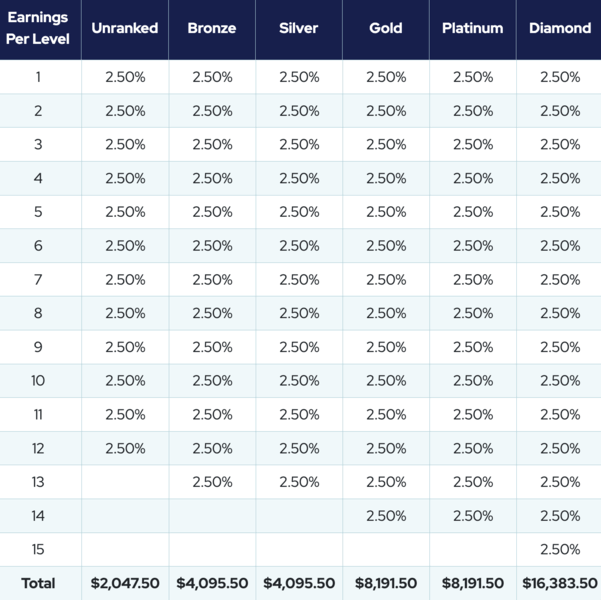 LiveGood pays members through six different avenues:
Weekly Fast Start Bonus: A $25 commission for each referral that joins as a member and affiliate.
Matrix Commissions 2×15 Forced: Members are automatically placed in the matrix following their enroller, which can create spillover.
50% Matching Bonus: A match of 50% of the matrix commissions on everyone they enroll, plus a percentage of everyone their referral enrolls up to 5 levels deep.
Retail Commissions: Earning 50% of the difference between the Member and Retail prices on product purchases.
Influencer Bonuses: Payouts are 100% of the difference between the member price and the retail price for product sales.
Diamond Bonus Pool: Share 2% of total company sales monthly.
The only minor downside is that the matrix only updates on Thursday nights. However, given all the other benefits, this is a small price.
In a nutshell, if you're in the UK and looking for a global home-based business, LiveGood deserves your attention. Its affordability, accessibility, and generous compensation make it an attractive option for both new and experienced marketers. So, take the tour, get informed, grab your spot, and embark on a journey that could potentially transform your financial future.