If you've been searching for an opportunity that blends your passion for health and wellness with your entrepreneurial spirit, you've likely heard of LiveGood. But how do you become a LiveGood distributor? Let's delve into this exciting journey of personal growth and financial opportunity.

Table of Contents
Why Choose LiveGood?
Before we dive into the 'how,' let's discuss the 'why.' LiveGood is more than just a business – it's a lifestyle choice that promotes health, well-being, and financial independence. Their innovative product range, from Super Reds to Organic Coffee, is backed by science and loved by customers worldwide. Moreover, the unique business model of LiveGood is designed to empower its distributors with a sustainable and lucrative income potential.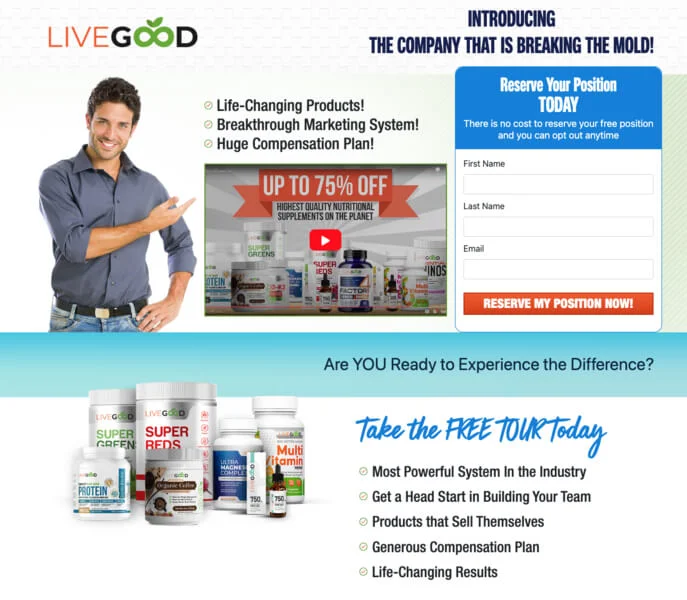 Registering as a LiveGood Distributor
The first step in becoming a LiveGood distributor is simple – sign up. Head to the LiveGood website and get the free tour. After that, you need to sign up for the livegood affiliate program, with is a one-time fee of $49.95, and be an active member, which is $9.95 per month.
LiveGood Membership + Affiliate
At LiveGood, we have two simple membership options designed to suit your needs:
1. Monthly Membership: For just $9.95 per month, you can access unbeatable wholesale prices on our entire range of products.
2. Yearly Membership: Save even more with our annual plan, priced at $99.95, which gives you a 20% discount on your membership. That's a whole year of incredible savings on your favorite LiveGood supplements!
Remember, this initial investment is just the start of your business journey.
How Do I Become a Livegood Distributor?
Becoming a LiveGood distributor is easier on the pocket than you think! For just $40 upfront (one-time fee), plus a small $9.95 monthly fee, you'll be part of the LiveGood community! That's $49.95 for the first month, and from the second month forward, you're only looking at $9.95 per month.
Training and Support
Congratulations on becoming a LiveGood distributor! Now, it's time to familiarize yourself with the products and the marketing strategies. LiveGood offers various resources, including training materials and online webinars, to help you grow.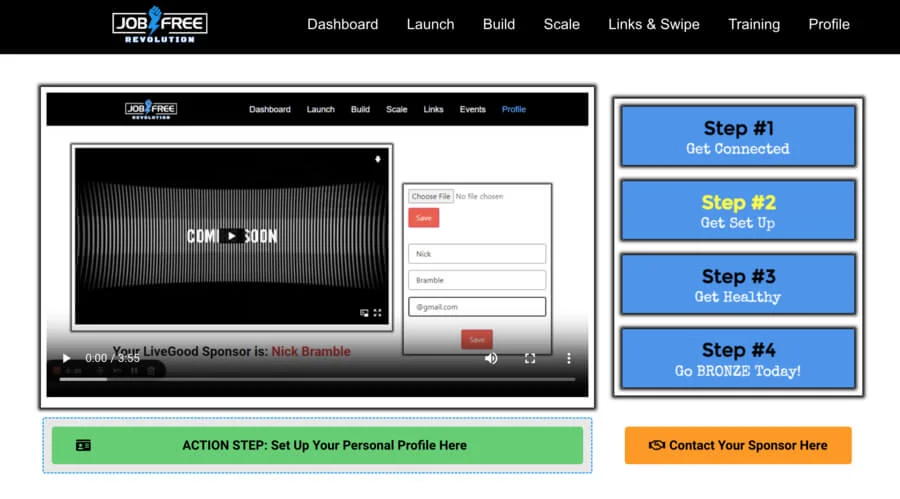 As a LiveGood member of our team, you gain access to the following:
Done-for-You LiveGood Funnels: Skip the stress of setup with our ready-made, high-converting funnels.
Email Swipes: Streamline your marketing with our pre-written, effective email copies.
24-hour Chat on Telegram: Stay connected, and get instant answers and ongoing support in our members-only chat group.
Training on Launching, Building, and Scaling Your LiveGood Business: Master the art of starting, growing, and expanding your business with our in-depth training modules.
Strategies for Promoting and Finding People in Need of Wellness Products: Learn tried-and-true techniques for reaching the right audience.
Website Access for Your LiveGood Team: Provide your team with the tools they need to succeed, empowering them to start building their own business.
Your journey towards residual income, more free time, and financial freedom is just a click away.
The Start of Your LiveGood Journey
With the training complete, you're all set to start selling. You'll have access to a personalized online store to promote and sell products. It's now up to you to put in the effort, dedication, and creativity needed to grow your business.
Your LiveGood Journey Awaits!
Becoming a LiveGood distributor is more than just joining a company – it's about embracing a lifestyle of wellness and financial empowerment. It's about becoming part of a community that values health, growth, and success. Ready to unlock your potential? Your LiveGood journey awaits!
Remember to always conduct thorough research before joining any MLM or direct sales company. Understanding the compensation plan, products, and the company's reputation is crucial to your success. Talk with other distributors, ask questions, and make an informed decision. Good luck on your journey with LiveGood!
If you have more questions or need further guidance, don't hesitate to get in touch. We're here to support you every step of the way.
The LiveGood Mission is straightforward and easy to understand.
The LiveGood mission is simple – to promote a life filled with wellness, positivity, and fulfillment. We believe that every individual has the power to live a good life, regardless of their circumstances. Our goal is to inspire and empower individuals to make healthier choices, both physically and mentally.
Living well is a continuous journey and requires effort, but we believe the rewards are worth it. By providing resources, guidance, and support, we hope to assist individuals in their quest to livegood success. Whether it's through our articles, workshops, or community events, we strive to create an environment where people can learn, grow, and be inspired.
We emphasize the importance of self-care and self-love, encouraging individuals to take the time to nurture and care for themselves. In addition, we promote the idea of positive thinking and gratitude, recognizing that a positive mindset can greatly impact one's overall well-being. We understand that everyone's path to living well is unique, and we respect that.
Our focus is on providing a platform that offers a variety of tools and strategies, allowing individuals to tailor their wellness journey to their own needs and preferences. We believe LiveGood is not about perfection but about progress and growth. It's about finding balance, setting goals, and making conscious choices that align with one's values and desires. It's about seeking joy, embracing challenges, and learning from setbacks. Ultimately, the LiveGood mission is about creating a supportive community where individuals can thrive and lead fulfilling lives. We invite you to join us on this journey and discover the power of living good.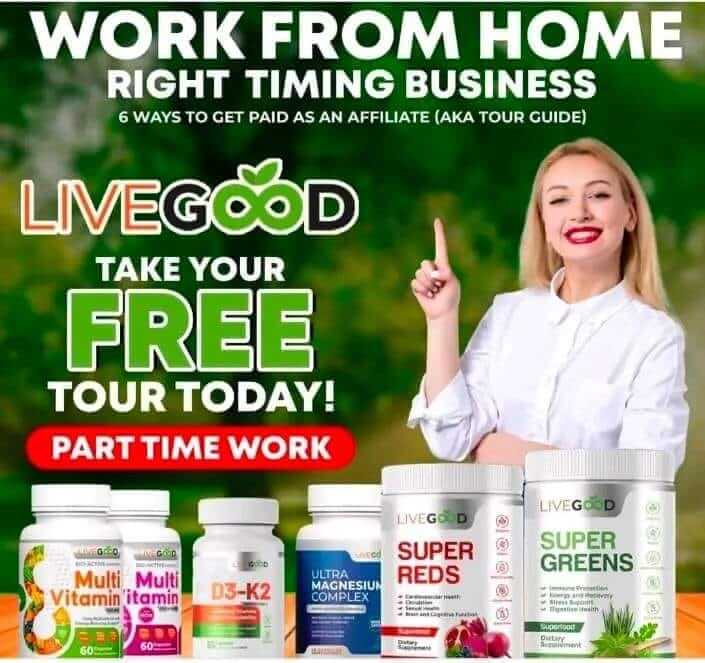 LiveGood pays members through six different avenues:
Weekly Fast Start Bonus: A $25 commission for each referral that joins as a member and affiliate.
Matrix Commissions 2×15 Forced: Members are automatically placed in the matrix following their enroller, which can create spillover.
50% Matching Bonus: A match of 50% of the matrix commissions on everyone they enroll, plus a percentage of everyone their referral enrolls up to 5 levels deep.
Retail Commissions: Earning 50% of the difference between the Member and Retail prices on product purchases.
Influencer Bonuses: Payouts are 100% of the difference between the member price and the retail price for product sales.
Diamond Bonus Pool: Share 2% of total company sales monthly.
In a nutshell, if you're in the UK and looking for a global home-based business, LiveGood deserves your attention. Its affordability, accessibility, and generous compensation make it an attractive option for both new and experienced marketers. So, take the free tour, get informed, grab your spot, and embark on a journey that could potentially transform your financial future.
LiveGood Restriction
This business opportunity is available worldwide with some exceptions. The following countries are on the list of countries that cannot do business with US-based companies.
These countries' governments do not allow their citizens to join LiveGood: Afghanistan, Belarus, Central African Republic, Cuba, the Democratic Republic of the Congo, Ethiopia, Iran, Iraq, Lebanon, Libya, Mali, Myanmar, Nicaragua, North Korea, Palestinian Territory, Russia, Somalia, South Sudan, Sudan, Syria, Venezuela, Yemen, and Zimbabwe.
Transition into a Top-Endorsed Distributor
If you want to become a distributor, we highly recommend joining our program as an affiliate member. You can earn commissions by promoting and selling LiveGood products as an affiliate member.
Becoming an affiliate member is a great way to start your journey as a distributor because it allows you to familiarize yourself with our products and build a solid customer base.
You will have the chance to grow personally and professionally while also positively impacting others. We are committed to providing our LiveGood affiliates/distributors with the tools and support they need to thrive in their businesses. Whether you are just starting out or have years of experience in the industry, we invite you to join our program and become a LiveGood distributor. Together, we can create a network of dedicated individuals passionate about our products and driven to succeed.
Evaluating LiveGood: An Analysis by Business For Home
The home business opportunity has recently added the LiveGood online business, a game changer for all MLM and network marketing enthusiasts. This groundbreaking initiative allows individuals to join LiveGood, a remarkable company focusing on online business and distributing top-notch, highest-quality products.
By becoming a distributor for LiveGood, you become a part of a dynamic and progressive community driven by their passion for wellness and success. LiveGood offers an exceptional MLM business opportunity that allows you to excel in the world of network marketing.
Their range of nutritional supplements is second to none, ensuring that you are promoting products that are truly beneficial to the health and well-being of your customers. If you are looking for an online business venture combining MLM's power with high-quality health products, LiveGood is your best choice.
With their LiveGood Rating system, you can effortlessly track your progress and achievements, providing you with the encouragement and motivation to keep pushing forward. This innovative approach ensures that you stay focused on your goals and allows you to improve your skills as a distributor constantly.
Don't miss out on the opportunity to be a part of the LiveGood community and make a positive impact on the lives of others. Join LiveGood today and embark on a journey toward financial freedom and personal growth.
Most Common Benefits for Livegood Vitamins & Supplements
When it comes to maintaining a healthy lifestyle, nutritional balance is crucial. Our everyday meals may not provide all the nutrients our bodies need, which is where Livegood supplements come in handy.
1. Comprehensive Nutritional Support: Livegood supplements contain vital nutrients, including vitamins, minerals, essential amino acids, and antioxidants. These can supplement your diet, ensuring a well-rounded nutritional profile daily.
2. Enhances Physical Performance: Specific Livegood supplements are targeted to boost physical performance. For instance, Essential Aminos aid in muscle strength and function and boost stamina and recovery.
3. Supports Digestive Health: The Livegood product line includes supplements like the Organic Super Greens, rich in dietary fiber and probiotics. They can aid digestion and promote healthy gut flora.
4. Boosts Immunity: The rich antioxidant content in Livegood supplements, like the Organic Super Reds, helps strengthen the immune system, warding off diseases and infections.
5. Aids in Detoxification: Products like the Organic Super Greens help detoxify the body, getting rid of toxins and aiding in overall wellness.
6. Enhances Cognitive Function: Certain Livegood supplements support brain function, improving memory, focus, and cognitive abilities.
7. Convenience: Livegood supplements offer a convenient way to meet your nutritional needs. They're easy to incorporate into your daily routine, whether in pill form or as a powder for smoothies.
Livegood is dedicated to enhancing your health and wellness. With its broad array of high-quality, scientifically-formulated supplements, you can rest assured you're taking a significant step toward a healthier lifestyle.
7 Reasons to Join LiveGood Today!
Are you seeking a powerful way to enhance your well-being and achieve financial freedom? Look no further than LiveGood! Here are seven compelling reasons why joining LiveGood today could be one of your best decisions.
Unparalleled Wellness Products: LiveGood offers various health and wellness products to enhance your daily life. You're investing in quality, organically sourced, non-GMO supplements from our Organic Super Greens to our Plant-Based Protein.
Excellent Business Opportunity: The LiveGood compensation plan allows you to build a sustainable, rewarding business. You can tap into various income streams from retail commissions to a diamond bonus pool.
No Auto-Ships or Sales Quotas: Unlike many MLMs, LiveGood doesn't burden you with obligatory product purchases or unrealistic sales targets. Your success truly lies in your hands.
Affordable Membership: At just $10 a month, LiveGood membership is accessible to everyone. This includes your own back office system, the ability to earn, and a support community.
Training and Support: As a LiveGood affiliate, you will have access to ongoing training and support. You are never alone in your journey; the community stands with you.
Inclusive Global Opportunity: LiveGood operates globally, meaning you can build your business and team worldwide. The sky's the limit!
Making a Difference: By joining LiveGood, you're not just starting a business – you're joining a movement committed to promoting better health and well-being. Through your efforts, you can make a difference in your life and the lives of others.
Is LiveGood an MLM?
Are you tired of the typical 9 to 5 grind?
Do you dream of working from the comfort of your home and being your boss?
Look no further than LiveGood! Many people wonder if LiveGood is just another MLM company, but let me assure you that it is so much more than that.
The big difference is this:
Unique Products (Organic, vegan)
Incredible Prices (cheapest products from the market)
You are not forced to buy products.
No monthly quota of products to buy or sell.
You and everyone else get 90 Day money back guarantee.
Number one business to join now!
Other MLM are old and updated. They have expensive products as they need to pay everyone from the profit.
LiveGood is the same as *Amazon and *Costco membership, but as LiveGood affiliates/distributors, we get paid commissions from membership and sales fees.
LiveGood offers you a unique opportunity to start your own home business and earn that extra income you've always desired.
Unlike other network marketing companies, LiveGood focuses on selling high-quality products that genuinely improve people's lives rather than solely relying on recruitment. With LiveGood, you can confidently promote products that you genuinely believe in.
The LiveGood opportunity allows you to work from home, giving you the flexibility to set your own schedule and take control of your financial future. Say goodbye to the monotonous office routine and hello to a world of limitless possibilities!
LiveGood offers you the chance to earn extra income and provides a supportive community of like-minded individuals committed to helping each other succeed. You'll receive training and resources to enhance your skills and easily navigate the world of entrepreneurship.
So why wait any longer?
Join LiveGood today and embark on your journey toward financial freedom and fulfillment. Your dreams are within reach, and LiveGood is here to help you realize them.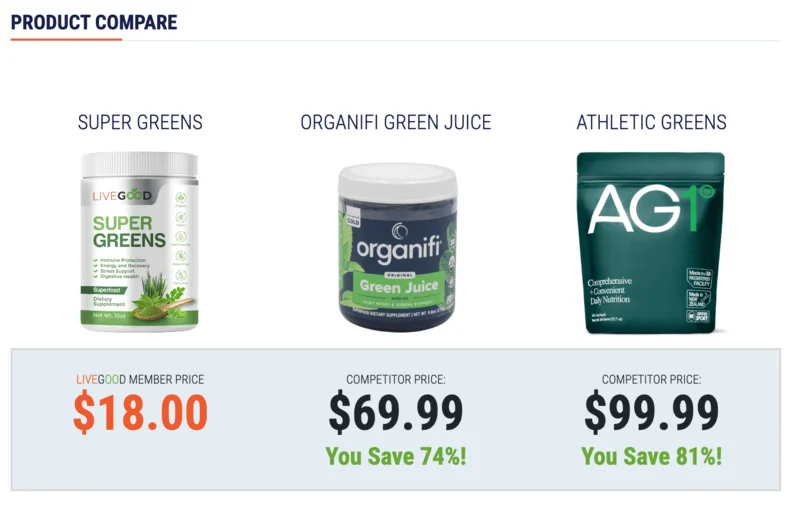 What type of products does LiveGood sell?
LiveGood also offers an extensive range of health and wellness products designed to support a variety of wellness goals. Here's a brief introduction to some of the key offerings:
LiveGood Maximum Energy Bundle: This bundle includes a variety of supplements designed to promote energy, vitality, and overall wellness. It is an ideal combination for those leading active lifestyles or seeking a natural energy boost.
LiveGood Ultimate Wellness Bundle: This comprehensive package includes a collection of LiveGood's best-selling products, carefully curated to provide broad-spectrum support for general health and well-being.
LiveGood Lean Body Pack: This bundle is specifically designed to support healthy weight management, metabolism, and muscle tone. It is a fantastic aid for those on a weight loss journey or athletes aiming to optimize their physical performance.
LiveGood Daily Essentials Pack: This pack includes supplements necessary for maintaining daily health, providing essential nutrients, vitamins, and minerals to support optimal body function.
LiveGood Essential Aminos: This supplement provides an optimized ratio of essential amino acids and branched-chain amino acids. Essential Aminos boost stamina, promote healthy energy, and support muscle strength and function.
LiveGood Organic Coffee: A rich, organic coffee that offers a healthier alternative to traditional coffee options. It provides an energy boost while being gentle on your stomach.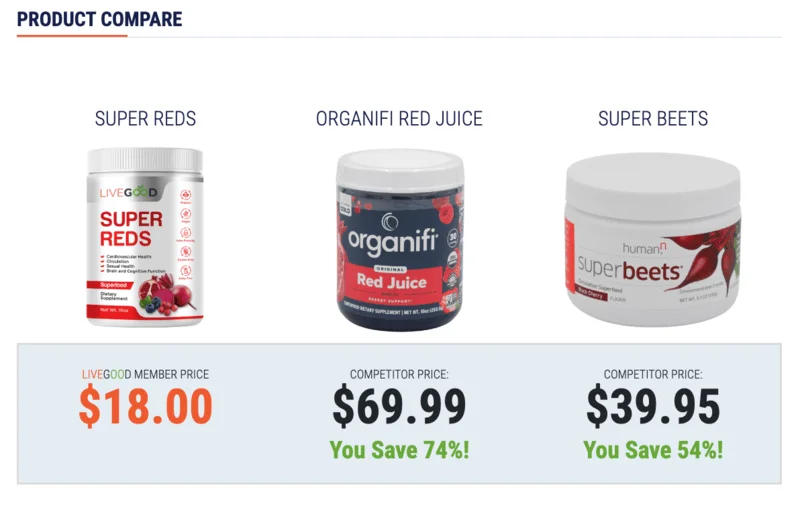 LiveGood Organic Super Reds & Greens: These two products provide concentrated nutrients in red and green fruits and vegetables. They support heart health, immunity, detoxification, and overall vitality.
LiveGood Plant-Based Protein: This vegan-friendly protein powder supports muscle recovery and growth while promoting satiety. It is an excellent addition to smoothies or post-workout shakes.
LiveGood Ultra Magnesium Complex: This supplement provides a highly absorbable form of magnesium, which supports over 300 body functions, including heart health, sleep quality, and muscle function.
LiveGood BioActive Complete Multivitamins: Available for both men and women, these multivitamins are designed to address gender-specific nutritional needs. They provide many essential vitamins and minerals to support overall wellness.
LiveGood products offer a convenient way to enhance your wellness regimen and ensure you get the essential nutrients your body needs to thrive. Each product is made with high-quality ingredients, and many are organic, gluten-free, and vegan-friendly, ensuring they cater to a wide range of dietary needs and preferences.
LiveGood: Your Premier Health and Wellness Company
LiveGood is an esteemed health and wellness company committed to offering the highest quality products for individuals who prioritize their health and well-being.
Delivering the Best Nutritional Supplements on the Market
LiveGood provides superior nutritional products, widely recognized as some of the best nutritional supplements available. These products cater to various aspects of wellness, including energy boosts, cognitive support, and general well-being.
Wholesale Health Products for Every Need
As a wholesale health product provider, LiveGood is passionate about making high-quality health solutions accessible to all. Our broad selection of supplement products is available at competitive wholesale prices, offering the value of premium products without the hefty price tag.
Embracing the LiveGood MLM Business Opportunity
Our business model invites individuals who share our commitment to health and wellness to join as independent distributors. By participating in the LiveGood MLM (Multi-Level Marketing) plan, these distributors can build a rewarding business while promoting products they genuinely believe in.
Stand Out as a LiveGood Independent Distributor
Becoming a LiveGood representative allows one to stay ahead of the competition in the rapidly evolving wellness industry. With the backing of our comprehensive product line and committed team, our representatives have the tools they need to excel.
In the competitive world of nutritional products, LiveGood is committed to excellence. We provide the products, tools, and opportunities you need to enhance your health, well-being, and business prospects.
Who Can Benefit from LiveGood: Enhancing Health and Prosperity for All
No matter where you are in your wellness journey, LiveGood has something for everyone. Our versatile product range and business model cater to diverse individuals worldwide. Here's who finds value in what we offer:
Health-Conscious Consumers: Your Health Is Our Priority
Individuals who prioritize their health and opt for high-quality, organic, vegan-friendly products find LiveGood to be a perfect ally. They appreciate the efficacy and purity of our wellness supplements designed to support their well-being.
Fitness Enthusiasts and Athletes: Fueling Your Fitness Goals
Whether you are an amateur gym-goer or a professional athlete, LiveGood's performance-boosting and recovery-supporting supplements can aid your fitness journey. Many in this community have appreciated products like Essential Aminos and Plant-Based Proteins.
Busy Professionals: Wellness Made Easy
LiveGood offers convenient, easy-to-consume supplements for people with packed schedules that seamlessly fit into their busy lifestyles. Our bundles and packs provide comprehensive wellness solutions on the go.
Entrepreneurs and Home-Based Business Owners: Building Wellness Empires
For those looking for opportunities in the health and wellness sector, LiveGood presents a lucrative option. Individuals can create an additional income stream and promote products they believe in, fostering a wellness community.
Senior Citizens: Ageing Gracefully
LiveGood recognizes the need for dedicated health support for older adults. Products like our Ultra Magnesium Complex and multivitamins are particularly popular within this demographic, supporting their health as they age.
Beyond this, LiveGood partners with health and wellness influencers, fitness trainers, and health coaches who recommend our products to their followers and clients, further expanding our reach.
LiveGood offers a practical, affordable, and reliable solution for anyone prioritizing their health and wellness. Our straightforward business model provides a compelling opportunity for those aspiring to step into entrepreneurship in the booming health and wellness industry.
Exclusive Invitation: Transform Your Life with Our FREE Webinar
Empower Your Future: Create a Residual Income in 12 Months by Working 1 Hour Per Day
Dear Friend,
If you're eager to enter a world where you work less and earn more, we have an exclusive opportunity for you. We invite you to attend our FREE WEBINAR – "How to Create a Walk Away Residual Income in 12 Months Working 1 Hour Per Day by Leveraging These 7 Critical Steps to Success". This offer is exclusive to our dedicated blog readers like you.
In this comprehensive webinar, you'll discover a robust strategy that could redefine your financial freedom. But the value doesn't stop there.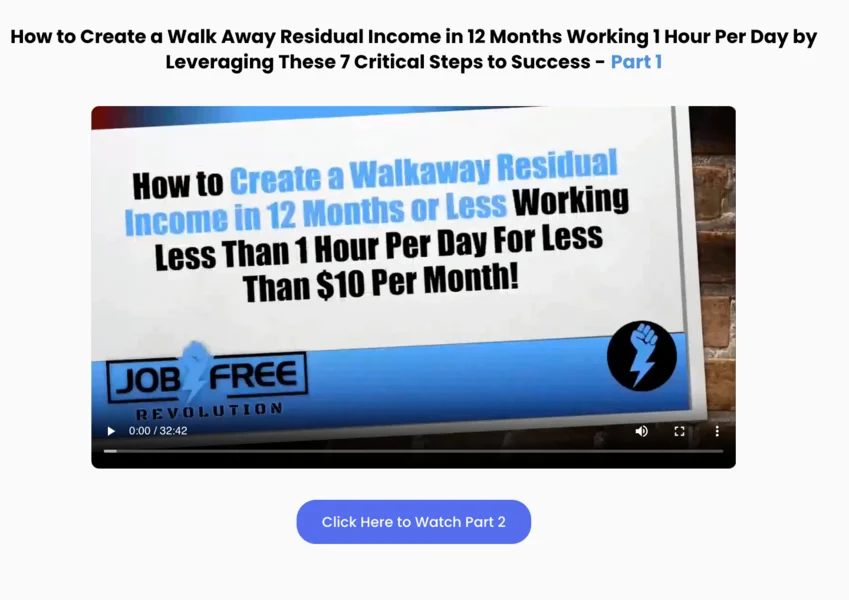 As a LiveGood member of our team, you gain access to the following:
Done-for-You LiveGood Funnels: Skip the stress of setup with our ready-made, high-converting funnels.
Email Swipes: Streamline your marketing with our pre-written, effective email copies.
24-hour Chat on Telegram: Stay connected, and get instant answers and ongoing support in our members-only chat group.
Training on Launching, Building, and Scaling Your LiveGood Business: Master the art of starting, growing, and expanding your business with our in-depth training modules.
Strategies for Promoting and Finding People in Need of Wellness Products: Learn tried-and-true techniques for reaching the right audience.
Website Access for Your Team: Provide your team with the tools they need to succeed, empowering them to start building their own business.
Your journey towards residual income, more free time, and financial freedom is just a click away.
Don't miss this chance to rewrite your financial story. We look forward to seeing you at the webinar!