Navigating the vast world of LiveGood can be a thrilling adventure, and we're here to guide you on this journey. Welcome to "LiveGood Useful Links," your handy roadmap to all things LiveGood.
From the basic functionalities to the hidden gems within our membership plans, we aim to illuminate every corner of the LiveGood universe. So, buckle up and get ready to discover the vast possibilities.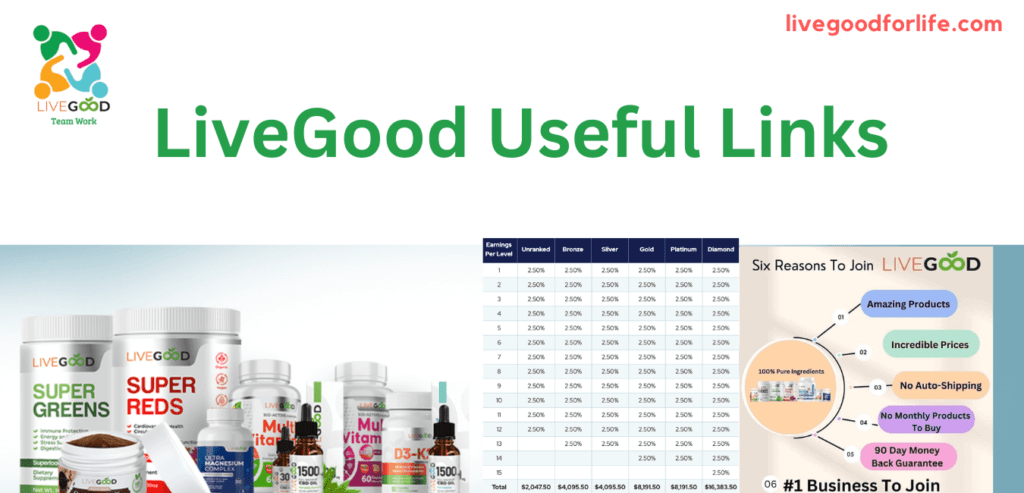 LiveGood Login
In case you lost your login address page… You can log in to your LiveGood back office here.
LiveGood Products Prices Without Membership
If you don't want to have a membership or be affiliated and want to buy LiveGood products, click here to see the final prices without a discount.
LiveGood Useful Links
LiveGood Affiliate Register Form:
Here you can register for Free, securing your position in the affiliate program. Also, you got access to the back office of the LiveGood member account.
LiveGood Member Register Form Without Affiliate
Some people are interested only in products without the affiliate program, so you can register here for the LiveGood member site to buy up to 75% of the retail price.
LiveGood Refund Policy
A comprehensive 90-day empty bottle guarantee backs all purchases of LiveGood products. This policy means that if you, as a customer, aren't 100% satisfied with any of their products for any reason, you are eligible for a refund within 90 days. Read more here about the refund policy.
THE NUMBER 1 PRODUCT FOR CARDIOVASCULAR SUPPORT
The number one organic product for cardiovascular support. See here the LiveGood Super Reads presentation.
LiveGood Shop
Visit the shop and see all the products available. With a vast selection of organic, superfood, or skin care products, definitely are something for everyone.
LiveGood FAQ
Read the Frequently Asked Questions (FAQ) to build your business more effectively! If you have additional questions, email support@livegood.com. They are very busy as the company expands at a very fast-growing speed.
LiveGood Products Certificates of Analysis
Knowing exactly what you're getting is paramount in health and wellness. LiveGood, acknowledging this customer concern, offers Certificates of Analysis (CoA) for their products. See all the Certificates of Analysis here.
LiveGood Membership Plans
Are you looking to get the best value on your LiveGood products? Discover our membership plans offer you wholesale pricing on all our items, so you can save more while enjoying the highest-quality supplements!
Discover the Power of Health and Wealth with LiveGood
Transform your Life and Finances with the LiveGood Business Opportunity
The health and wellness world presents many opportunities for those passionate about leading a healthier lifestyle and helping others do the same.
One such opportunity that is rapidly gaining momentum is the LiveGood Wholesale Distributor/ affiliate program. This business opportunity beautifully intertwines your financial goals with your passion for health, allowing you to be part of a thriving wellness community.
With LiveGood, you're not just selling products but promoting a lifestyle. Our wide array of organic products, vitamins, and plant-based proteins cater to the growing demand for health-conscious solutions.
As a LiveGood Wholesale Distributor, you gain access to these high-quality products and can share their benefits with others.
However, LiveGood offers more than just premium wellness products. Our comprehensive training, generous compensation plan, and supportive community empower you to build a successful business. Whether you're looking to earn a little extra on the side or dream of financial independence, LiveGood provides the tools and resources necessary to help you reach your goals.
Reserve your spot today and embark on a transformative health, wellness, and financial freedom journey with LiveGood. Start making a difference in your life and in the lives of others – because, with LiveGood, you truly live well.
Embrace a Global Opportunity: The LiveGood Business Venture
Unlock Prosperity with LiveGood – Available in the USA, UK, Europe, Asia, Africa, and the Philippines!
The world of health and wellness is a global frontier that knows no boundaries. No matter where you hail from – be it the USA, UK, Europe, Asia, Africa, or the Philippines – there's an exciting opportunity waiting for you with the LiveGood Wholesale Distributor program.
Imagine being part of a thriving community of like-minded entrepreneurs in New York, London, Paris, Berlin, Tokyo, Manila, Nairobi, or Cape Town – all united by a common goal of promoting health and wellness.
From the sun-kissed beaches of California to the bustling streets of Mumbai, and from the picturesque landscapes of the Philippines to the vibrant cultures of Africa, LiveGood's presence continues to expand, empowering people everywhere to take control of their financial future.
LiveGood offers a vast range of organic products, vitamins, and plant-based proteins that cater to the growing demand for healthier lifestyle solutions. As an online distributor, you'll gain access to these premium products, carefully crafted to meet people's diverse health needs across continents.
But there's more to LiveGood than just high-quality wellness products. Our comprehensive training program, competitive compensation plan, and supportive community equip you with the tools and resources to succeed in your business, regardless of location.
Whether you're a stay-at-home parent in Texas, a recent graduate in London, a retiree in Manila, or an aspiring entrepreneur in Lagos, LiveGood provides the platform to achieve your financial goals and positively impact your community.
So why wait?
No matter where you are, the LiveGood opportunity is here for you. Start your journey toward health, wellness, and financial freedom today. Because with LiveGood, the world truly is your oyster.
Exclusive Invitation: Transform Your Life with Our FREE Webinar
Empower Your Future: Create a Residual Income in 12 Months by Working 1 Hour Per Day
Dear Friend,
If you're eager to enter a world where you work less and earn more, we have an exclusive opportunity for you. We invite you to attend our FREE WEBINAR – "How to Create a Walk Away Residual Income in 12 Months Working 1 Hour Per Day by Leveraging These 7 Critical Steps to Success". This offer is exclusive to our dedicated blog readers like you.
In this comprehensive webinar, you'll discover a robust strategy that could redefine your financial freedom. But the value doesn't stop there.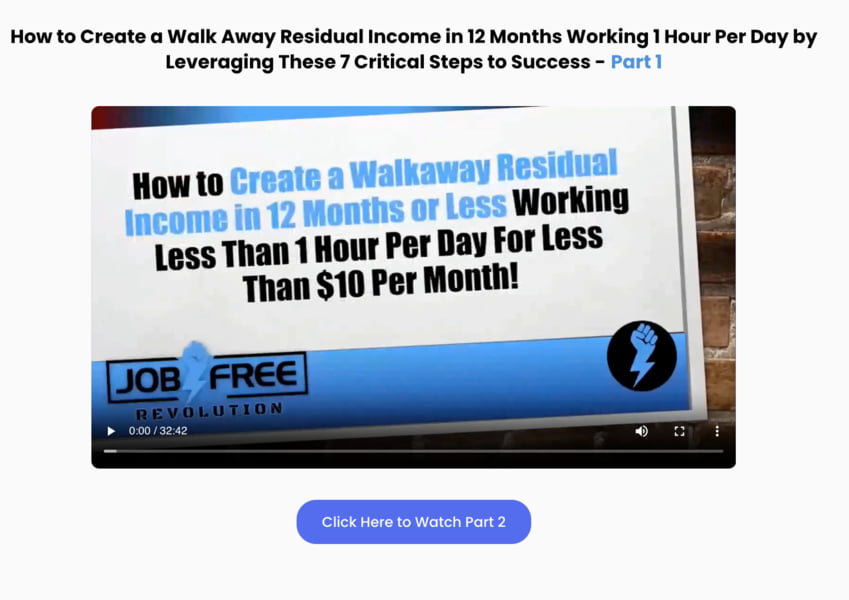 As a LiveGood member of our team, you gain access to the following:
Done-for-You LiveGood Funnels: Skip the stress of setup with our ready-made, high-converting funnels.
Email Swipes: Streamline your marketing with our pre-written, effective email copies.
24-hour Chat on Telegram: Stay connected, and get instant answers and ongoing support in our members-only chat group.
Training on Launching, Building, and Scaling Your LiveGood Business: Master the art of starting, growing, and expanding your business with our in-depth training modules.
Strategies for Promoting and Finding People in Need of Wellness Products: Learn tried-and-true techniques for reaching the right audience.
Website Access for Your Team: Provide your team with the tools they need to succeed, empowering them to start building their own business.
Your journey towards residual income, more free time, and financial freedom is just a click away.
Don't miss this chance to rewrite your financial story. We look forward to seeing you at the webinar!