Description
Unlock the Power of LiveGood CBD Oil: Nature's Gift for Improved Wellness
Are you searching for a natural solution to support your overall well-being? Look no further! Introducing LiveGood CBD Oil, a premium-quality product designed to help you experience the remarkable benefits of CBD and elevate your wellness journey.
At LiveGood, we pride ourselves on offering only the purest and most potent products on the market. Our LiveGood CBD Oil is derived from the top 1% of hemp farms in the country, ensuring that you receive maximum benefits with every drop. We've chosen MCT oil as our carrier, known for its superior absorption and ability to deliver more CBD to your body's cells for faster results and optimal efficacy.
LiveGood CBD Oil is crafted using the cleanest raw materials and the most advanced harvesting and extraction processes available. With each 750ml bottle containing 25mg of full-spectrum hemp extract, MCT oil, and Vitamin E, you can trust that our CBD oil provides you with the highest quality experience possible.
Don't miss out on the opportunity to enhance your well-being with LiveGood CBD Oil. For just $18.00, you can unlock the incredible potential of this natural remedy. Remember to check your state laws before purchasing, as regulations may vary.
Order your bottle today and take the first step towards a more balanced, healthier you.
Note: Please ensure that you check your state laws before purchasing LiveGood CBD Oil, as regulations and legalities may differ. We encourage all our customers to stay informed and abide by their local laws and guidelines.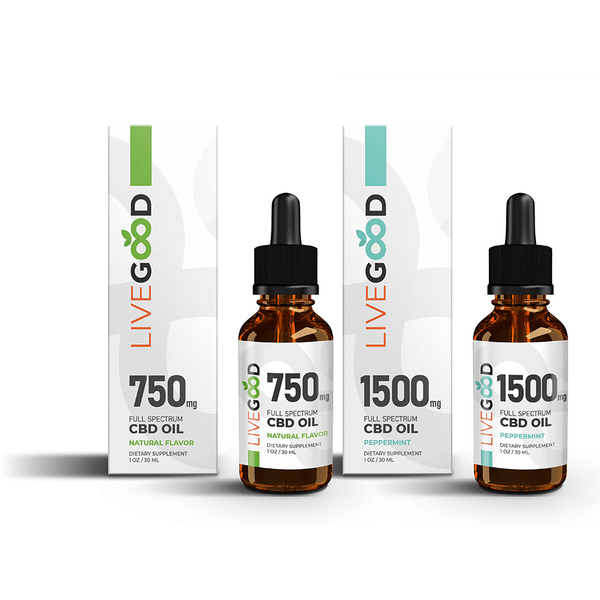 Frequently Asked Questions (FAQs)
Q: What is LiveGood CBD Oil, and how is it different from marijuana?
A: CBD (cannabidiol) oil is a natural compound derived from the hemp plant, which contains only trace amounts of THC (the psychoactive component found in marijuana). CBD oil does not produce a "high" and is non-intoxicating, making it an attractive option for those seeking the potential benefits of cannabis without the mind-altering effects.
Q: Can I overdose on LiveGood CBD Oil?
A: CBD oil is generally considered safe and well-tolerated. While it is possible to experience side effects or discomfort if you take too much, a true overdose is highly unlikely. However, following the recommended dosages and consulting with a healthcare professional if you have concerns or are taking medications is essential.
Q: How do I determine my correct LiveGood CBD Oil dosage?
A: The appropriate dosage of CBD oil varies based on factors such as your weight, metabolism, individual body chemistry, and the desired effects. It is generally recommended to start with a low dose and gradually increase until you find the optimal amount that works for you. Consult with a healthcare professional for personalized guidance.
Q: Is LiveGood CBD Oil legal?
A: The legality of CBD oil depends on your location and the specific laws and regulations in place. In the United States, CBD oil derived from hemp with less than 0.3% THC is legal at the federal level under the 2018 Farm Bill. However, state laws may vary, so it is essential to check the regulations in your area before purchasing or using CBD oil.
Q: Can LiveGood CBD Oil interact with other medications?
A: CBD oil can potentially interact with certain medications, either enhancing or inhibiting their effects. If you are taking prescription medications or have underlying health conditions, it is crucial to consult with a healthcare professional before using CBD oil to ensure it is safe and appropriate for your needs.
Q: How long does it take for LiveGood CBD Oil to take effect?
A: The onset of CBD oil's effects depends on factors such as the method of consumption, dosage, and individual body chemistry. Generally, you may feel the effects within 15-45 minutes when taken sublingually (under the tongue) or 30 to 2 hours when ingested in capsules or edibles. Topical application may take up to an hour or more to provide relief.
LiveGood Membership Advantage:
Save Over 70% on Products For just $9.95 per month or $99.95 per year. You can become a LiveGood member and save over 70% on the prices of any product you buy! With membership, you'll gain access to exclusive member pricing, resources, and support to help you succeed in your health journey. Even purchasing just ONE product per month can pay for your entire monthly membership!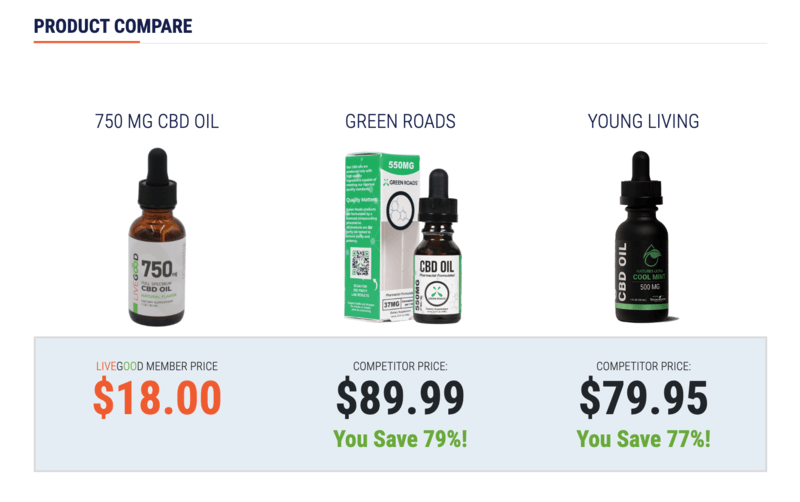 LiveGood Membership Advantage
  GLOBAL SHIPPING!
But that's not all!
At LiveGood, we offer a complementary range of top-quality products to support your health journey. Enhance your wellness routine with our LiveGood Maximum Energy Bundle, Organic Super Reds, Organic Super Greens, Ultra Magnesium Complex, and Vitamin D3-K2. Visit our online shop today and experience the difference our exceptional products can make in your pursuit of better health and well-being!
*Please note: The prices displayed for LiveGood products are exclusive membership prices. By becoming a LiveGood member, you can take advantage of these special prices and save on your purchases across our entire product range. The retail prices may be higher for non-members. Join the LiveGood membership program to enjoy these savings and unlock additional benefits on all LiveGood products.
***Please note that we at LiveGoodForLife.com do not provide medical advice. We proudly offer a fantastic range of bio and organic products for your well-being. However, we strongly recommend consulting with a qualified health practitioner before changing your diet, lifestyle, or supplement regimen. Enjoy our products responsibly and prioritize your health by seeking professional guidance.