Description
LiveGood E3 - ENERGY, ENDURANCE, ELECTROLYTES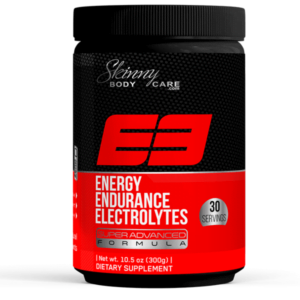 Unlock the secret to boundless energy, superior endurance, and essential electrolyte replenishment with LiveGood E3. This revolutionary formula
Product Brand: E3 - ENERGY, ENDURANCE, ELECTROLYTES
Product Currency: USD
Product Price: 18.00
Product In-Stock: InStock
Pros
Fuel up anytime you need a boost. Whether it's first thing in the morning, before you hit the gym, or to conquer that afternoon fatigue, E3 gets results!
✓ Zero sugar!
✓ Zero artificial sweeteners or flavors!
✓ Only 25 calories!
✓ Naturally-sourced healthy ingredients!
✓ No crash!
✓ No jitters!
✓ Great tasting berry flavor!
✓ Gluten Free!
✓ 100% Money Back Guarantee!
LiveGood E3 – Unleash the Power of Energy, Endurance, and Electrolytes
Revolutionary Fitness Game-Changer
Introducing LiveGood E3 – a groundbreaking blend of vitamins, minerals, nutrients, herbs, and electrolytes specifically designed to elevate your fitness experience. This unique formula is the ultimate fuel for your body, maximizing your energy, endurance, and recovery like never before.
The Ultimate Workout Companion
E3 is a versatile workout companion that anyone can use anytime, anywhere. With about as much caffeine as a cup of coffee, E3's naturally sourced ingredients release slowly, providing you with long-lasting energy without jitters or crashes.
Experience the E3 Difference
LiveGood E3 offers an array of benefits, including:
Zero sugar
Zero artificial sweeteners or flavors
Only 25 calories per serving
Naturally-sourced, healthy ingredients
No crashes or jitters
Great tasting berry flavor
Gluten-free
100% Money Back Guarantee
With E3, you'll enjoy clean, sustainable energy and endurance, maximizing your workout, recovery, and overall health.
Enhance Your Fitness Journey with LiveGood E3 and Complementary Products
Elevate your fitness experience to new heights by incorporating LiveGood E3 into your routine and combining it with our other top-tier health products.
Pair E3 with our Complete Plant-Based Protein for optimal muscle growth and recovery, or boost your workouts even further with our Essential Aminos supplement.
For a comprehensive approach to wellness, try our Ultimate Wellness Pack, which includes an array of vitamins and supplements designed to support your overall health and well-being.
By integrating LiveGood E3 and our other high-quality products into your lifestyle, you'll unlock the full potential of your fitness journey, promoting peak performance and exceptional health.
Frequently Asked Questions (FAQs)
Is LiveGood E3 suitable for all fitness levels? Yes, E3 is designed for individuals of all fitness levels and can be used by anyone seeking an energy boost, improved endurance, and enhanced recovery.
Does LiveGood E3 contain any artificial ingredients or sugars? No, E3 is made with natural, gluten-free ingredients and contains zero refined sugars or artificial sweeteners.
Can I use LiveGood E3 as a pre-workout supplement? Yes, E3 is an excellent pre-workout supplement that provides the energy, endurance, and electrolytes needed to maximize your performance.
How much caffeine does LiveGood E3 contain? E3 contains approximately the same amount of caffeine as a cup of coffee, derived from natural sources like green tea leaf extract and guarana seed extract.
Is LiveGood E3 gluten-free? Yes, E3 is gluten-free and made with natural ingredients to ensure a healthy and safe supplement for all users.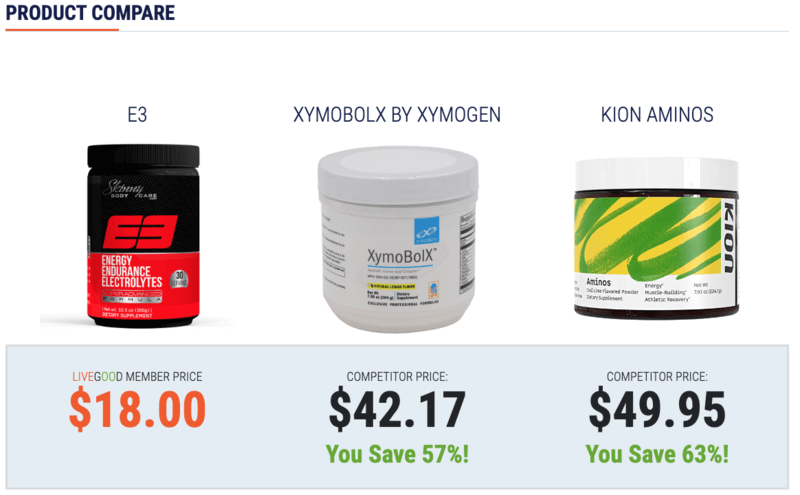 Fuel Your Body with LiveGood E3 Today
Are you ready to experience the incredible benefits of LiveGood E3? It's time to fuel your body with the product that's revolutionizing the way people exercise. Click here to start your journey to peak performance with LiveGood E3. Your body will thank you!
LiveGood Membership Advantage:
Save Over 70% on Products For just $9.95 per month or $99.95 per year.
You can become a LiveGood member and save over 70% on the prices of any product you buy! With membership, you'll gain access to exclusive member pricing, resources, and support to help you succeed in your health journey. Even purchasing just ONE product per month can pay for your entire monthly membership!
LiveGood Membership Advantage
  GLOBAL SHIPPING!
*Please note: The prices displayed for LiveGood products are exclusive membership prices. By becoming a LiveGood member, you can take advantage of these special prices and save on your purchases across our entire product range. The retail prices may be higher for non-members. Join the LiveGood membership program to enjoy these savings and unlock additional benefits on all LiveGood products.