Description
LiveGood CBD Pain Relief Cream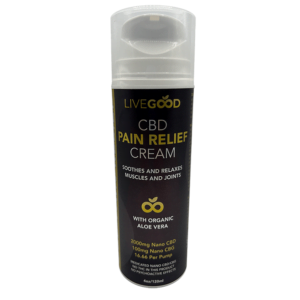 Discover a natural solution to chronic joint pain with LiveGood CBD Pain Relief Cream. Explore the science-backed ingredients and learn how
Product Brand: LiveGood CBD Pain Relief Cream
Product Currency: USD
Product Price: 17.95
Product In-Stock: InStock
Pros
Soothes Joints
Help Relax Muscles
Support Pain Relief
2,000 mg of CBD
Your Guide to Conquering Joint Pain with LiveGood CBD Pain Relief Cream
A Glance at Chronic Joint Pain
Joint pain is an all too familiar enemy for many, with nearly 25% of adults battling this condition. The situation worsens for those above 60, where over 70% encounter these aches. In response to this widespread ailment, the market demanded a solution – enter LiveGood CBD Pain Relief Cream, the latest weapon in our arsenal against persistent joint discomfort.
Introducing LiveGood CBD Pain Relief Cream
Envision the amalgamation of the finest, naturally derived ingredients that collectively work to mitigate your pain. We accomplished this with LiveGood CBD Pain Relief Cream, scientifically formulated to provide rapid, durable relief. With this powerhouse of a cream, which includes a full 4 ounces per container, you're investing in months of comfort.
What's Inside: The Active Ingredients
LiveGood CBD Pain Relief Cream is a blend of several potent components recognized for their pain-alleviating attributes. Let's dive in and understand how each element contributes to its efficacy:
Organic Aloe Vera Gel: The Soothing Shield
Organic Aloe Vera Gel, known for its anti-inflammatory and calming properties, plays a significant role in our formula. This component helps soothe inflamed regions, providing much-needed relief.
Menthol and Camphor: The Analgesic Duo
Menthol, a natural analgesic, provides a cool sensation upon application. It does this by triggering the cold receptors in your skin, aiding in pain and inflammation reduction. Similarly, Camphor serves as another natural analgesic but with a twist – it offers a warming sensation. It's all about balance!
Essential Oils: Peppermint and Wintergreen
These aren't just for aromatherapy; Peppermint and Wintergreen essential oils are filled with compounds possessing analgesic and anti-inflammatory properties. They aid in soothing discomfort and providing a sense of relief.
Arnica and Calendula: Nature's Healers
Both Arnica and Calendula have long histories in traditional medicine due to their anti-inflammatory properties. These ingredients can help lessen pain, swelling, and a variety of skin conditions.
NANO CBD and NANO CBG: The Cannabinoid Champions
Last but certainly not least, NANO CBD and NANO CBG are two highly effective cannabinoids known for their anti-inflammatory and analgesic properties. They interact with our body's endocannabinoid system, which is crucial in pain perception and inflammation regulation.
Why Choose LiveGood CBD Pain Relief Cream?
Every ingredient in LiveGood CBD Pain Relief Cream is a testament to our commitment to providing nature's best pain relief solutions. This cream isn't just another product; it's a holistic blend of elements working synergistically to relieve discomfort and promote well-being.
Taking the Leap: LiveGood CBD Pain Relief Cream
Living with chronic pain is an everyday battle, but it doesn't have to be. With LiveGood CBD Pain Relief Cream, relief isn't longer a dream. It's time to reclaim your comfort and live the pain-free life you deserve. Are you ready for a new beginning? Try LiveGood CBD Pain Relief Cream today!
Unveiling the Power Players: Key Active Ingredients in LiveGood CBD Pain Relief Cream
Finding an effective relief solution becomes a journey as we navigate the discomforts and pains our bodies encounter. At LiveGood, we've created our CBD Pain Relief Cream by harnessing the potential of several carefully selected active ingredients. Each ingredient contributes unique properties to the formula, creating a symphony of benefits designed to tackle pain swiftly and efficiently.
Let's delve into each of these ingredients to understand how they collaborate to provide you with the relief you seek. Get ready to explore the world of organic and natural elements that constitute the robust formula of our LiveGood CBD Pain Relief Cream.
Embracing the Chill: Menthol 4%
Menthol, an organic compound derived from mint, is known for its cooling sensation when used topically. In our LiveGood CBD Pain Relief Cream, a 4% concentration of menthol stimulates your skin's cold receptors, thereby reducing inflammation and providing immediate pain relief. This makes menthol a vital component in our scientifically-formulated pain relief solution.
Heating Up Relief: Camphor 4%
Camphor shares some characteristics with menthol but with a twist. This compound creates a warming effect on the skin, aiding in the relief of pain and inflammation by stimulating heat receptors. In our pain relief cream, a 4% concentration of camphor works synergistically with menthol, providing a comforting warmth that complements menthol's cooling effect.
Nature's Breeze: Peppermint Essential Oil 2%
Peppermint essential oil is more than just a refreshing scent. With a 2% concentration in our cream, this essential oil offers unique analgesic and anti-inflammatory benefits. Rich in menthol, peppermint oil creates a cooling sensation, reducing discomfort and relieving aching muscles.
A Soothing Winter's Touch: Wintergreen Essential Oil 2%
Wintergreen essential oil stands out due to its content of methyl salicylate, a natural analgesic that creates a warming sensation on the skin. At a 2% concentration, this essential oil aids in reducing pain by limiting the production of prostaglandins, compounds associated with inflammation and pain, thereby providing an added layer of relief.
Harnessing Traditional Remedies: Arnica Oil 2%
Arnica oil has a long history of use in natural pain relief. Containing anti-inflammatory compounds like helenalin, our cream's 2% arnica oil concentration works on conditions such as sprains, arthritis, and bruises, reducing discomfort and promoting healing.
A Touch of Healing: Calendula Oil 2%
Known for its healing and soothing properties, Calendula oil is another key ingredient in our pain relief cream. A 2% concentration contributes to the formula by reducing pain, preventing infection, and calming inflammation. Its use on wounds, burns, and skin conditions has proved its efficacy.
Breaking New Grounds: NANO CBD 2000mg
Incorporating 2000mg of NANO CBD, our cream enters the cutting-edge realm of pain relief. This cannabinoid, known for its potent anti-inflammatory and analgesic properties, interacts with the body's endocannabinoid system to modify pain perception and inflammation, enhancing the overall effectiveness of the cream.
Power of the New: NANO CBG 100mg
NANO CBG, a less-known but incredibly promising cannabinoid, completes our cream's powerful formula. With 100mg included, CBG works with CBD and other ingredients, adding an extra layer of analgesic and anti-inflammatory benefits. It's the final touch to our advanced, scientifically-formulated cream designed for optimal pain relief.
Frequently Asked Questions (FAQs)
Does LiveGood CBD Pain Relief Cream contain THC?
No, LiveGood CBD Pain Relief Cream is formulated without THC, the psychoactive compound commonly associated with cannabis. You can rest assured that using this product will not experience any psychoactive effects.
How do I use LiveGood CBD Pain Relief Cream?
Using LiveGood CBD Pain Relief Cream is straightforward. Pump once into your palm and apply it to the desired area. Massage it gently into the skin until it's fully absorbed.
Are there any precautions I should take when using LiveGood CBD Pain Relief Cream?
After applying the cream, you should immediately wash your hands with soap and water. Avoid touching your eyes, mouth, or any sensitive areas until your hands are completely clean. The potent ingredients in the cream can cause discomfort if they come into contact with these sensitive areas.
Will LiveGood CBD Pain Relief Cream have psychoactive effects?
No, LiveGood CBD Pain Relief Cream doesn't contain any psychoactive substances. It's designed to relieve pain and inflammation without altering your mental state or causing unwanted side effects.
Embrace the LiveGood Advantage: Why Becoming a Member is Worth It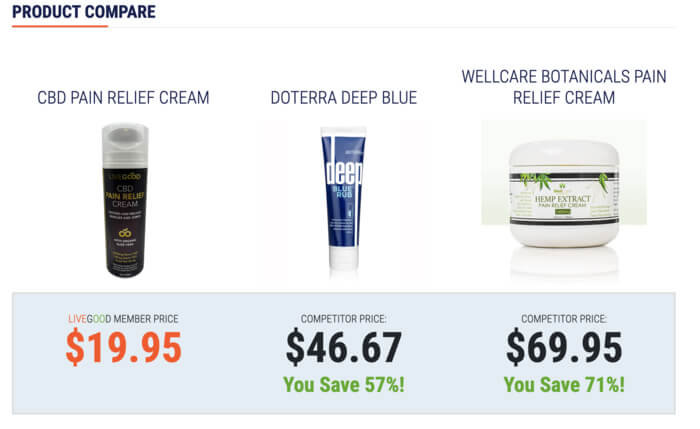 Embarking on a journey toward wellness and vitality can sometimes be a hefty investment. However, it doesn't always have to be that way. With a LiveGood membership, you not only have access to the highest quality wellness products, but you also get to enjoy amazing savings on each purchase.
Enjoy Unparalleled Savings with a LiveGood Membership
One of the most compelling reasons to join the LiveGood community as a member is the potential for substantial savings. With a LiveGood membership, you can save over 70% on the prices of any product you buy from our extensive range. To put that into perspective, the LiveGood CBD Pain Relief Cream, priced at $29.95 retail, is available to our members for just $17.95. That saves $10 per purchase, allowing your membership to pay for itself quickly.
Premium Products at Your Fingertips
You'll have unfettered access to our top-of-the-line, scientifically formulated products as a member. From our advanced CBD Pain Relief Cream to other wellness-boosting products, everything you need for a healthier, happier life is just a click away.
The Bottom Line
When you weigh the benefits, it's clear that a LiveGood membership offers tremendous value. Not only do you gain access to our premium product range, but you also get to enjoy significant savings, making it a worthwhile investment in your health and wellness journey.
If you're ready to take advantage of these fantastic benefits, click here to learn more about becoming a LiveGood member. Don't miss this opportunity to unlock incredible savings and elevate your wellness journey with LiveGood.
Embrace a Holistic Lifestyle with LiveGood CBD Pain Relief Cream and LiveGood CBD Oil
Welcome to a Healthier Tomorrow with LiveGood's CBD Solutions
LiveGood stands out with its premium CBD products — the CBD Pain Relief Cream and the CBD Oil– in the bustling landscape of wellness and health. Harnessing the power of CBD, these products aim to redefine your wellness journey.
LiveGood's CBD Products – Your Partners in Holistic Well-being
Ever wished for a product that not only soothes joint pain but also enriches your daily wellness regimen? Look no further. The LiveGood CBD Pain Relief Cream and LiveGood CBD Oil have been scientifically formulated to bring you the best of nature and science.
Imagine a Life Enhanced by LiveGood CBD Products
Think of a life where you can control your well-being naturally. LiveGood CBD Pain Relief Cream is an advanced pain solution infused with potent elements like Menthol, Camphor, and Arnica and an extraordinary 2000mg of NANO CBD, working synergistically to target pain and provide quick relief.
Simultaneously, LiveGood CBD Oil, rich in cannabinoids, is a versatile supplement designed to improve your overall wellness. This potent oil paves the way toward a balanced body and mind.
Step into the World of LiveGood – A Decision You Won't Regret
Stop just imagining superior wellness; make it your reality today. With LiveGood CBD Pain Relief Cream and LiveGood CBD Oil, take a step towards a healthier, more holistic lifestyle. Embark on your wellness journey with LiveGood, and experience the difference it makes.