Embracing a Healthy Lifestyle Without Breaking the Bank
Regarding health and wellness, the mission of LiveGood Market is as straightforward as it is ambitious. We aim to help individuals achieve and maintain their health without digging deep into their pockets. It's a noble quest for a noble cause, as the focus on health and wellness has never been more crucial.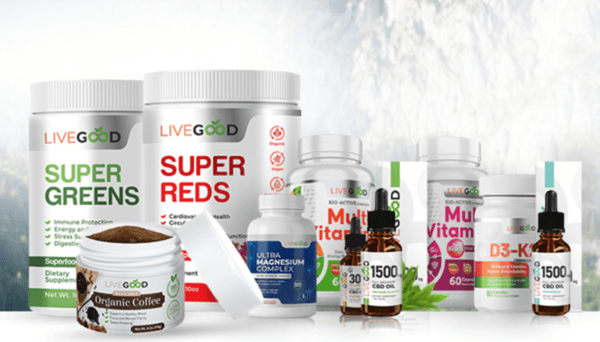 The Hidden Nutrient Deficiency Epidemic
Did you know 92% of Americans suffer from at least one vitamin or mineral deficiency? That's right! Despite our best efforts, most of us are not getting the complete nutrients our bodies need from our daily diet. Such deficiencies, over time, can have a devastating impact on our overall health.
Proper digestion, optimal organ function, and a robust immune system – all these rely on a steady supply of vital nutrients. Sadly, the deficit remains unnoticed in many cases until the body starts showing signs of distress. But the good news? You can sidestep these health challenges with proper supplementation. Supplementing your diet is not merely essential; it's a lifeline for your health.
Time to Flip the Script on Health
Regrettably, the current health scenario in our country paints a dismal picture. With inadequate nutrition from food and a scarcity of fresh air and exercise, we're witnessing an unprecedented wave of unhealthiness. When ailments strike, the default response is often to reach for quick-fix drugs to alleviate symptoms.
Preventive measures like supplementation, which could have possibly thwarted the issue in the first place, often take a backseat. This reactionary approach to health has become an incessant, downward spiral for many. But now, it's time for a change.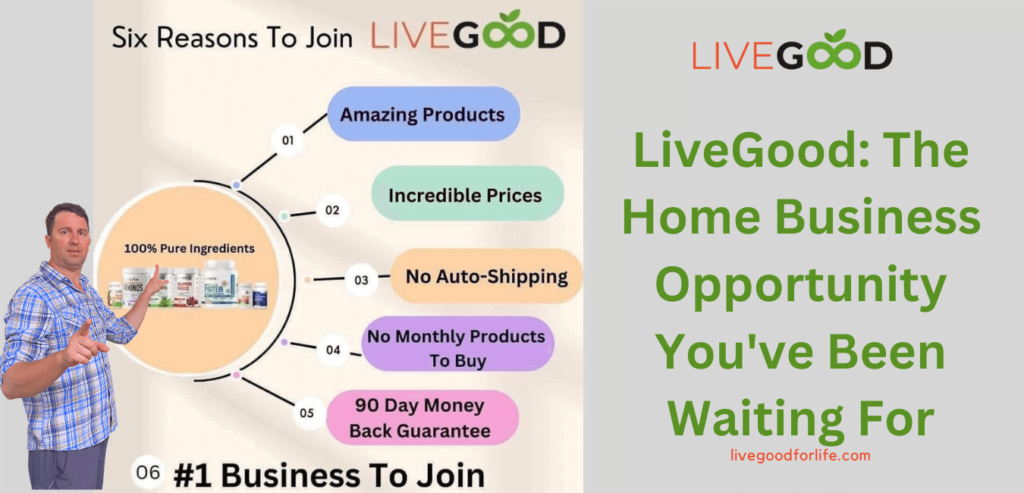 Welcome to the LiveGood Revolution Market
At LiveGood, we've turned the conventional approach to health and wellness on its head. Our formidable team of natural health experts, with their deep-rooted understanding of health and wellness, has painstakingly crafted the most comprehensive, functional, and vital array of vitamins, supplements, and skincare products. We use only the highest quality ingredients because we believe you deserve nothing less.
The cherry on top? By skipping the traditional retail route and opting not to sell through physical stores or affiliates, we ensure our products remain accessible to you without the typical brand markups. Quality health and wellness products are your right, and we make them available to you at a fraction of the cost of other brands.
So, are you ready to embrace this wellness revolution? Welcome to LiveGood Market Place, where good health is just a click away!
Power Your Health with LiveGood Bio-Active Complete Multi-Vitamin For Men
Enhancing Men's Health through Advanced Nutrient Supplementation
For most men, receiving the full spectrum of necessary vitamins and minerals from diet alone is a tough task. This deficiency is the unseen force behind various health issues, from weakened immune systems, hair loss, and skin problems, to impaired vision, diminished bone density, and even weight gain. If left unchecked, these can evolve into serious health conditions.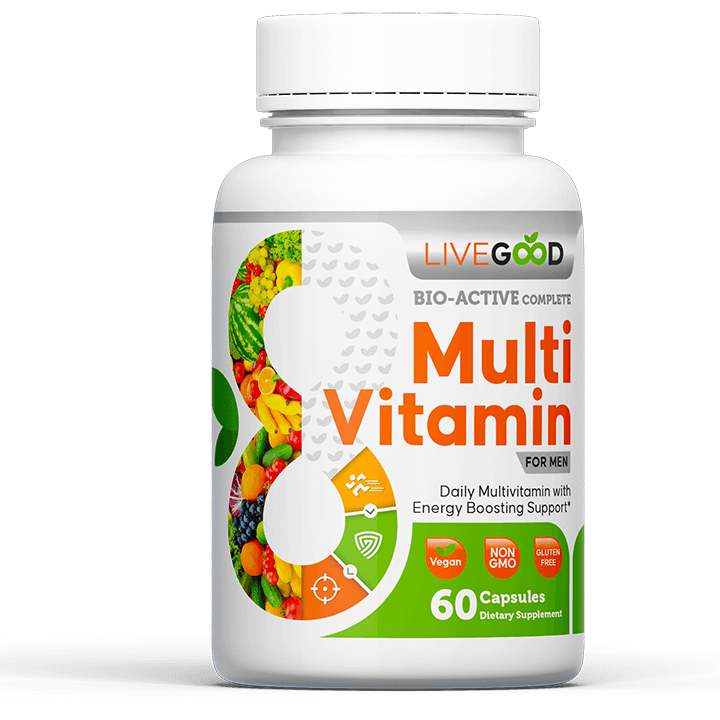 We recommend a high-quality multivitamin for daily intake to combat these health concerns.
At LiveGood Market, we've developed the BioActive Complete Multivitamin for men. Expertly formulated with the finest ingredients at optimal dosages, our multivitamin offers 24 different vitamins and minerals that are often absent from our daily diets. And the best part is we've made it affordable, ensuring everyone can take advantage of its benefits.
Leveraging the Multivitamin for Maximum Benefit
For the best results from LiveGood BioActive Complete Multivitamin, follow these usage tips:
Take two capsules orally once daily with food. Our multivitamin contains Vitamins A, E, lycopene, and zeaxanthin which are fat-soluble vitamins. They absorb better with food, maximizing their effectiveness.
We advise taking the multivitamin in the morning, as it contains Methylcobalamin (the active form of B-12), which can boost energy. We wouldn't want to interfere with your good night's sleep!
Consistency matters. Taking the multivitamins daily is crucial, as many of these essential vitamins and minerals need time to reach a steady concentration in the body.

Fortify your health with our LiveGood BioActive Complete Multivitamin, and start experiencing the benefits of balanced nutrition today!
Unleash Your Best Health with LiveGood Bio-Active Complete Multi-Vitamin for Women with Iron
An All-in-One Nutrient Solution Specially Formulated for Women's Health
Despite our best efforts, most women's daily diets fall short in providing all the necessary vitamins and minerals. This lack can lead to many health issues, including a weakened immune system, hair loss, skin issues, vision problems, decreased bone density, weight gain, and even more severe health complications.
For these reasons, a high-quality multivitamin should be a non-negotiable part of everyone's daily routine. A well-formulated multivitamin can effectively fill these nutritional gaps and preempt potential health problems.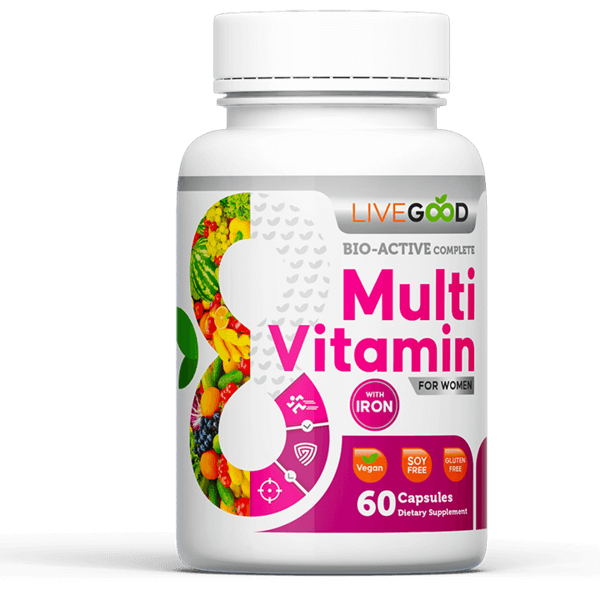 The LiveGood Bio-Active Complete Multivitamin for Women, available at LiveGood Market, is carefully crafted with the finest ingredients in optimal doses to provide your body with 24 essential vitamins and minerals – elements often missed in everyday food intake. And all this at a price that doesn't break the bank!
LiveGood's Special Addition: Iron for Women's Unique Needs
We understand that women have unique nutritional needs. Women require more iron due to losses during their menstrual cycle. That's why our Bio-Active Complete Multivitamin for Women incorporates high-quality iron to meet this crucial requirement adequately.
Boost your immune system, promote cardiovascular health, mitigate stress and anxiety, maintain healthy vision and bone strength, support healthy aging, and more with our multivitamin specifically designed for women.
Optimal Use for Maximum Benefit
For the best results from LiveGood BioActive Complete Multivitamin for Women:
Take two capsules orally once daily with food. Our multivitamin includes Vitamins A, E, lycopene, and zeaxanthin, fat-soluble vitamins. Fat-soluble means they absorb better with food, enhancing their effectiveness.
We suggest taking the multivitamin in the morning, as it contains Methylcobalamin (the active form of B-12), which can provide an energy boost. We wouldn't want to interfere with your peaceful sleep!
It's crucial to take the multivitamin daily. Many of these essential vitamins and minerals need time to reach a steady concentration in your body.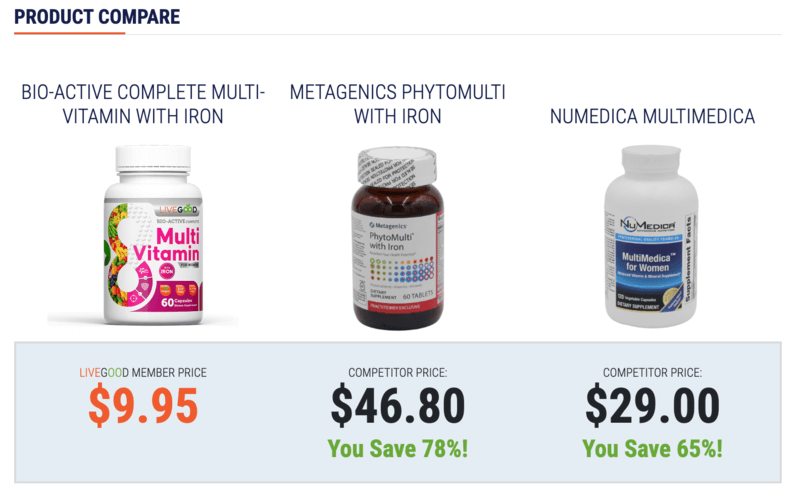 Experience the health revolution with LiveGood Bio-Active Complete Multivitamin for Women, exclusively available at LiveGood Market. Begin your journey to a healthier you today!
Illuminate Your Health with LiveGood's Vitamin D3 and K2
Essential Vitamins for a Resilient Immune System, Healthy Bones, and Overall Wellness
Vitamin D is often touted as the 'sunshine vitamin', vital for our immune system's robust health. Surprisingly, it's also the most common vitamin deficiency globally. Despite our bodies synthesizing Vitamin D from sunlight, many of us don't get enough sun exposure for healthy Vitamin D levels. This deficiency is further exacerbated by most foods' dearth of Vitamin D.
An insufficient daily Vitamin D intake can compromise our immune system, jeopardize our bone density, and make our bodies susceptible to illnesses and diseases. This is where LiveGood's Vitamin D3 and K2, available at LiveGood Market, step in to turn the tide.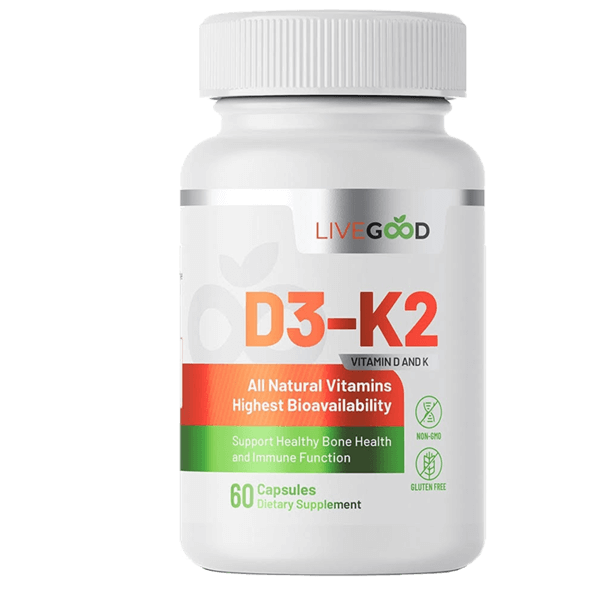 Experience the Synergy of Vitamin D3 and K2
Our supplement provides 2,000 units of the highest quality Vitamin D3, ensuring optimal levels to maximize every dose's benefits. We've scientifically paired it with Vitamin K2, which enhances Vitamin D's function and helps direct calcium to the bones, preserving healthy bone density and supporting healthy blood and heart function.
Regardless of gender, age, or lifestyle, this potent combination of premium Vitamins D3 and K2 should be a daily staple in your health regimen to stay vigorous and hearty!
Guidelines for Optimal Use
To harness the full benefits of LiveGood's Vitamin D3 and K2:
Take 1-2 capsules orally daily with food. Both Vitamins D and K are fat-soluble, meaning they absorb better with food.
We suggest taking the supplement in the morning. Research indicates that morning Vitamin D dosage can positively affect our sleep-wake cycle and melatonin production and secretion. This aligns with our ancestors' pattern of being active during early dawn.
Regular daily intake is essential to maintain consistent blood levels of these vital vitamins.
Pro Tip: Consult your doctor to add a Vitamin D level check during your next blood test. This simple and often affordable addition can help track your Vitamin D status, assisting you in managing your health effectively.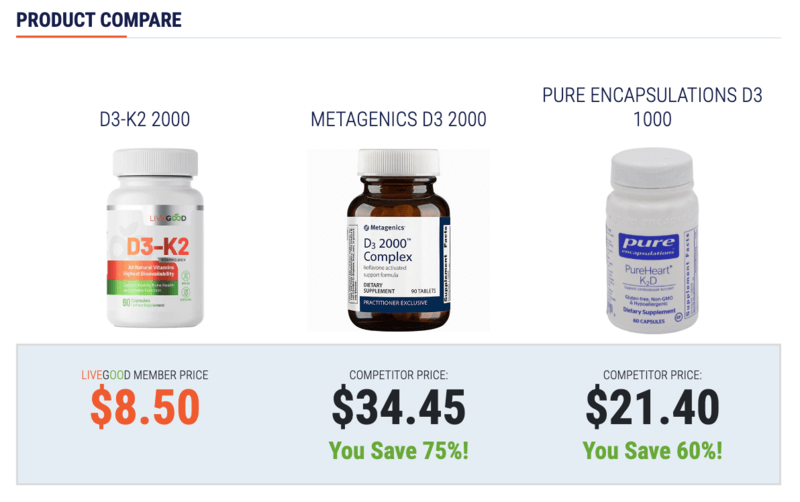 The LiveGood Vitamin D3 and K2 supplement is a small step towards a healthier you, available now at the LiveGood Market!
Maximize Your Health with LiveGood's Ultra Magnesium Complex
A Superior Formulation for Unparalleled Bioavailability and Numerous Health Benefits
Magnesium, involved in more than 300 biochemical reactions daily, is crucial to our body's overall wellness. Despite maintaining a balanced diet, many people aren't receiving the required magnesium levels, leading to various health issues.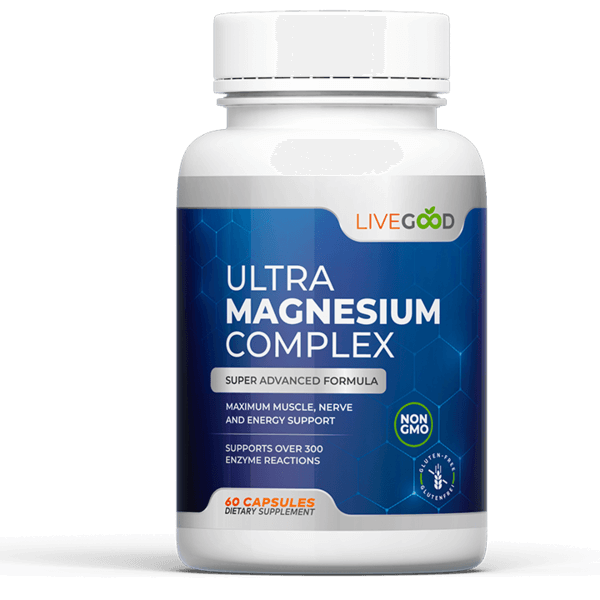 Consequences of Magnesium Deficiency
Magnesium deficiency can result in heart complications, insomnia, decreased focus, stress management issues, loss of bone density, and diminished exercise performance. Given these potential threats, everyone should incorporate a high-quality magnesium supplement into their daily routine.
Experience the Unique Blend of LiveGood's Ultra Magnesium Complex
Understanding the importance of magnesium and the common deficiencies, LiveGood Market offers our Ultra Magnesium Complex, formulated with the most bioavailable forms – Magnesium Glycinate and Magnesium Gluconate.
Our Magnesium Glycinate aids in anxiety relief, bone strength, healthy heart rhythms, exercise performance, and even pain reduction. Magnesium Gluconate supports the healthy physiological functioning of nerves, muscles, bones, and the heart.
Guidelines for Effective Usage
To gain maximum benefits from LiveGood's Ultra Magnesium Complex:
Take 2 capsules orally daily, with or without food.
It's best to take the capsules at least 2 hours apart from other medications and vitamins for optimal absorption. We suggest splitting the dose – one capsule in the afternoon to help manage stress and another before bed to support sleep. If preferred, you can also take both capsules 30 minutes before bedtime. In case of stomach upset, take the capsules with lunch or dinner.
Regular daily intake is necessary for consistent benefits.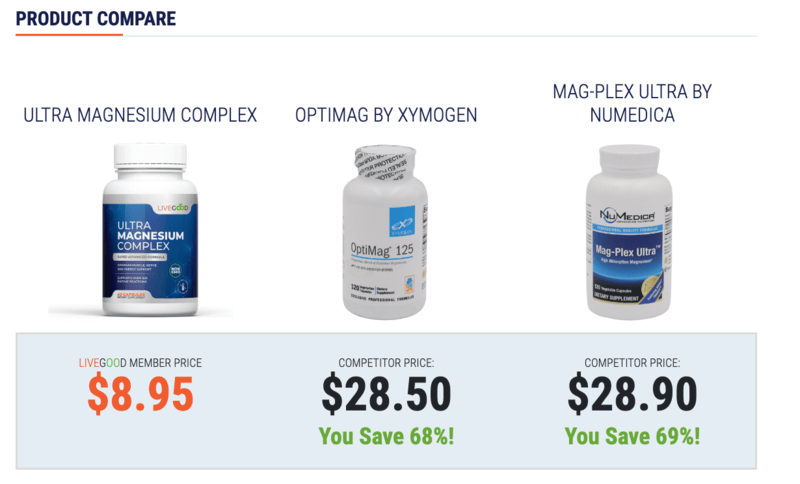 Discover the power of LiveGood's Ultra Magnesium Complex, your daily health booster, now at the LiveGood Market!
Unleash the Power of Plant-Based Protein with LiveGood's Complete Supplement
Offering Optimal Nutrition with the Planet's Finest Ingredients
Our dietary choices are critical in maintaining our health and overall well-being. One essential component often neglected is protein, especially in plant-based diets. Recognizing this gap, LiveGood Market presents the Complete Plant-Based Protein supplement, meticulously formulated to provide maximum nutrition using the best ingredients.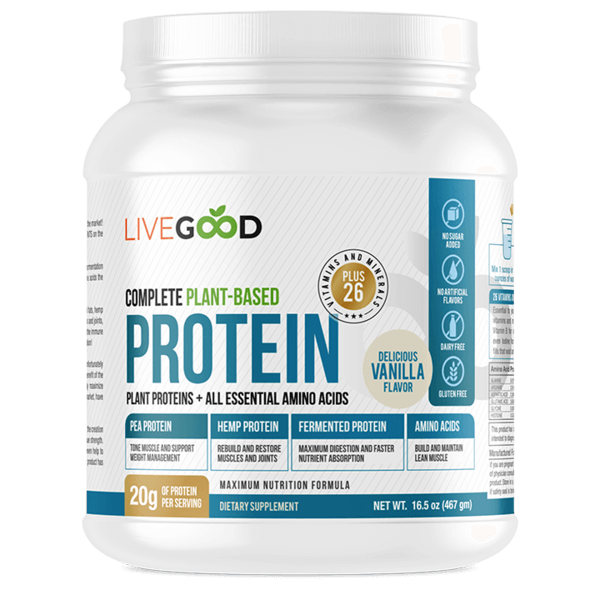 Explore the Blend of Power-packed Ingredients
Our plant-based protein supplement boasts a unique combination of Pea Protein, Organic Hemp Protein, Fermented Protein, and Essential Amino Acids.
Pea Protein: Among the most comprehensive plant protein sources, it has not only all nine essential amino acids but also branched-chain amino acids (BCAA's), including arginine, which promotes healthy blood flow. High in iron and low in fat, pea protein is truly a superfood!
Organic Hemp Protein: A rich source of antioxidants, minerals, fiber, and heart-healthy unsaturated fats, it promotes energy, assists in weight management, and supports heart, muscle, and brain functions.
Fermented Protein: We prioritize digestibility, ensuring you get the maximum benefit from our protein supplement. Our fermented pea protein aids healthy digestion, providing a clean, wholesome protein source.
Amino Acids: Integral to various body functions, amino acids assist in muscle growth and repair, tissue strength, energy provision, and digestion. Our supplement ensures you receive top-quality amino acids.
More than Just Protein
Besides these superior proteins, our supplement offers 26 essential vitamins and minerals, contributing to energy production, muscle building, and metabolism. LiveGood's Complete Plant-Based Protein truly powers your body in more ways than any other protein supplement!
Delicious and Versatile for Everyday Use
Our delicious vanilla-flavored powder is versatile and can be mixed with water or your favorite smoothie, providing a healthy supplement any time of the day.
Mix one scoop in water or a smoothie AT LEAST once daily.
The optimal consumption time is within 30 minutes of exercising; however, consuming it pre-workout could also be beneficial. Choose what suits you and your body best.
Pro Tip: LiveGood's Shaker Bottle offers convenient storage and easy dosing on the go!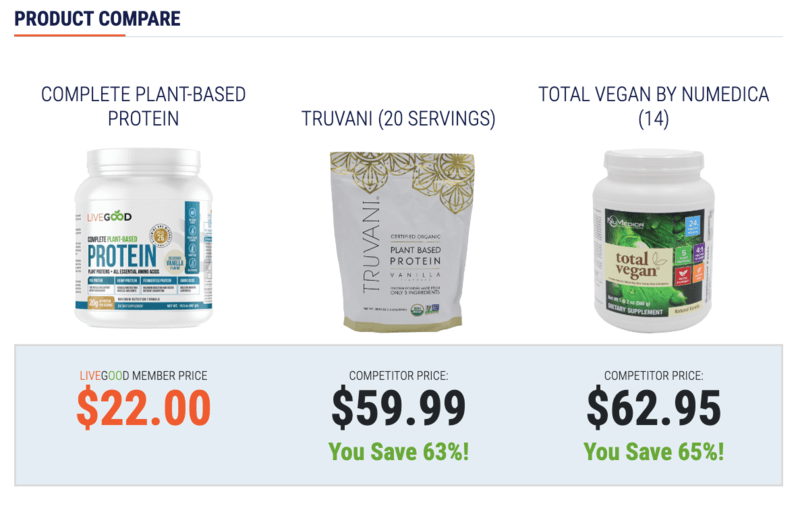 Find your protein powerhouse at LiveGood Market – your key to a healthier lifestyle!
LiveGood Organic Super Greens: Your Daily Safety Net for Optimal Health
Filling Nutrient Gaps with Organic Goodness
Eating organic fruits and vegetables is vital for maintaining normal blood pressure, optimal gut function, and nourishing our brains. Falling short on these essentials can lead to health issues such as indigestion, weakened immune system, energy depletion, depression, and even weight gain.
That's where LiveGood Market's Organic Super Greens steps in. It's like a health safety net, filling in the nutrient gaps that our diets often fail to provide.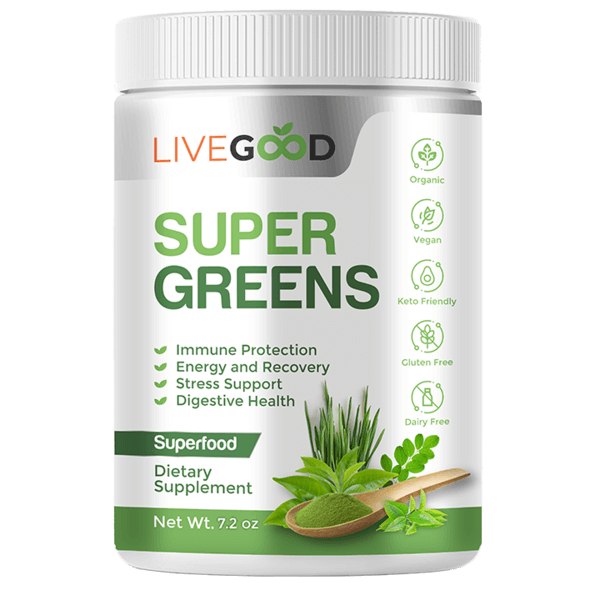 The Power of Nutrient-Packed Super Greens
Our bodies are ceaselessly working, and they require nutrient-rich foods to keep up with this pace. That's where our LiveGood Super Greens shine. Packed with organic super greens, it helps enhance digestion, boost immunity, increase energy, and impart a vibrant feeling, all with just one delicious scoop each day.
Easy and Versatile Integration into Your Daily Routine
Incorporating Organic Super Greens into your diet is a breeze.
Mix 1 scoop into water or a smoothie AT LEAST once per day.
The most important thing is to consume your greens daily. They pair well with our protein smoothies but also taste great in iced water. Consider replacing a not-so-healthy beverage like soda or juice with Organic Super Greens for an extra health boost.
Pro Tip: The contents will settle if left to sit. Continue mixing while consuming.
Multidimensional Benefits for Your Health
LiveGood's Organic Super Greens offer a multitude of benefits:
Multivitamin: Provides a full spectrum of essential vitamins for overall wellness.
Immune Protection: Strengthens your immune system to ward off common illnesses.
Energy and Recovery: Helps to energize and recover faster post-workout or after a tiring day.
Stress Support: Aids in managing stress more effectively.
Digestive Health: Supports a healthy digestive system.
Detox Support: Aids in detoxification, helping you feel cleaner and refreshed.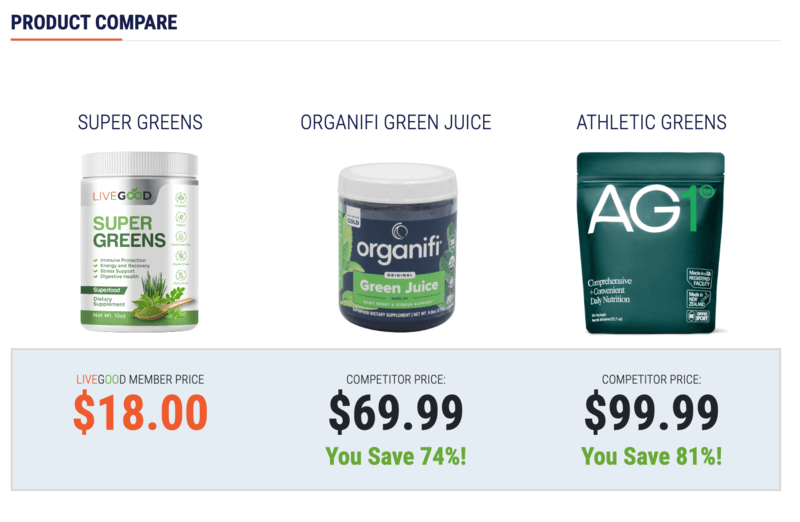 Invest in your health with LiveGood Market's Organic Super Greens. Your body will thank you!
LiveGood Organic Super Reds: Powering Up Your Cardiovascular Health
Amplify Your Heart Health with Natural Reds
Maintaining the health of your heart is paramount in the realm of healthy aging. A diet rich in red fruits and vegetables, known for their heart-boosting properties, is ideal. However, many of us struggle to consume the recommended amount, leading to a weakened immune system, low energy and libido, brain fog, and even high blood pressure.
Enter LiveGood Super Reds from LiveGood Market, your partner in cardiovascular health!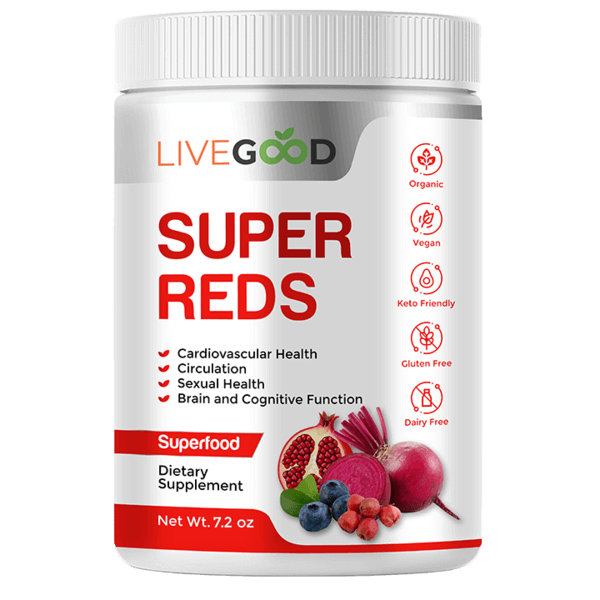 Unleash the Power of Reds
Our Organic Super Reds harness the optimal power of fruit and vegetable extracts. Known for stimulating your body's Nitric Oxide production, these superfoods improve blood flow, boost circulation, support cognitive functions, and promote sexual health. Moreover, they strengthen your heart, enhance your immune function, and maximize your overall health.
With its delightful taste, our Super Reds powder can be mixed with water, your favorite healthy drink, or a smoothie, and consumed any time of day, with or without food.
How to Incorporate Super Reds into Your Daily Routine
Incorporating Organic Super Reds into your daily regimen is straightforward:
Mix 1 scoop into water or a smoothie AT LEAST once per day.
We often recommend 2 servings of our red powder per day because it is so beneficial. Organic Super Reds helps increase Nitric Oxide levels, promoting blood circulation. Thus, we recommend it as a pre-workout supplement or an afternoon energy boost.
Pro Tip: If mixing it as a pre-workout, consider combining it with LiveGood Essential Aminos Fruit Punch flavor for the ultimate workout pump. Our Super Reds mix and taste fantastic with just water and ice, making it an ideal substitute for juice or soda.
Multidimensional Benefits for Your Health
LiveGood's Organic Super Reds offer a multitude of benefits:
Multivitamin: Provides a wide array of essential vitamins for overall wellness.
Cardiovascular Health: Supports a healthy heart and circulation.
Circulation: Boosts blood circulation throughout the body.
Sexual Health: Promotes sexual health and vitality.
Brain and Cognitive Function: Helps enhance cognitive functions and mental clarity.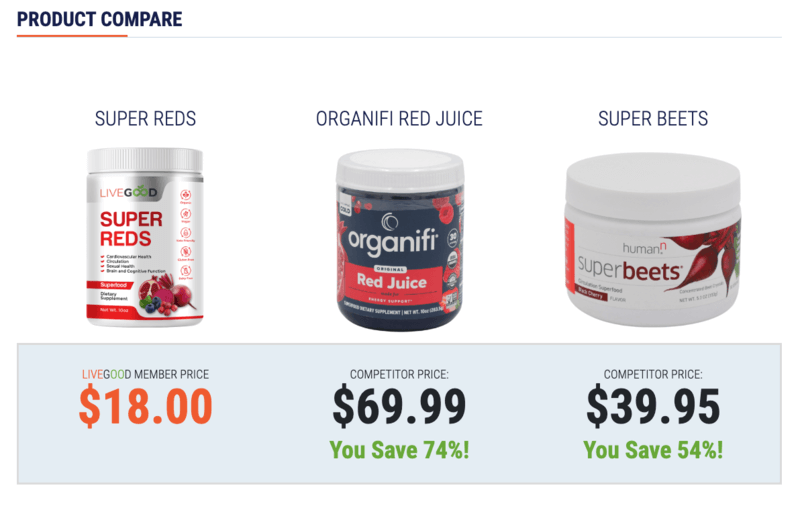 Step up your cardiovascular game with LiveGood Market's Organic Super Reds. Experience the power of reds!
LiveGood's Organic Coffee with Mushrooms: A Game Changer in Healthy Weight Management
Your Morning Cup of Coffee Redefined
You might be looking at the longest name for a coffee you've ever seen. But, with all the exceptional benefits and ingredients that we've packed into this blend, we could have added even more terms, like adaptogens, green tea, healthy fiber, and maca. But let's not forget one crucial aspect – it's simply delicious!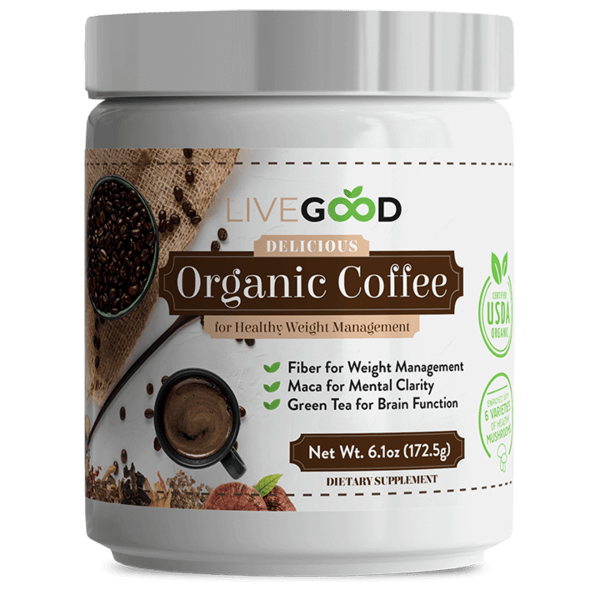 LiveGood's Organic Coffee is not just a blend of the highest quality ingredients from the cleanest, most lush locations worldwide; it's a revolutionary concoction. This blend stands as the FIRST and ONLY coffee infused with healthy fiber to curb hunger, formulated with maca to support learning, enhance memory, and improve mood. It is enriched with green tea to boost healthy brain function and stimulate fat burning. Moreover, we've added adaptogens in the form of six of the world's most potent mushrooms to alleviate stress, support a healthy body, and elevate your overall well-being. No other coffee on the market offers as many benefits as LiveGood's Healthy Organic Weight Management Coffee with Mushrooms!
When you take your first sip of our flavorful blend and start experiencing the remarkable results, you might never want to drink any other coffee again!
How to Enjoy Your Healthy Organic Coffee
Enjoying LiveGood's Healthy Organic Coffee is a breeze:
Mix 1 scoop in hot or cold water.
When to take it: LiveGood Healthy Organic Coffee is ready-made, so you need to mix it with hot or cold water to enjoy. It contains approximately 100mg of caffeine, which is primarily a morning beverage.
We recommend avoiding all stimulants, including caffeine, at least 8 hours before bedtime to prevent disrupting your sleep latency.
With adaptogenic mushrooms to balance the caffeine's potential jitters and the combination of matcha and green tea, this coffee will surely set your day up for success.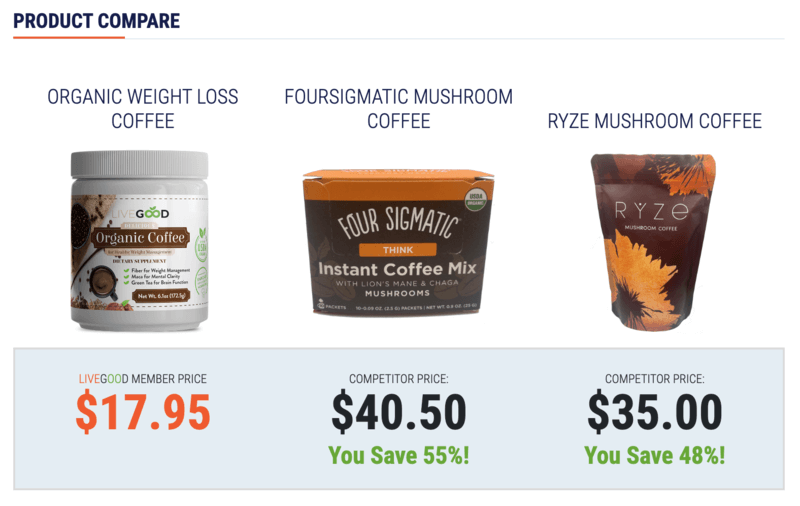 Healthy, Organic, and Power-packed
LiveGood's Organic Coffee with Mushrooms is more than just a beverage; it's an energizing, health-boosting, weight-management support system.
Start your day on the right note with LiveGood Market's exceptional Organic Coffee with Mushrooms!
LiveGood's Essential Aminos: The Ultimate Fuel for Peak Performance
Experience Unmatched Power, Energy, and Recovery with Essential Aminos
Regarding peak performance, nothing delivers quite like LiveGood's Essential Aminos. This exclusive formulation, offered by LiveGood Market, provides you with an optimized ratio of ALL Essential Amino Acids, Branched-Chain Amino Acids, AND Electrolytes. This perfect combination supports muscle strength and function, helps maintain lean muscle mass, boosts stamina and recovery, and promotes healthy energy and focus!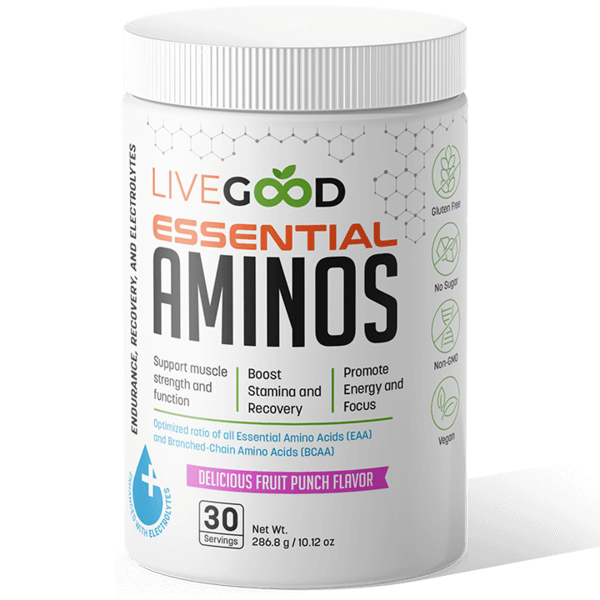 How to Make the Most of Your Essential Aminos
To use LiveGood's Essential Aminos, mix 1 scoop of the powder in water twice daily. Consuming it 30 minutes before a workout and again throughout the day as a refreshing beverage is ideal. The best part? Consuming Essential Aminos counts towards your daily protein goal, giving you extra brownie points!
Remember, the Essential Aminos work best when taken every day. As a pro tip, try using this beverage in place of a soda or sugary drink.
Healthy Energy Anytime, Anywhere
LiveGood's Essential Aminos are formulated with the highest quality natural ingredients available anywhere! So whether it's first thing in the morning, before you hit the gym, or to conquer afternoon fatigue, Essential Aminos are safe to take any time, any place, and they GET RESULTS!
On top of all these fantastic benefits, Essential Aminos are Gluten-Free, Sugar-Free, Caffeine-Free, Non-GMO, and Vegan!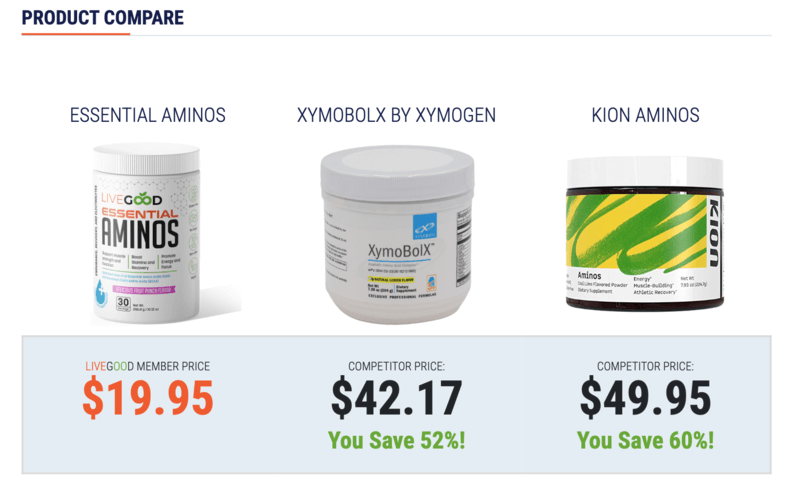 Experience the unmatched power, energy, and recovery of LiveGood's Essential Aminos.
Elevate your performance to the peak only with LiveGood Market!
LiveGood's Factor 4: A Game-changer in Inflammation Management
Unleash the Power of Anti-Inflammatory Powerhouses to Control and Reverse Inflammation
Chronic Inflammatory Diseases are the leading cause of sickness and death worldwide. It's staggering but true that more than 50% of ALL deaths can be attributed to inflammation-related diseases such as heart disease, stroke, cancer, diabetes, arthritis, kidney and liver diseases, and more.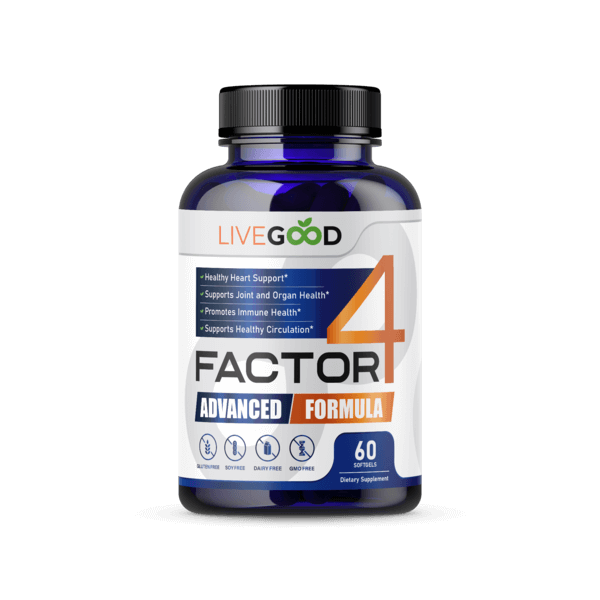 Enter Factor 4, LiveGood's revolutionary inflammation management supplement. This product, proudly formulated by Dr. Heather Volpp, a world-renowned immunologist, stands out as the first and only inflammation management supplement that combines four of the world's most potent anti-inflammatory ingredients: Fish Oil, Turmeric, Coenzyme Q10, and Garlic. Factor 4, offered by LiveGood Market, is designed to help you control and even reverse inflammation!
Dr. Heather Volpp's Commitment to Natural Healing
Dr. Heather Volpp is no ordinary immunologist. She believes in addressing the root causes of health issues rather than merely treating symptoms, and her philosophy heavily leans towards natural healing and high-quality supplements. Factor 4 is the result of this belief system. It provides a comprehensive solution by combining the four most powerful anti-inflammatory natural substances on earth, previously requiring multiple supplements.
How to Use Factor 4 to Best Effect
To experience the full benefits of Factor 4, take one soft gel by mouth twice daily with food, and increase as tolerated. With a daily dosage of two soft gels, you will consume approximately 1.2 grams of EPA/DHA, significantly reducing inflammation. A dosage of 3-4 grams of EPA/DHA (6-8 soft gels per day) will provide benefits in lowering triglycerides.
The softgels contain an oil mixture; ensure to swallow them whole without cutting or chewing. For best results, Factor 4 should be taken every day.
Pro tip: To avoid a fishy aftertaste or belching, store the softgels in the refrigerator.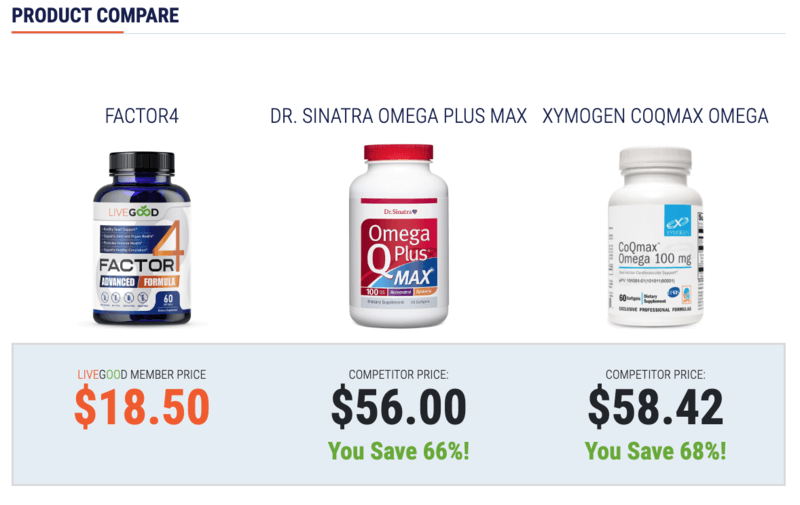 Step up your fight against inflammation and gain control over your health with LiveGood's Factor 4. Choose LiveGood Market for solutions that truly help you live well!
E3 by LiveGood: The Ultimate Boost for Energy, Endurance, and Electrolytes
Clean, Long-Lasting Energy for Anytime, Anywhere!
E3, a proprietary formula by LiveGood Market, was crafted with athletes in mind but is perfectly suited for anyone, anytime, anywhere. Whether kickstarting your day, fueling your workout, or battling afternoon fatigue, E3 maintains your energy and promotes peak performance. What sets E3 apart? It provides a caffeine kick equivalent to a cup of coffee, but its naturally sourced ingredients are released slowly to prevent crashes or jitters.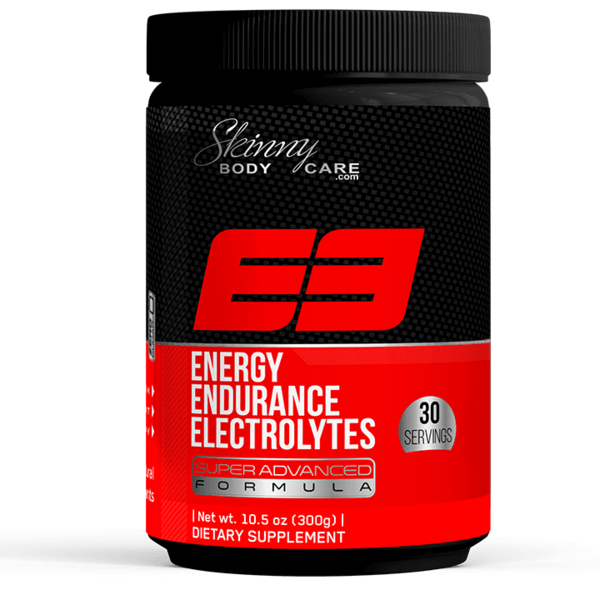 Clean Energy – Zero Sugar, Zero Artificial Ingredients
Unlike many other energy and fitness products packed with sugar and artificial ingredients, E3 offers a healthier, safer alternative. Our scientifically formulated blend gives you true, clean, and long-lasting energy, enhancing not just your workout, but your recovery and overall health.
Enjoy all the benefits of E3:
Zero sugar!
Zero artificial sweeteners or flavors!
Just 25 calories per serving!
Naturally-sourced, healthy ingredients!
No crash!
No jitters!
Delicious berry flavor!
Gluten-Free!
100% Money Back Guarantee!
Change the Way You Exercise with E3
E3 isn't just about short-term performance – it's about redefining your relationship with exercise and energy. It's about providing your body with safe, clean, and sustainable fuel to maximize your workouts, recovery, and overall health. So, are you ready to take your exercise routine to new heights with E3 from LiveGood Market?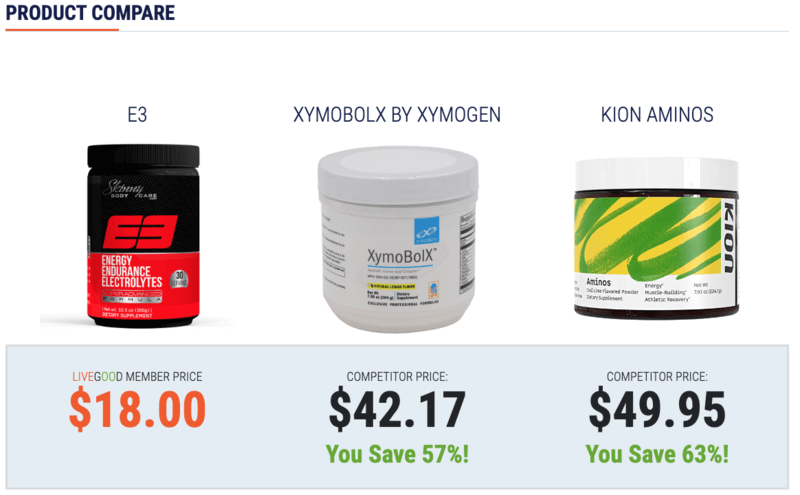 At LiveGood Market, we're committed to offering products that help you live better. Fuel your body with E3 and experience the difference.
Instant Youth by LiveGood: Rewind the Clock in Just 90 Seconds
Rapid, Effective Solution for Visible Signs of Aging
Instant Youth from LiveGood Market is your scientifically formulated solution to diminish the visible signs of aging promptly and effectively. This revolutionary product works to immediately reduce the appearance of wrinkles, under-eye bags, and fine lines, delivering amazing results in under two minutes!
Easy to Use for Instant Results
Using Instant Youth is as easy as it is effective. Simply dab the product on areas of your skin where you wish to lessen the appearance of lines and wrinkles, allow it to dry, and behold the results almost instantly!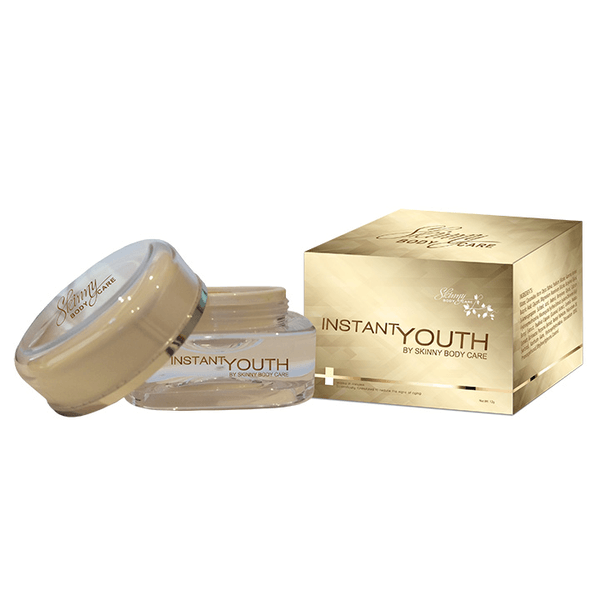 Age Gracefully, Instantly
Experience the power of Instant Youth to rewind the clock on your skin's appearance quickly. It's never been easier to reduce visible signs of aging and rejuvenate your skin. Perfect for use anytime, Instant Youth by LiveGood is your secret weapon for maintaining a youthful appearance.
With LiveGood Market, we're committed to providing products that make you feel and look good from the inside out.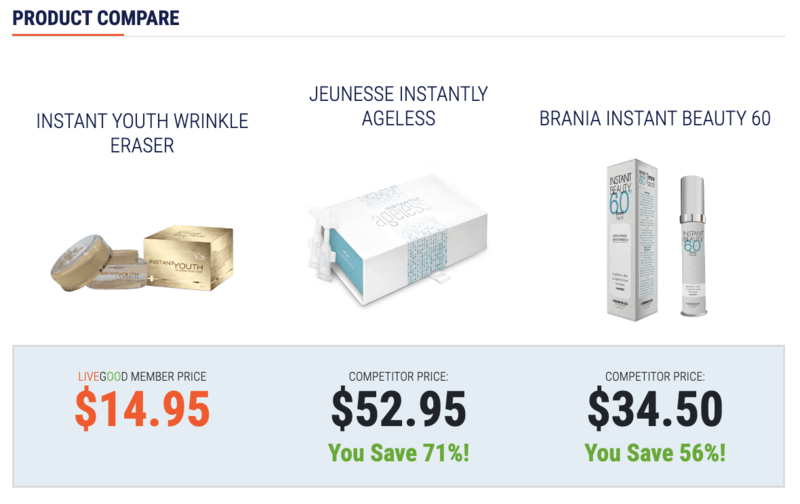 Turn back time with Instant Youth and enjoy the confidence that comes with radiant, youthful skin.
Ageless Skin Serum by LiveGood: Radiant, Plump, and Beautiful Skin
Nourishing Your Skin from Within
Ageless Skin Serum by LiveGood leverages the science of beautiful skin. Our skin, when healthy, consists of 75% collagen, which bestows that smooth, plump, youthful appearance. But as we age, collagen production decreases, leading to less healthy collagen levels, wrinkles, and the aged look. That's where Ageless steps in as the FIRST and ONLY product of its kind.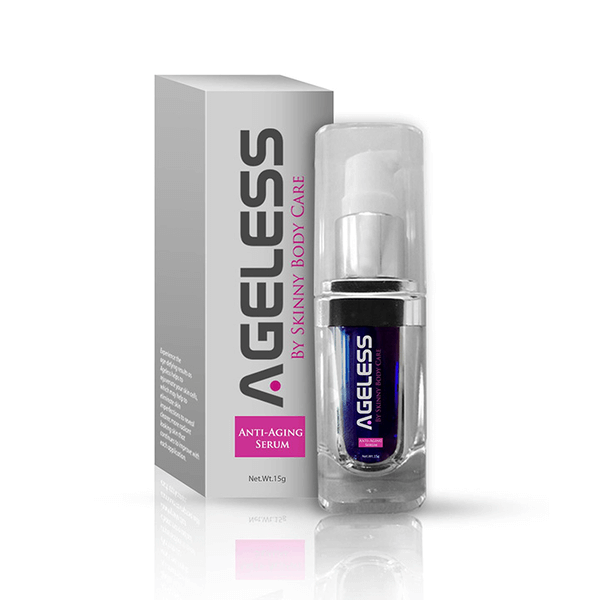 Promoting Collagen Regeneration and More
Ageless promotes your body's natural collagen regeneration and incorporates extracts from 12 of the world's most nutrient-rich fruits and vegetables. This unique blend offers more skin-rejuvenating results than any other product on the market!
The Superfood Your Skin Deserves
Ageless isn't just another skin care product – it's a nutrient-rich superfood for your skin! With extracts from 12 of the world's richest fruits and vegetables sourced from the purest locations, Ageless provides your skin with more antioxidants than any other skincare product.
Trusted by Millions
Over the past decade, Ageless has emerged as one of the industry's best-selling high-end skincare products, with over 1 million bottles sold. Now, through the LiveGood model, we're thrilled to offer this powerful product, previously sold for $59.95 per bottle, at just a fraction of that price.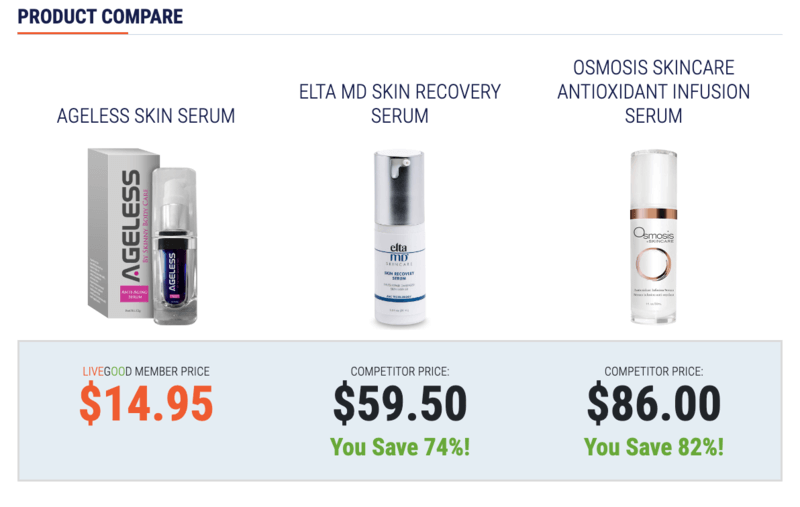 Trust Ageless Skin Serum by LiveGood for naturally radiant, plump, and beautiful skin.
Unleash the Power of Nature with LiveGood Market
Have you been looking for holistic, high-quality wellness products designed to support your health goals? Look no further than LiveGood Market.
From organic superfoods to powerful skin rejuvenation serums, LiveGood Market is the one-stop solution for all your health and wellness needs. Our products are crafted from nature's finest, delivering unrivaled quality and effectiveness.
Imagine starting your day with our Organic Coffee enhanced with health-boosting mushrooms, fueling your workout with Essential Aminos, and supporting your heart health with our exclusive Factor 4 supplement. Your path to a healthier, more vibrant life is only a click away.
Don't just live, LiveGood! Try our LiveGood Market products today and experience the transformative power of nature. Let's embark on a journey towards a healthier and happier life together.